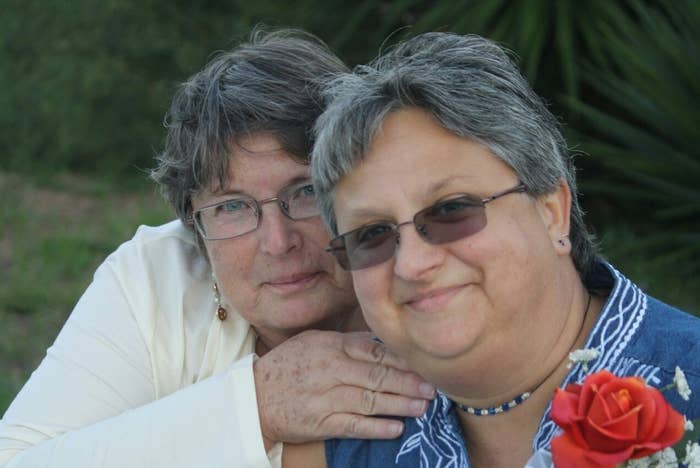 WASHINGTON — Federal agency action and court decisions could bring about something that advocates have been unable to achieve legislatively: federal LGBT job protections.
Efforts to protect transgender people under existing sex discrimination bans have been percolating — and, for the most part, successful — since 2011. But moves by a key executive agency over the past six months demonstrate a renewed focus on the previously unsuccessful effort to provide protections to gay, lesbian, and bisexual people under the same laws.
The Equal Employment Opportunity Commission and LGBT advocates have begun taking action and pressing their case, respectively, to encourage courts to take an expansive view of existing bans on sex discrimination to include discrimination against people based on both gender identity and sexual orientation.
The EEOC has, thorough its actions, informally taken the lead on the issue. In a comprehensive field memorandum issued Feb. 3 and obtained by BuzzFeed News, the agency argues that LGBT job protections should be — and within the agency, already are — available under current law.
Further still, the agency directs field offices to "alert" the main office "when they encounter [cases] with the potential for policy development," signifying an interest in strong enforcement of this interpretation. Specifically, the memo mentions the EEOC's interest in "claims related to discriminatory policies; insurance issues including benefits for same-sex couples or transgender individuals; access to facilities based on gender identity" and other questions about coverage of sexual orientation and gender identity under Title VII.
Multiple EEOC officials declined requests to discuss the memorandum on the record, and an EEOC Office of Communication and Legislative Affairs official who did respond to the request told BuzzFeed News she was unfamiliar with the field memo.
There is increasing support for the idea that the ban on sex discrimination in Title VII of the Civil Rights Act of 1964 should be held to include transgender people even outside the EEOC. The Justice Department backed that interpretation of Title VII in December 2014 — with Attorney General Eric Holder calling it "the best reading" of the law. In January, the department filed a "statement of interest" in a case brought by a transgender woman who is suing Saks department store, asserting that she should be allowed to bring a lawsuit claiming anti-transgender discrimination under Title VII.
The argument that sexual orientation should be covered under Title VII's sex discrimination ban, however, is more of an uphill battle — particularly due to some early court rulings that held explicitly that sexual orientation discrimination is not protected by Title VII.
But those early rulings have been undermined by cases since then allowing sex-stereotyping claims under Title VII and barring same-sex sexual harassment — not to mention gay rights cases — and Gay & Lesbian Advocates & Defenders executive director Janson Wu told BuzzFeed News that now is the time to expand the way the law is interpreted.
"Decades ago, the courts made a wrong turn when they separated out sexual orientation from sex discrimination protections. And we are trying to right that wrong," he said Tuesday. "When you are discriminating against somebody because of who they love or because of the sex of who they love, then you are discriminating against them on the basis of sex. You can't separate out those two things."
On Jan. 29, the EEOC agreed, issuing a "probable cause" notice in a claim GLAD brought on behalf of Jacqueline Cote, a Wal-Mart employee, and her wife, Diana Smithson. Cote was denied health insurance coverage for Smithson, who has been diagnosed with ovarian cancer.
"The aim of our lawsuit, first and foremost, is to achieve justice for Jackie and Dee, who have been wronged by Wal-Mart," Wu said. "They racked up over $100,000 in medical expenses because of Wal-Mart's discrimination." GLAD will seek conciliation of the claim now within the EEOC, but Wu said they are prepared to take the case to federal court in Massachusetts if that step fails. The LGBT legal group also has a second similar case pending in federal court in Connecticut.
He added, though, a larger goal: "Second, we absolutely believe it is right, legally, that discrimination against gay and lesbian people is illegal under sex discrimination prohibitions under Title VII," he said. "And it could not be clearer in this case, where, if Jackie was a man, she would have gotten those benefits. Period."
The EEOC has been a driving force behind this change, with part of its "strategic enforcement plan" adopted in 2012 specifically focused on LGBT protections.
In April 2012, the EEOC issued a decision asserting that Title VII's sex discrimination ban included a ban on discriminating against transgender people. That case, brought by Mia Macy, has been the basis for much of the movement in support of the transgender coverage effort — including the EEOC's first direct litigation, filed in September 2014, on the issue. Although most LGBT groups were loathe to discuss the issue publicly when serious efforts to pass legislation in the form of the Employment Non-Discrimination Act were afoot, many have spoken up more directly in recent months.
In August 2014, the EEOC acted again, issuing a decision that the sex discrimination ban often can include protections for people who are discriminated against because of their sexual orientation as well — a small, but significant, step toward sexual-orientation inclusion under Title VII.
"I think the EEOC is definitely mapping out a more robust way of thinking about these claims. Just like for discrimination against trans people, you can view it as a type of sex stereotype or you could view it, per se, as a form of taking gender into account," the ACLU's Joshua Block told BuzzFeed News.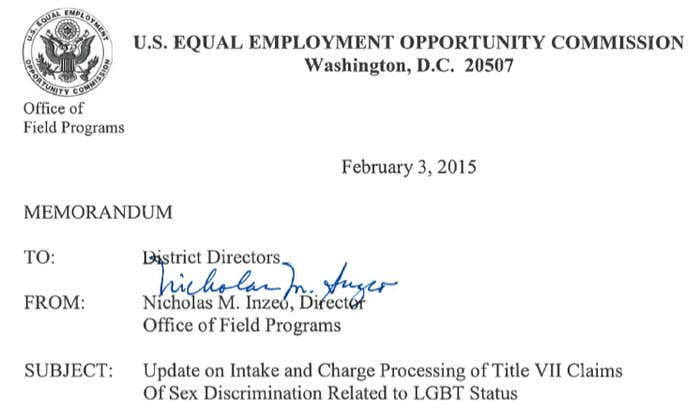 The EEOC decisions are important because they are binding for federal employees' claims and are taken into account by courts considering similar claims, but also because they stand as the view of the EEOC within the agency's field offices across the country — where private discrimination claims are taken and investigated.
In a five-page memorandum issued on Feb. 3 and distributed to field offices across the country, the EEOC has moved forward on that final front. The memo — written by the director of the EEOC's Office of Field Programs, Nicholas Inzeo — directs field offices across the country that people alleging both gender-identity-based and sexual-orientation-based discrimination have a right to file a complaint with the commission, which is to be investigated as a claim of sex discrimination under Title VII.
In addition to laying out the case made over recent years by the EEOC regarding transgender coverage under Title VII and a recent federal district court decision allowing a sexual orientation-based Title VII claim to proceed, Enzeo details at length a little-noted case that signals the EEOC's path forward on the sexual orientation coverage issue.
When a three-judge panel of the 7th Circuit Court of Appeals decided in September 2014 that Warnether Muhammad could not bring a case against Caterpillar for sexual-orientation-based discrimination under Title VII or a related retaliation claim because, as the court put it by relying on earlier decisions of the 7th Circuit, such discrimination "is not prohibited conduct under Title VII," the EEOC and several LGBT groups quietly leapt into action.
Days after the decision, the ACLU of Illinois contacted Muhammad's lawyer, letting him know that they wanted to support a request that the 7th Circuit reconsider Muhammad's appeal. Specifically, they were concerned by the language in the decision that closed off the possibility of sexual-orientation-based discrimination being covered by the sex discrimination ban in Title VII.
On Oct. 9, 2014, the ACLU of Illinois was joined by the national ACLU, the Human Rights Campaign, Lambda Legal, and the Transgender Law Center in filing an amici curiae — or friends of the court — brief in Muhammad's case, asking the court to remove the portions of the decision that "casually reaffirm[ed]" decisions that are more than a decade old "without fresh analysis," including the recent EEOC decisions.
Block, who worked on the brief for the ACLU, explained that many of the earlier cases finding that Title VII did not include sexual-orientation-based claims "were decided before Lawrence [v. Texas]," the Supreme Court case striking down sodomy laws, "and I think the idea that Title VII could ever be used to protect sexual orientation discrimination, I think seemed so unimaginable to many judges that they just couldn't interpret the statute that way — regardless of what [the Supreme Court] said" about sex stereotyping being impermissible.
In addition to the LGBT organizations, the EEOC itself filed its own amicus brief, stating that "an increasing number of courts (as well as the Commission) have recognized that intentional discrimination based on an individual's sexual orientation can be proved to be grounded in sex-based norms, preferences, expectations, or stereotypes" since the 7th Circuit first considered the question "over thirty years ago." In addition to its own rulings, the EEOC pointed to a March 2014 decision by a federal district court judge in D.C. that "'plaintiff's status as a homosexual' — without more — plausibly suggested the discrimination was based on gender stereotypes, and thus states a Title VII sex-discrimination claim."
A week later, on Oct. 16, 2014, the three-judge panel amended its ruling, deleting the language stating that sexual-orientation-based discrimination could not form the basis for a sex discrimination claim under Title VII.
Remarkably, none of the LGBT organizations involved in the 7th Circuit case issued news releases about the successful effort — nor did the EEOC. Since then, the EEOC has included discussion of the effort in its summaries of LGBT involvement, but it issued no news release regarding the filing of the amicus brief or when the amended decision was released.
Block said the silence on the development was simply because "it just seemed a little bit too technical of a law reform to go out with a press release," adding, "[W]e didn't actually change the law in the 7th Circuit and we didn't actually get a different result for this person. It just avoided needlessly reaffirming old law." HRC and Lambda Legal officials echoed Block's explanation for the lack of publicity on the brief and result.
In its field memo, the EEOC makes clear that its aim is more than protection of cases where someone is "viewed as insufficiently masculine or feminine by others based on the person's dress or manners" — an argument firmly established in case law as covered by Title VII.
Rather, EEOC's Enzeo wrote that the agency's argument in the Muhammad filing was that "intentional discrimination based on an individual's sexual orientation can be proved to be grounded in sex-based norms [because they] can include the expectation that men should be sexually attracted to women and that women should be sexually attracted to men."
Such an interpretation would, in most cases, mean that sexual-orientation-based discrimination itself would effectively be protected under Title VII — similar to the growing support for gender-identity-based discrimination protections under the Civil Rights Act of 1964.
The field memo now directs that EEOC offices across the country should treat sexual-orientation-based discrimination complaints as such. As Tico Almeida of Freedom to Work told BuzzFeed News, "This memo shows that the EEOC's doors are fully open to accepting and investigating complaints from gay, lesbian, and bisexual Americans who suffer workplace harassment or unjust firings simply because of the sex of the person they love."
GLAD's Wu, however, did not let Congress off the hook, saying, "People are being harmed today because of both a misinterpretation of [Title VII] law, as well as congressional inaction. … We're not going wait while more people are being harmed by employment discrimination." Their litigation to expand the interpretation of Title VII, he added, "does not obviate the need for Congress to pass explicit protections."
But, until then, and although most LGBT organizations have been quiet about their work on this front until now, the effort to expand Title VII protections for lesbian, gay, and bisexual workers — in addition to the transgender workers already seeing some protections — appears to be one of the next fronts in the LGBT rights movement.
Of the success seen thus far on the transgender coverage efforts, the ACLU's Block said that "courts are shedding the blinders that they had that artificially constrained" rulings in favor of trans inclusion.
"I think you'll see a similar thing with sexual orientation discrimination — or at least that's certainly what we're hoping will happen," he added.