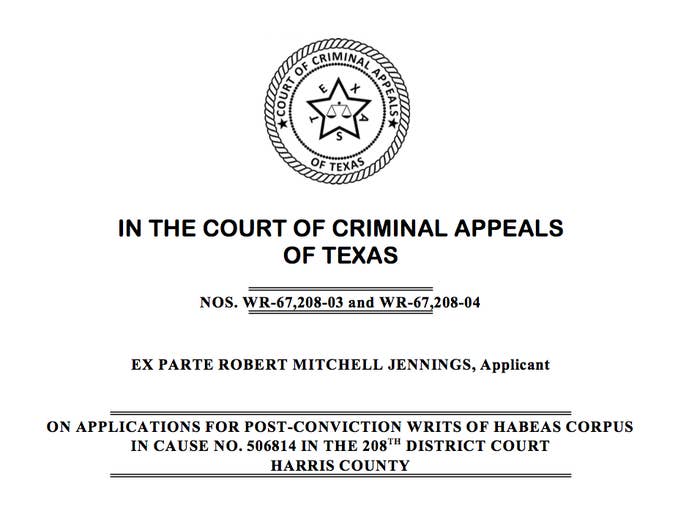 WASHINGTON — On Friday, the Texas Court of Criminal Appeals issued a stay of execution for Robert Jennings.
Jennings was scheduled to be executed on Sept. 14 for the 1988 murder of Elston Howard, a Houston police officer. He was sentenced to death after his trial in 1989.
The stay of execution means that this is the eighth consecutive scheduled execution date in Texas to have been withdrawn, stayed, or moved to a later date.
The unsigned opinion — from which four of the court's nine judges dissented — was a brief three pages, laying out the legal history of the case and Jennings' current request before the court. Among Jennings' arguments is that improper jury instructions prevented the jury from "properly considering and giving effect to" the mitigating evidence raised at his sentencing.
The only explanation given by the court for granting the stay was a single sentence: "After reviewing applicant's pleadings, this Court has determined that applicant's execution should be stayed pending further order of this Court."

This is the second Friday in a row in which the Texas Court of Criminal Appeals — the state's highest appellate court for criminal matters — issued a stay of execution with little explanation for its action. A week earlier, the court stayed the pending execution of Ronaldo Ruiz.
At this point, the next scheduled execution is the scheduled execution of Barney Fuller on October 5 — nearly six months since the most recent execution in the state, which took place April 6.
This long of a gap between executions in Texas — a state that has conducted more than 500 executions since it began executing people again in 1982 — is very rare. The only other time a gap of more than five months between executions happened in Texas in the past 20 years was between September 2007 and June 2008, when executions across the country hit a standstill because the U.S. Supreme Court had agreed to hear a case regarding the constitutionality of a lethal injection protocol.
Unlike then, however, the reasons given for withdrawing, staying, or moving the past eight execution dates in Texas have differed and have also at times, as with Friday's order, been less than transparent.