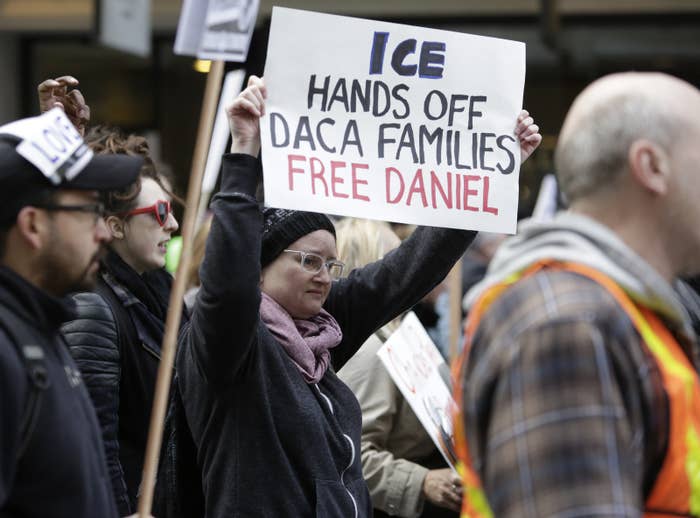 Texas Attorney General Ken Paxton on Thursday urged the Trump administration to end Deferred Action for Childhood Arrivals (DACA) — the Obama administration's executive effort to protect so-called DREAMers in the face of congressional inaction. If not, Paxton and 10 other statewide officials say they will take the administration to court.
Paxton's move comes in the wake of the Trump administration's decision to end Deferred Action for Parents of Americans and Lawful Permanent Residents (DAPA). The Trump administration recently announced a formal end to DAPA — which had been put on hold by the federal courts — and an expansion of DACA that President Obama had signed at the time.
But notably, the Trump administration has said that the original DACA program will continue.
On Thursday, Paxton — joined by nine other attorneys general and one governor — asked US Attorney General Jeff Sessions to end DACA altogether. What's more, they wrote, if the Trump administration doesn't end DACA by Sept. 5, they will amend the existing lawsuit against DAPA and the DACA expansion to include claims against the entire DACA program.
That lawsuit is before US District Judge Richard Hanen, who has repeatedly and harshly criticized the federal government's DAPA and DACA programs — and the Justice Department's defense of them.
Notably, Paxton's letter includes just 10 total states. The original DAPA and DACA expansion lawsuit included backing from 26 states — a drop off of 16.
Today's letter is signed by the attorneys general of Alabama, Arkansas, Idaho, Kansas, Louisiana, Nebraska, South Carolina, Tennessee, and West Virginia — as well as the governor of Idaho.
The states in the initial litigation that were not represented on Thursday's letter are: Arizona, Florida, Georgia, Indiana, Maine, Michigan, Mississippi, Montana, Nevada, North Carolina, North Dakota, Ohio, Oklahoma, South Dakota, Utah, and Wisconsin.