Texas Attorney General Says Officials "May" Be Able To Decline To Marry Same-Sex Couples
Current religious liberty protections could provide protections for local officials whose religious beliefs dictate opposition to the right of same-sex couples to marry, Texas Attorney General Ken Paxton says.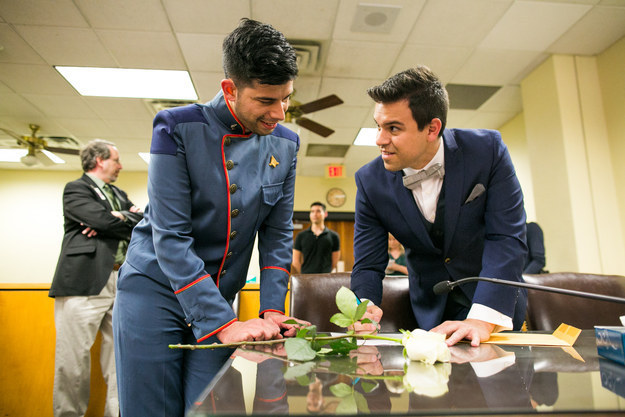 WASHINGTON — Texas Attorney General Ken Paxton announced Sunday that local officials responsible for issuing marriage licenses may, under state or federal religious liberty protections, be able to refuse to issue licenses to same-sex couples.
While the notice from Paxton doesn't challenge the Supreme Court's ruling in favor of marriage equality, meaning that same-sex couples should be able to marry in Texas across the state on Monday, it does assert that specific local officials "may" be able to refuse to issue those licenses.
In a legal opinion acknowledging the "newly minted federal constitutional right to same-sex marriage," Paxton wrote to the state's lieutenant governor that the marriage right "can and should peaceably coexist with longstanding constitutional and statutory rights, including the rights to free exercise of religion and freedom of speech."
Under state law, Paxton noted that clerks, who are responsible for issuing licenses, can delegate any duties to deputy clerks — including issuing marriage licenses to same-sex couples. Deputy clerks, meanwhile, can "seek reasonable accommodation for a religious objection" to issuing such licenses, he added.
While that would not prevent a same-sex couple from being able to get a marriage license so long as at least one clerk or deputy clerk in each county were willing to do so, even Paxton acknowledged in the opinion that issues could arise from this interpretation if there were no one in a given office willing to issue marriage licenses to same-sex couples.
"[W]ere a clerk to issue traditional marriage licenses while refusing to issue same-sex marriage licenses, it is conceivable that an applicant for a same-sex marriage license may claim a violation of the constitution," Paxton wrote.
In a statement accompanying the opinion, Paxton noted that "any clerk who wishes to defend their religious objections and who chooses not to issue licenses may well face litigation and/or a fine."
He added, however, "But, numerous lawyers stand ready to assist clerks defending their religious beliefs, in many cases on a pro-bono basis, and I will do everything I can from this office to be a public voice for those standing in defense of their rights."
Tex Gov. Greg Abbott discussed similar protections extending to state officials
in a memo issued Friday, even as some county officials in Texas began marrying same-sex couples on the day of the Supreme Court's decision.
Texas AG Paxton summarized Sunday's opinion as such: