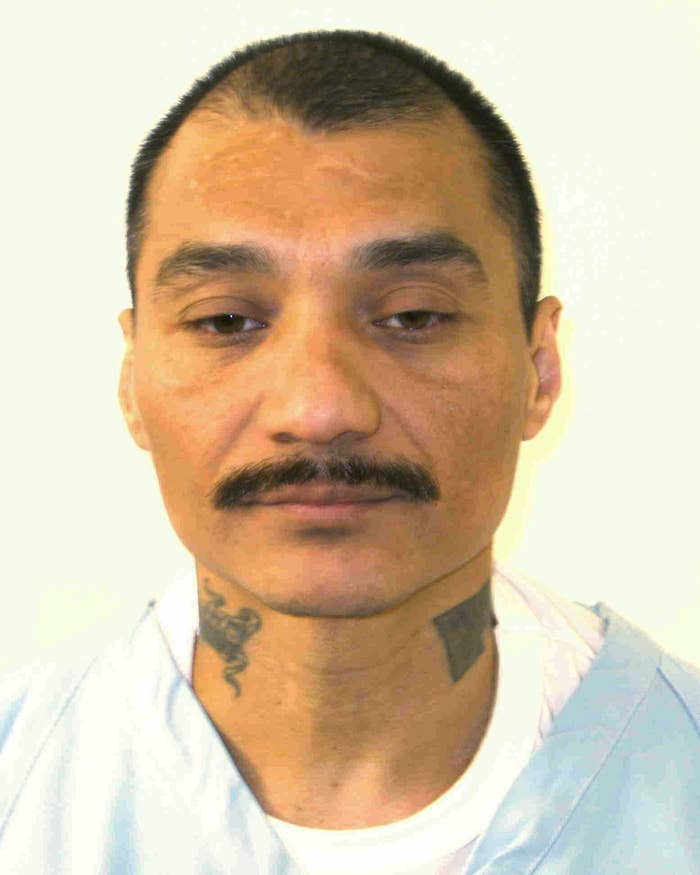 UPDATE
Virginia executed serial killer Alfredo Prieto on Thursday evening before the Supreme Court could weigh in on litigation about Virginia's execution drugs that was making its way through the federal courts throughout the day.
The Virginia Department of Corrections announced that "[d]eath was pronounced at 9:17 p.m. EST." The execution was the first in the commonwealth under Gov. Terry McAuliffe. It held its last execution in January 2013.
Prieto's attorney, Robert Lee, said in a statement, "The Justices of the Supreme Court of the United States were considering Mr. Prieto's request for a stay of execution but the Virginia Department of Corrections went ahead with the execution without waiting for a decision from the Justices."
A temporary restraining order that was put in place on Wednesday was lifted on Thursday afternoon by U.S. District Court Judge Henry Hudson, meaning there was no legal impediment to the commonwealth beginning Prieto's scheduled execution at 9 p.m.
Prieto's lawyers went to the 4th Circuit Court of Appeals seeking a stay of execution on the issue, which the court denied in an order posted on the docket a few seconds past 9 p.m.
As a spokesperson for Prieto's lawyers had said earlier would happen if the 4th Circuit denied the request, the lawyers sought a stay of execution from the Supreme Court. The Supreme Court's Public Information Office informed reporters of the filing of that request in an email time-stamped 9:27 p.m.
Although the commonwealth was legally permitted to proceed with the execution at 9 p.m., usual execution practice across the country is to wait until litigation has ended. In fact, the only other state to execute a person before litigation was terminated recently was Missouri, most recently when it executed Herbert Smulls in January 2014.
UPDATE
The scheduled Thursday night execution of serial killer Alfredo Prieto should be allowed to proceed, a federal judge ruled on Thursday afternoon.
The 4th Circuit Court of Appeals denied Prieto's subsequent request for a stay of execution related to the challenge, in which lawyers have raised questions about the pentobarbital Virginia officials obtained from Texas and intend to use in Prieto's scheduled execution.
His lawyers have now asked the Supreme Court to step in. They also earlier asked Virginia Gov. Terry McAuliffe to delay the execution, which was scheduled for 9 p.m.
U.S. District Court Judge Henry Hudson on Thursday afternoon ended a temporary restraining order entered by a different federal judge a day earlier, writing in his opinion, "At this point, the state and the victims of crime can expect the moral judgment of the state to be carried out without delay."
Prieto's lawyers appealed the decision to the 4th Circuit Court of Appeals, seeking an immediate stay of execution. The commonwealth has opposed the request. At 9 p.m., a three-judge panel of the 4th Circuit denied the request.
Hudson's order ending Wednesday's temporary restraining order states, "The Commonwealth of Virginia may proceed in whatever manner it deems appropriate." The order followed a hearing that Virginia Attorney General Mark Herring's spokesperson said lasted more than two hours on Thursday afternoon.
The Supreme Court, meanwhile, denied two other requests by Prieto to have his execution put on hold.
Virginia Gov. Terry McAuliffe has said he will not intervene to stop the execution, although Prieto's lawyers again asked him on Thursday to consider a delay in light of the questions raised to Hudson.
The execution is scheduled for 9 p.m.
UPDATE
Alfredo Prieto's case, seeking a delay of execution due to questions about the drugs Virginia intends to use in Prieto's execution, has been reassigned to U.S. District Court Judge Henry Hudson, a former prosecutor appointed to the bench by President George W. Bush.
Prieto, a convicted serial killer who has been sentenced to death by Virginia and California, is scheduled to be executed by Virginia on Thursday. On Wednesday, a federal judge by the execution on hold temporarily. Later Wednesday, the commonwealth successfully sought to have the venue for the case changed from Alexandria to Richmond, although the temporary hold on any execution remains in place for now.
A hearing on Prieto's request for a preliminary injunction, which would keep the execution on hold, and the commonwealth's motions to dismiss the case and to end the temporary restraining order are scheduled before Judge Hudson at 1 p.m.
In a profile of Hudson in connection with his overseeing the sentencing of Michael Vick in 2007, ESPN.com's legal analyst focused on Hudson's tough-on-crime approach to the law. "In a campaign for commonwealth attorney," the story noted, "Hudson used a large button that said, 'I Voted for Hang 'Um High Henry.'"
UPDATE
A U.S. District Court Judge in Virginia temporarily halted the execution of serial killer, Alfredo Prieto, on Wednesday to further examine Virginia's acquisition and planned use of lethal injection drug — pentobarbital — supplied by Texas.
Prieto was set to be executed on Thursday evening. The judge scheduled a hearing for that day, but cancelled it after the state requested a new venue.
The stay is still in place, and "shall continue until modified or vacated by the judge to whom this case is re-assigned."
UPDATE
Gov. Terry McAuliffe announced Monday afternoon that he will not intervene to stop Alfredo Prieto's execution, which is scheduled for Thursday, Oct. 1.
"After a thorough review of the facts of this case, the actions of the various federal and state courts, and the petitions and recommendations of individuals representing both Mr. Prieto and the families of his victims, I have decided not to intervene in this execution. Mr. Prieto was convicted in a fair and impartial trial, and a jury sentenced him to death in accordance with Virginia law. Federal and state appellate courts have extensively reviewed his case and denied his requested relief," he said in a statement.
"It is the Governor's responsibility to ensure that the laws of the Commonwealth are properly carried out unless circumstances merit a stay or commutation of the sentence. After extensive review and deliberation, I have found no such circumstances, and have thus decided that this execution will move forward. I will continue to pray for all of the individuals and families affected by these tragic and horrible crimes."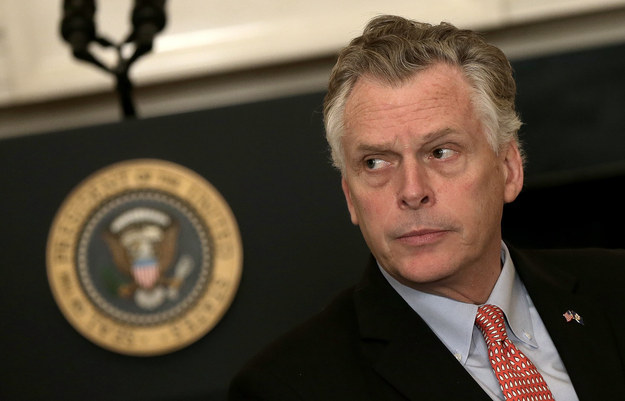 WASHINGTON — On Oct. 1, Alfredo Prieto, a serial killer sentenced to death by juries in two different states, is scheduled to be executed by the Commonwealth of Virginia. If Virginia Gov. Terry McAuliffe allows the execution to go forward, it will make him only the third sitting Democratic governor to execute someone.
Death penalty opponents have asked Virginia Gov. Terry McAuliffe, who has the sole authority to grant clemency in Virginia, to "grant a temporary reprieve of his execution" so that Prieto can be transferred to California, where he has challenged his second death sentence by claiming intellectual disability.
Prieto also has a case pending before the Supreme Court about the conditions he faces in Virginia's prisons — death row inmates are automatically placed in solitary confinement — but that case, obviously, will come to an end should Prieto be put to death.
All signs at the moment, however, point to the commonwealth preparing to move forward with the execution. This past week, Virginia Attorney General Mark Herring's office said that there were no challenges pending to his Virginia convictions that would prevent him from being executed.
As to whether he will exercise his clemency authority in Prieto's case, McAuliffe spokesperson Brian Coy on Monday morning told BuzzFeed News, "[T]he Governor is considering the facts of this case and will make a decision about it in the coming days."
Earlier this year, McAuliffe supported an effort to shield information about how Virginia obtained its lethal injection drugs. The measure failed, however, and on Thursday lawyers in an unrelated case in Oklahoma claimed in a court filing there that public records from Virginia show that the commonwealth purchased its current supply of its execution drug, pentobarbital, from the state of Texas.
On Friday, Virginia confirmed the claim, with its department of corrections spokesperson specifying that the drug purchase was intended to be used to execute Prieto next week.
In a story earlier this year addressing his support for the pending secrecy legislation, spokesman Brian Coy told The Washington Post that McAuliffe does not support the death penalty but would enforce it: "He is a Catholic, so there is a moral component to his position on the issue, but he's governor, and he will enforce the law."
As The Washington Post reported last year, Prieto "has been convicted of murdering three people, raping two of them, and DNA or ballistics link him to another six homicides and two rapes."
Nonetheless, his execution in Virginia would both be unusual and is a sign of the changing landscape for the death penalty.
Historically, in the period since the Supreme Court ended its four-year moratorium on executions in 1976, Virginia has been one of the more active death penalty states in the country, having conducted 110 executions—14 in one year, 1999.
In the past five years, however, the commonwealth has only executed two people. McAuliffe's predecessor, Bob McDonnell, conducted both. The most recent execution in Virginia took place more than two-and-a-half years ago, when Robert Gleason was electrocuted for the murders of two men.
McAuliffe is not quite half-way through his single term-limited four-year term, but the commonwealth has yet to conduct an execution under his watch. Likewise, while several recent Virginia governors have granted clemency to at least one person on death row under their watch — including Govs. Douglas Wilder, George Allen, Jim Gilmore, Mark Warner, and Tim Kaine — McAuliffe has not.
This issue has not come up, in part, because only eight people remain on Virginia's death row. In addition to the significant number of executions carried out by the commonwealth between 1995 and 2000, there has been a large decrease in the number of people added to Virginia's death row. No one in the commonwealth has been sentenced to death since McAuliffe became governor in January 2014. Mark Lawlor was the last person added to Virginia's death row back in 2011.
While the diminishing role of the death penalty in Virginia is one element of why Prieto's execution would be unusual, another is the national political scene. Among Democratic governors in America, only three have allowed executions to proceed under his or her watch.
McAuliffe would be the fourth. The only other sitting Democratic governors to execute anyone are Missouri Gov. Jay Nixon, whose state tied Texas in 2014 for the most executions in the country; Delaware Gov. Jack Markell, whose state had two executions in his first term in office. Markell, however, has said he would sign death penalty abolition legislation that was passed by the state's senate, but stalled in the house, earlier this year; and Kentucky Gov. Steve Beshear, whose state executed a man in 2008.
Among other Democratic governors, seven are running states with no death penalty, including one — Connecticut Gov. Dannel Malloy — who signed legislation ending the death penalty into law. The others are Hawaii Gov. David Ige, Minnesota Gov. Mark Dayton, New York Gov. Andrew Cuomo, Rhode Island Gov. Gina Raimondo, Vermont Gov. Peter Shumlin, and West Virginia Gov. Earl Ray Tomblin.
Four Democratic governors have put a moratorium on executions in place: Colorado Gov. John Hickenlooper; Oregon Gov. Kate Brown, who extended the previous governor's moratorium; Pennsylvania Gov. Tom Wolf; and Washington Gov. Jay Inslee.
Markell and one other governor, New Hampshire Gov. Maggie Hassan, said they would sign death penalty abolition legislation considered in their respective states this year, and a third, California Gov. Jerry Brown has said he opposes the death penalty. Neither Hassan nor Brown have conducted any executions. Finally, no execution has taken place during Montana Gov. Steve Bullock's time in office, and no executions are expected to be set during their time in office.
Update
Comment from the governor's spokesman was added on Monday.
CORRECTION
Gov. Steve Beshear of Kentucky presided over an execution in 2008; an earlier version of this story stated that no executions had taken place during his time in office.