WASHINGTON — Tennessee and Kentucky officials filed notices Tuesday in separate cases announcing that they will appeal federal decisions ordering both states to recognize marriages of same-sex couples married in other states.
In a filing Tuesday, Tennessee Attorney General Robert Cooper Jr. announced that the state would be appealing a preliminary injunction granted last Friday that ordered the state to recognize the marriages of three same-sex couples who live in Tennessee.
Cooper also filed a motion asking the trial court to put its preliminary order on hold while the case is appealed. If the trial court does not issue the stay, Cooper asked for a 21-day stay so the state can ask the 6th Circuit for a stay of the trial court's order during the appeal.
Likewise, and as expected, Kentucky Gov. Steve Beshear announced he would be appealing a trial court order that the state recognize all out-of-state marriages of same-sex couples. Attorney General Jack Conway had said he would not be defending the law, so Beshear has hired the firm of VanAntwerp, Monge, Jones, Edwards, & McCann, LLP, to represent the governor's office on appeal. A stay by the trial court putting the recognition decision on hold expires on March 20.
The 6th Circuit already is hearing an appeal from Ohio on the marriage recognition issue, although no date has been set for oral argument in the case.
Tennessee notice: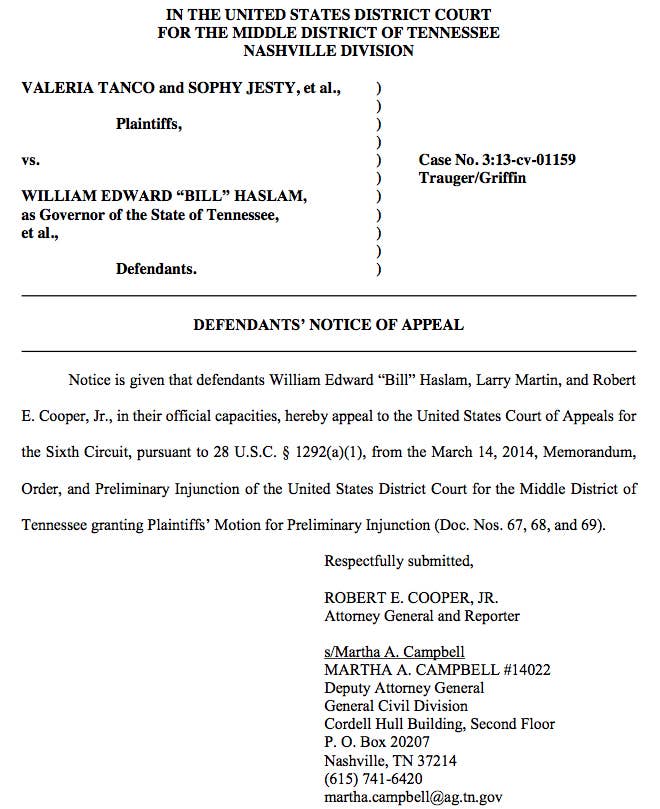 Kentucky notice: