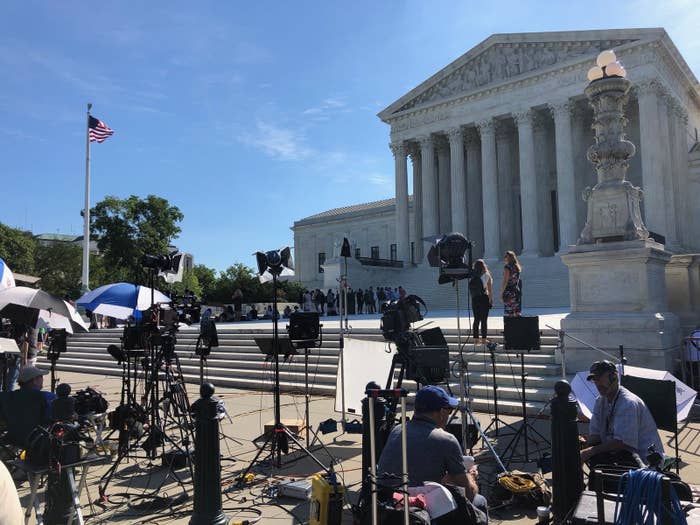 The Supreme Court on Monday tossed out most of a lower court ruling that had found multiple Texas statehouse and congressional districts to be invalid racial gerrymanders.

The court, in a 5–4 decision by Justice Samuel Alito, held that most of the challenged districts were lawful. The Supreme Court upheld the lower court's ruling that only one Texas statehouse district "is an impermissible racial gerrymander."

Alito wrote that the court below, considering the permissibility of redistricting maps passed by the 2013 legislature, relied too much on "taint" from maps passed by the 2011 legislature — which were never implemented due to challenges — in making its finding of discriminatory intent.

The court ruled that the plaintiffs challenging the plans had the burden to "overcome the presumption of legislative good faith" for the 2013 legislature, and that the district court had "contravened these basic principles" by relying too much on the "taint" from the 2011 maps.
To the contrary, Alito wrote, the 2013 maps in large part were the same as the interim maps put in place by the district court as a result of the challenge to the 2011 maps. The state's decision to do so was itself based in part on an effort to end the litigation over the redistricting, a rationale that the Supreme Court held on Monday "is understandable and proper."
Because the high court reversed the district court's ruling on discriminatory intent, the decisions as to one of the congressional districts and four of the Texas state House districts were overturned.
The court also overturned rulings that another congressional district and two Texas House districts were invalid under Section 2 of the Voting Rights Act due to discriminatory "effects."
It upheld the ruling as to one district, however, a Texas House district that the lower court "found independent proof ... was a racial gerrymander."
Justice Sonia Sotomayor dissented from the court's majority, writing that the logic of the court's decision "comes at serious costs to our democracy." She was joined by the three other more liberal justices.

"The Equal Protection Clause of the Fourteenth Amendment and Section 2 of the Voting Rights Act secure for all voters in our country, regardless of race, the right to equal participation in our political processes," she wrote. "The Court today does great damage to that right of equal opportunity. Not because it denies the existence of that right, but because it refuses its enforcement."

Justice Clarence Thomas wrote separately, agreeing with the result but also noting his view that "Section 2 of the Voting Rights Act of 1965 does not apply to redistricting." This was not altogether surprising given that he has previously expressed such a view. What made Monday's concurring opinion notable, however, was that Thomas was not alone in expressing that view — Justice Neil Gorsuch joined his opinion.