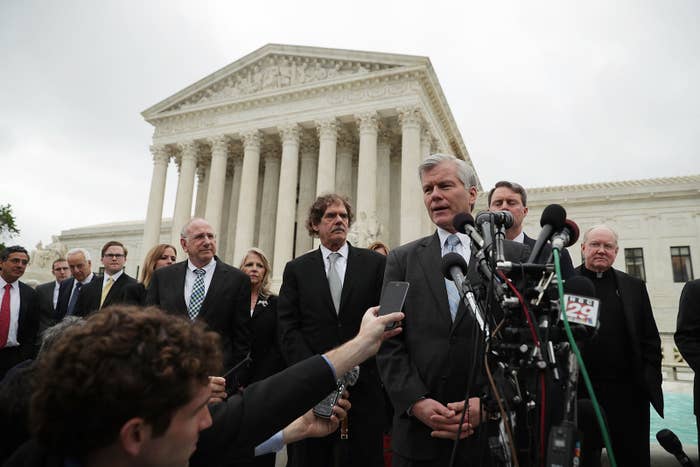 WASHINGTON — The Supreme Court tossed out former Virginia Gov. Bob McDonnell's corruption conviction in a unanimous decision on Monday.
The former governor had been convicted of violating the federal honest-services fraud statute following an indictment for his role in a bribery scheme with the head of Star Scientific, a Virginia-based company that was promoting Anatabloc, a dietary supplement.

The Supreme Court ruled that the jury instructions in McDonnell's trial were erroneous and may have resulted in him being convicted for doing things not illegal. As such, Chief Justice John Roberts wrote for the court, the lower court decision upholding his conviction must be vacated and the matter sent back to the appeals court.
The law prohibits a public official from taking an "official act" in exchange for, at issue here, loans and gifts. The question in McDonnell's appeal came down to whether the definition of "official act" used at his trial — which potentially included arranging meetings or attending events — was too broad and encompassed actions that were not necessarily illegal under the law.
The Supreme Court on Monday unanimously found that the definition was too broad, with Roberts writing, "Because the jury was not correctly instructed on the meaning of "official act," it may have convicted Governor McDonnell for conduct that is not unlawful."
McDonnell can be retried, Roberts wrote, if the lower court continues to believe there is sufficient evidence to do so under the new standard set forth by the Supreme Court on Monday.
McDonnell and his wife accepted more than $175,000 in money and luxury goods from Jonnie Williams, Star Scientific's CEO. In return, the government argued and a jury had agreed, McDonnell agreed to use "the power of his office to help Williams's company."

"There is no doubt that this case is distasteful; it may be worse than that. But our concern is not with tawdry tales of Ferraris, Rolexes, and ball gowns. It is instead with the broader legal implications of the Government's boundless interpretation of the federal bribery statute," Roberts wrote for the court. "A more limited interpretation of the term 'official act' leaves ample room for prosecuting corruption, while comporting with the text of the statute and the precedent of this Court."
The justices had agreed in August 2015 to keep McDonnell out of jail during the appeal, and they appeared skeptical of his conviction when they heard oral arguments in his case this April.