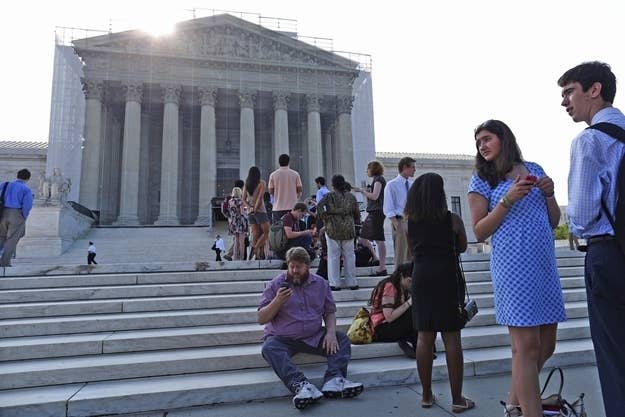 WASHINGTON — The Supreme Court struck down a major provision of the Voting Rights Act on Tuesday, with Chief Justice John Roberts putting the responsibility for adjusting the civil rights law to modern times in Congress' hands.
In Shelby County v. Holder, Chief Justice John Roberts, in a 5-4 decision, took no action on the strict "preclearance" restrictions in Section 5 of the Voting Rights Act itself. Under Section 5, state and local political subdivisions need federal government approval to make any change to their voting policies and systems.
The court did, however, strike down Section 4's coverage formula, which determines what jurisdictions have to follow Section 5's restrictions.
The reason for doing so, Roberts wrote, was because "At the time [the law was originally challenged in 1966], the coverage formula—the means of linking the exercise of the unprecedented authority with the problem that warranted it—made sense. ... Nearly 50 years later, things have changed dramatically."
In summary, Roberts wrote:
Striking down an Act of Congress "is the gravest and most delicate duty that this Court is called on to perform." We do not do so lightly. That is why, in 2009, we took care to avoid ruling on the constitutionality of the Voting Rights Act when asked to do so, and instead resolved the case then before us on statutory grounds. But in issuing that decision, we expressed our broader concerns about the constitutionality of the Act. Congress could have updated the coverage formula at that time, but did not do so. Its failure to act leaves us today with no choice but to declare §4(b) unconstitutional. The formula in that section can no longer be used as a basis for subjecting jurisdictions to preclearance.
Roberts also wrote for the court, "We issue no holding on Sec. 5 itself, only on the coverage formula. Congress may draft another formula based on current conditions."
Justice Clarence Thomas joined Roberts' opinion but also wrote separately "to explain that I would find Sec. 5 of the Voting Rights Act unconstitutional as well."
Unless Congress can "draft another formula" — and pass it — however, there is no coverage formula in place to which Section 5's restrictions apply.
Justice Ruth Bader Ginsburg dissented, writing for herself and Justices Stephen Breyer, Sonia Sotomayor, and Elena Kagan. She wrote:
After exhaustive evidence-gathering and deliberative process, Congress reauthorized the VRA, including the coverage provision, with overwhelming bipartisan support. It was the judgment of Congress that "40 years has not been a sufficient amount of time to eliminate the vestiges of discrimination following nearly 100 years of disregard for the dictates of the 15th amendment and to ensure that the right of all citizens to vote is protected as guaranteed by the Constitution." That determination of the body empowered to enforce the Civil War Amendments "by appropriate legislation" merits this Court's utmost respect. In my judgment, the Court errs egregiously by overriding Congress' decision.
Ginsburg, as she had done Monday in dissenting to cases involving affirmative action and Title VII, read from her opinion from the bench.
Shelby County was the final of three decisions issued Tuesday, leaving three cases — including the challenges to the Defense of Marriage Act and California's Proposition 8 marriage amendment — undecided. Roberts announced at the end of Tuesday's session that the final day of the court's sitting — and, presumably, the decisions in the three final cases — will come at 10 a.m. Wednesday.
UPDATE: Obama's Statement on the Court's Decision
I am deeply disappointed with the Supreme Court's decision today. For nearly 50 years, the Voting Rights Act – enacted and repeatedly renewed by wide bipartisan majorities in Congress – has helped secure the right to vote for millions of Americans. Today's decision invalidating one of its core provisions upsets decades of well-established practices that help make sure voting is fair, especially in places where voting discrimination has been historically prevalent.

As a nation, we've made a great deal of progress towards guaranteeing every American the right to vote. But, as the Supreme Court recognized, voting discrimination still exists. And while today's decision is a setback, it doesn't represent the end of our efforts to end voting discrimination. I am calling on Congress to pass legislation to ensure every American has equal access to the polls. My Administration will continue to do everything in its power to ensure a fair and equal voting process..