Supreme Court Skeptical Of Judges' Role In Florida Death Sentencing
Justices question Florida's laws, which state that a judge independently must make the decision to impose a death sentence after a jury's "advisory" recommendation — which is reached through a majority, not unanimous, vote.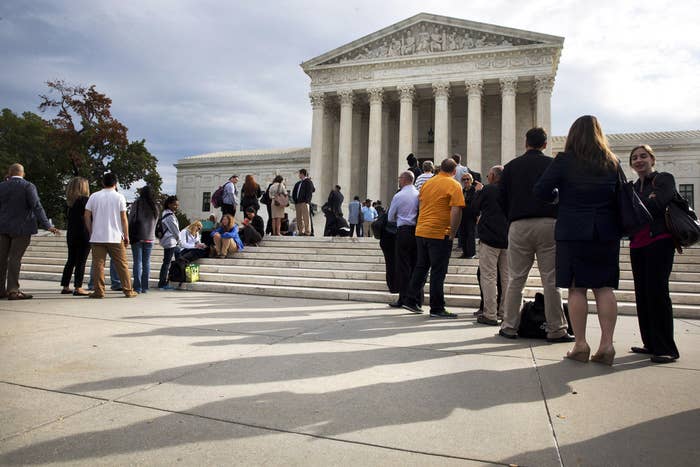 WASHINGTON — A majority of the Supreme Court on Tuesday expressed skepticism over Florida's unique method for sentencing people to death, although justices' concerns focused at points on different aspects of the system.
Under Florida law, a jury — by a majority, as opposed to a unanimous, vote — only recommends an "advisory" death sentence, which the judge hearing the case then uses in deciding independently whether to sentence a person to death.
In an earlier case, Ring v. Arizona, the Supreme Court held that a state cannot require that a judge, without a jury, find the aggravating circumstances that are constitutionally required to impose the death penalty.
The question on Tuesday was whether Florida's system violates that decision, a challenge raised by Timothy Lee Hurst to his 2012 death sentence imposed by the court for the 1998 killing of a co-worker.
Only Chief Justice John Roberts and Justice Samuel Alito — neither of whom were on the court when Ring was decided in 2002 — appeared comfortable with all of the aspects of Florida's system.
Notably, however, Justices Anthony Kennedy and Antonin Scalia both expressed concerns with the system, although Scalia also critically questioned Hurst's lawyer, Seth Waxman, about how, exactly, Florida's system differed from others in a way that was constitutionally relevant.
In Florida, after being found guilty in a capital murder trial — one where the defendant could face death — the jury then considers aggravating and mitigating factors before recommending a sentencing decision. Juries can recommend a sentence of death if a majority of the jurors find that at least one of several set aggravating factors applied to the defendant in the case. In Hurst's case, for example, the two aggravating factors claimed were that he committed the murder while "engaged in the commission of a robbery" and that the murder was "especially heinous, atrocious, or cruel."
If a jury recommends a sentence of death, it does not — and, Waxman pointed out, cannot be -- directed to specify which aggravating factor it found. As such, a majority of the jury need not even have agreed on which aggravating factor is being used as its rationale for recommending a death sentence.
Then, the case goes to the judge, who makes his or her own, independent investigation — in which the court can hear additional testimony and evidence — before handing down a sentence that need not comport with the jury's advisory sentence. When the judge imposes a death sentence, only the judge's decision, which includes a written opinion as to which aggravating factors she has found, is considered on appeal.
On Tuesday, several elements of this process were questioned by Kennedy, Scalia, and their four more liberal colleagues: Justices Ruth Bader Ginsburg, Stephen Breyer, Sonia Sotomayor, and Elena Kagan. Only Justice Clarence Thomas, who had joined the court's decision in Ring, said nothing at the arguments on Tuesday, as is his practice.
Scalia's primary concern related to the effect on the jury of its being told it was only to give an "advisory sentence," noting that if they were told that their decision finding the presence of an aggravating factor was final, then "[t]hat's a lot more responsibility" than merely giving the judge their advisory sentence.
Both Kennedy and Kagan, in a series of questions to the state's lawyer, Florida Solicitor General Allen Winsor, tried to understand what would happen in a death case in which the judge tossed out the jury's chosen aggravating factor as having been insufficiently proven but then substitutes a different aggravating factor as his rationale for imposing a death sentence. This, Kagan appeared to believe, would violate Ring.
At one point, Winsor said that such a situation wouldn't happen in Florida — specifically because the jury is not required to specify which aggravating factor it found.
Finally, Kagan raised another point, noting that a death sentence appeal in Florida only focuses on the judge's eventual sentencing findings, meaning that someone like Hurst can't challenge the jury's "aggravating factor" finding, which, Kagan said, "shows the crucial decision is [made by] the judge." That, Kagan noted, further suggested that the system violates Ring.
In addition to the judge-related issues, both Ginsburg and Sotomayor spent some time digging into the majority vote issue, questioning whether a simple majority vote is the "functional equivalent" of a unanimous jury. When Winsor noted a prior Supreme Court decision holding that a 10-2 jury vote requirement is the "functional equivalent" of unanimity, his pressing on that point led justices to question whether the court should, if needed, overrule that prior ruling.
A decision in the case is expected by the end of June.