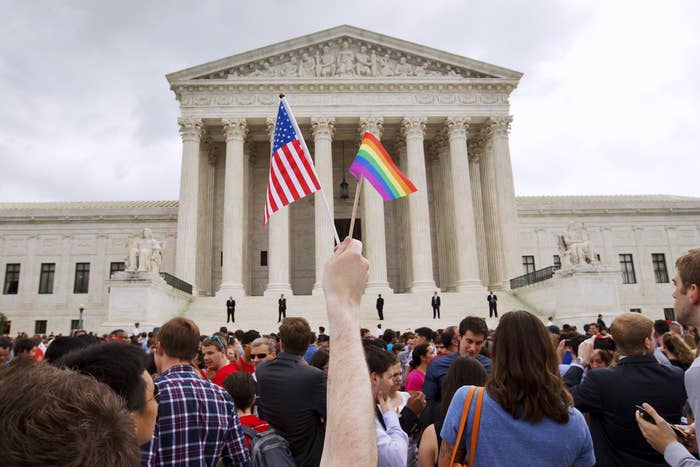 What We Know So Far
The U.S. Supreme Court ruled in a 5-4 decision that states cannot ban same-sex marriage.
Justice Anthony Kennedy wrote the majority opinion, saying, "[T]he reasons marriage is fundamental under the Constitution apply with equal force to same-sex couples."
Justices Roberts, Thomas, Scalia, and Alito dissented.
The ruling "is a victory for gay and lesbian couples who fought so long for their basic civil rights," President Obama said in an address to the nation. "Shifts in hearts and minds are possible."
"All marriages at their root are about love. In America, our laws now recognize that simple truth. #LoveWins today & we couldn't be prouder," Vice President Joe Biden tweeted.
Following the Supreme Court's ruling, Texas Gov. Abbott issued the following statement:
The Supreme Court has abandoned its role as an impartial judicial arbiter and has become an unelected nine-member legislature. Five Justices on the Supreme Court have imposed on the entire country their personal views on an issue that the Constitution and the Court's previous decisions reserve to the people of the States. Despite the Supreme Court's rulings, Texans' fundamental right to religious liberty remains protected. No Texan is required by the Supreme Court's decision to act contrary to his or her religious beliefs regarding marriage. The Texas Constitution guarantees that '[n]o human authority ought, in any case whatsoever, to control or interfere with the rights of conscience in matters of religion.' The First Amendment of the U.S. Constitution guarantees the free exercise of religion; and the Texas Religious Freedom Restoration Act, combined with the newly enacted Pastor Protection Act, provide robust legal protections to Texans whose faith commands them to adhere to the traditional understanding of marriage. As I have done in the past, I will continue to defend the religious liberties of all Texans—including those whose conscience dictates that marriage is only the union of one man and one woman. Later today, I will be issuing a directive to state agencies instructing them to prioritize the protection of Texans' religious liberties.
Read more on what is happening in the states without marriage equality.
Here's Every 2016 GOP Candidate's Response To The Same-Sex Marriage Ruling — And There's A Divide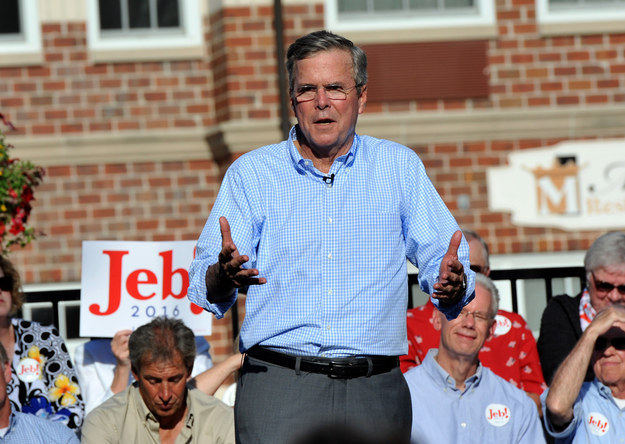 After the Supreme Court ruled bans on same-sex marriage are unconstitutional, Jeb Bush and Marco Rubio focused on religious freedom — while Mike Huckabee, Bobby Jindal, and, most interestingly, Scott Walker focused more on keeping the fight alive.
"Today, we can say in no uncertain terms our union is a little more perfect"
President Obama on Friday delivered a powerful speech addressing the Supreme Court's decision to end state bans on same-sex marriage, saying the ruling "reaffirmed that all Americans are entitled to equal protection to the law, that all people are treated equally regardless of who they are or who they love."
Here's a transcript of President Obama's call to Obergefell:
"#LoveWins." —The White House
Jim Obergefell, a plaintiff in the case, said, "The fact that the state I have long called home will finally recognize my marriage to the man I honored and cherished for more than 20 years is a profound vindication."
Today I could not be prouder of my country, more grateful for the memory of my late husband John, and more indebted to the incredible lawyers, advocates and fellow plaintiffs who made this landmark day possible. The fact that the state I have long called home will finally recognize my marriage to the man I honored and cherished for more than 20 years is a profound vindication — a victory I'm proud to share with countless more couples across the country. Thanks to the Supreme Court, a period of deep injustice in this nation is coming to a close, but it's also clear today that there is still so much work to do.

As long as discrimination against lesbian, gay, bisexual and transgender people is tolerated — whether in the seeking of a marriage license, the pursuit of fairness on the job, or the fight for equal treatment at a restaurant or business — we haven't truly guaranteed equal justice under the law. But today's victory proves that anything is possible, and I could not be more hopeful about the capacity of this country to change for the better.
What Is Happening Now in the 15 States Without Statewide Marriage Equality?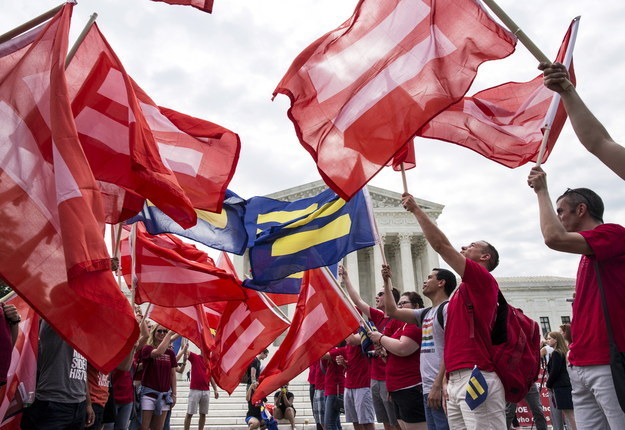 Thirty-five states already recognized same-sex couples' marriages prior to Friday's decision in favor of nationwide marriage equality by the Supreme Court. Those 35 states obtained marriage equality through legislation, popular votes, and/or court rulings. The remaining 15 states, however, have had mixed practices and policies: Three states had marriage rulings affecting parts of the states, but lacked any clear statewide policy, and the final dozen did not have marriage equality at all.
What is happening in those states now the Supreme Court ruled in Obergefell v. Hodges that marriage bans across the country are unconstitutional?
Read more here.
Here are reactions to the decision from activists, advocates and organizations:
U.S. Congressman David N. Cicilline, one of six openly LGBT members of U.S. House and a co-chair of the LGBT Equality Caucus: "Today is a victory that is truly decades in the making and ends long-standing discrimination against the LGBT community in the context of marriage."
National Center for Transgender Equality Executive Director Mara Keisling: "The U.S. Supreme Court has finally ruled that gender can no longer be used to prevent couples from marrying bringing immeasurable stability to families with transgender spouses."
President Ashley Broadway-Mack of the American Military Partner Association (AMPA), the nation's largest organization of lesbian, gay, bisexual, and transgender (LGBT) military families: "From burial rights to veteran home loans to burial rights, today's historic Supreme Court decision bringing marriage equality to every state in our great nation means that LGBT military families will finally have access to the full federal veterans benefits they've earned."
Rev. Al Sharpton, president and founder of National Action Network: "This a huge milestone for our nationwide journey for equality for all, and loving couples across this country can finally have their love and unions recognized.
We still have a long way to go, and as the tragedy in South Carolina last week devastatingly showed, the march toward progress and civil rights nationwide continues. As a nation, we must carry the momentum from the highest court in the land and fight against discrimination in all its forms and make sure that all Americans – no matter whom they love, their class or color – can exist freely and equally."
Obama: "Today is a big step in our march toward equality."
"Their hope is not to be condemned to live in loneliness, excluded from one of civilization's oldest institutions."
Here's the opinion written by Justice Anthony Kennedy: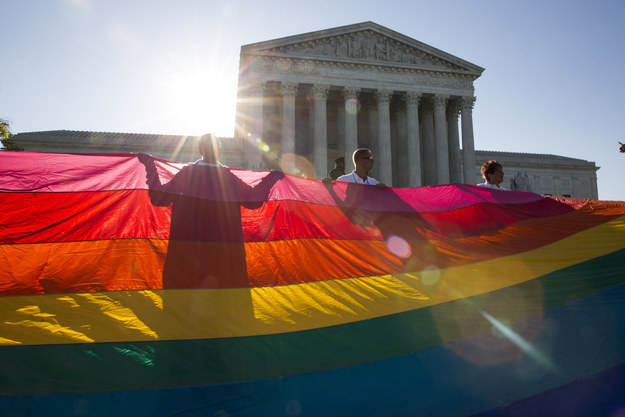 WASHINGTON — The Supreme Court in a 5-4 decision on Friday ruled that states may no longer ban same-sex couples' marriages or refuse to recognize such marriages.
Justice Anthony Kennedy wrote the decision, in which he was joined by the court's four more liberal members.
The decision came two years to the day of when the Supreme Court launched the catalyst for today's decision. On June 26, 2013, the court, in an opinion also by Justice Kennedy, struck down the federal ban on recognition of same-sex couples' marriages in the Defense of Marriage Act as unconstitutional.
Almost immediately thereafter, lawsuits were filed — with some already pending — across the country, challenging state bans on same-sex couples' marriages and similar bans on recognizing the marriages of same-sex couples performed elsewhere.
One of the first cases was that filed by Jim Obergefell and his husband, John Arthur, in Ohio. They had married in Maryland shortly after the DOMA decision came down. Arthur was dying of ALS, and the couple didn't want to wait any longer. After marrying, though, they sued the state of Ohio to ensure that Arthur's marriage would be recorded on his death certificate and that Obergefell would be listed as his surviving spouse.
In April, Obergefell attended the Supreme Court oral arguments in the case without Arthur — who died later in 2013 — and has engaged since the arguments in advocacy on behalf of same-sex couples, including traveling to the University of Guam to serve as the commencement speaker there — even as a marriage equality battle was ongoing on the island.
The two questions before the justices were whether states could bar same-sex couples from marrying and whether states could refuse to recognize the marriages of same-sex couples performed elsewhere.
In the time since Obergefell and Arthur filed their case, four federal appeals courts sided with same-sex couples on the question, striking down state bans. The Supreme Court refused to hear the appeals from the states out of three of those appeals courts in October 2014, leading to marriage equality in a wave of states in the days and weeks that followed.
Only the appeals court hearing Obergefell's case — along with another Ohio case and cases out of Kentucky, Michigan, and Tennessee — upheld the state bans as constitutional, dealing a blow to advocates and couples used to an almost unbroken string of wins.
That November 2014 decision, however, led the justices to agree to hear Obergefell's appeal and the appeal of the same-sex couples from the four states — which the court did in April, leading to today's decision.
Chris Geidner, Ellie Hall, and Dominic Holden are reporting from Washington, D.C. Tasneem Nashrulla is reporting from New York.