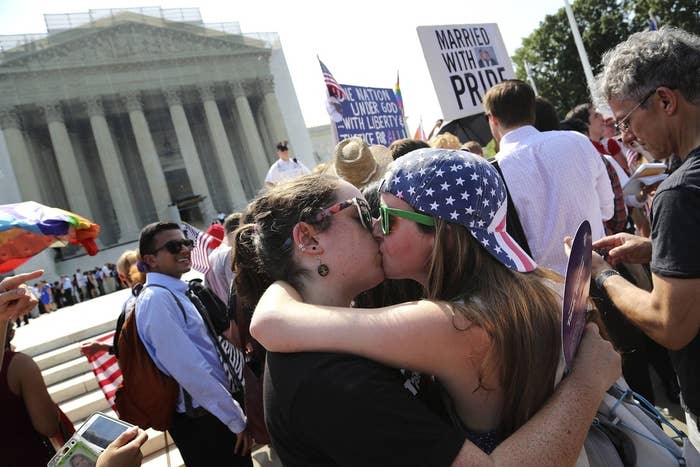 WASHINGTON — The Supreme Court ruled Wednesday that the federal definition of marriage in the Defense of Marriage Act is unconstitutional, ending the federal ban on recognizing same-sex couples' marriages.
From the decision, written by Justice Anthony Kennedy:
DOMA singles out a class of persons deemed by a State entitled to recognition and protection to enhance their own liberty ... DOMA writes inequality into the entire United States Code.
The Supreme Court also dismissed the Prop 8 appeal on standing, which clears the way for same-sex couples to marry in California.
The DOMA decision:
The Prop 8 decision:
buzzfeed.com
Analysis of Wednesday's decisions.
The history of United States v. Windsor, the DOMA case:
The challenges to DOMA began March 3, 2009, when the Gay & Lesbian Advocates & Defenders, with lawyer Mary Bonauto heading the case, filed a challenge to Section 3 of DOMA on behalf of several couples or previously married people in federal court in Massachusetts. Later, a similar lawsuit was filed by Massachusetts Attorney General Martha Coakley, arguing that Massachusetts itself had a claim that DOMA violated its rights as a state. Following that, Lambda and the American Civil Liberties Union filed lawsuits on behalf of federal court employee Karen Golinski and widow Edith Windsor, respectively.
After, all of the parties won at the trial court level, with judges of varying backgrounds striking down the federal definition of marriage on differing grounds.
During the course of these lawsuits' progression, the Obama administration's Department of Justice switched sides in the DOMA lawsuits, with United States Attorney General Eric Holder announcing on Feb. 23, 2011, that he and President Obama had themselves decided that courts should use heightened scrutiny to examine laws based on sexual orientation and that, under that heightened scrutiny, DOMA's Section 3 is unconstitutional. House Republican leaders, holding a majority on the House Bipartisan Legal Advisory Group, subsequently took up the defense of DOMA.
Then, the 1st Circuit Court of Appeals in Boston and 2nd Circuit Court of Appeals in New York agreed that DOMA's Section 3 was unconstitutional. The 2nd Circuit — hearing Windsor's appeal — went further, also deciding, in agreement with an argument made by the Obama administration, that laws targeting gay and lesbian people for differential treatment should be subjected to heightened scrutiny.
All appealed, and the Supreme Court accepted Windsor's challenge in December 2012, asking about the constitutionality of DOMA but also about whether the administration's changed position on the law meant there no longer is a real case and whether the House group, BLAG, has standing to defend the law.
On March 27, the justices heard oral arguments in the case.
The history of Hollingsworth v. Perry, the Proposition 8 case:
The whole process began after the California State Supreme Court ruled on May 15, 2008, that it was unconstitutional to bar same-sex couples from marriage. Opponents of that view proposed an constitutional amendment through initiative that would have the effect of reversing the decision — and ending same-sex couples' marriages, which had begun in earnest after the ruling.
After California voters ended same-sex couples' marriage rights by approving the Proposition 8 amendment in November 2008, a young political and public relations operator, Chad Griffin, courted the odd-couple legal team of Ted Olson and David Boies, got financial backing from Hollywood heavyweights like Rob Reiner and Bruce Cohen, and pressed ahead with a lawsuit against the amendment.
On May 22, 2009, Griffin's newly established organization — the American Foundation for Equal Rights — and their two sets of plaintiffs, Kris Perry and Sandy Stier and Paul Katami and Jeff Zarrillo, filed their lawsuit. Word of the lawsuit's filing was kept quiet until after the California Supreme Court's ruling a few days later, on May 26, that the passage of Proposition 8 as an amendment was permitted under California's constitution.
After a lengthy trial, Judge Vaughn Walker struck down the amendment as violating both equal protection and due process guarantees in August 2010. The Ninth Circuit Court of Appeal — after seeking guidance from the California Supreme Court — found that the proponents of Proposition 8 had authority to bring the appeal when the state defendants did not and that the amendment was unconstitutional. They did so on more narrow grounds than had the trial court judge, focusing instead on the fact that California voters took away a right that previously had been granted to people in the state.
The proponents then appealed to the Supreme Court, which accepted the case on December 7, 2012. In addition to the constitutional questions about the amendment, the justices noted that they also were going to consider whether the proponents have authority, or standing, to bring the appeal.
On March 26, the justices heard oral arguments in the case.
Obama's statement on the Supreme Court ruling on the Defense of Marriage Act:
I applaud the Supreme Court's decision to strike down the Defense of Marriage Act. This was discrimination enshrined in law. It treated loving, committed gay and lesbian couples as a separate and lesser class of people. The Supreme Court has righted that wrong, and our country is better off for it. We are a people who declared that we are all created equal – and the love we commit to one another must be equal as well.

This ruling is a victory for couples who have long fought for equal treatment under the law; for children whose parents' marriages will now be recognized, rightly, as legitimate; for families that, at long last, will get the respect and protection they deserve; and for friends and supporters who have wanted nothing more than to see their loved ones treated fairly and have worked hard to persuade their nation to change for the better.

So we welcome today's decision, and I've directed the Attorney General to work with other members of my Cabinet to review all relevant federal statutes to ensure this decision, including its implications for Federal benefits and obligations, is implemented swiftly and smoothly.

On an issue as sensitive as this, knowing that Americans hold a wide range of views based on deeply held beliefs, maintaining our nation's commitment to religious freedom is also vital. How religious institutions define and consecrate marriage has always been up to those institutions. Nothing about this decision – which applies only to civil marriages – changes that.

The laws of our land are catching up to the fundamental truth that millions of Americans hold in our hearts: when all Americans are treated as equal, no matter who they are or whom they love, we are all more free.
Statement by former President and Secretary Clinton
By overturning the Defense of Marriage Act, the Court recognized that discrimination towards any group holds us all back in our efforts to form a more perfect union. We are also encouraged that marriage equality may soon return to California. We applaud the hard work of the advocates who have fought so relentlessly for this day, and congratulate Edie Windsor on her historic victory.