Supreme Court Puts Off Decision On Hearing A Same-Sex Marriage Case For Friday
The justices turned down Louisiana same-sex couples' request to skip over the appeals court and take their case directly, but they had no word on the cases out of the 6th Circuit Court of Appeals. [Update: Justices will consider again on Friday whether to hear Kentucky, Michigan, Ohio, and/or Tennessee marriage cases.]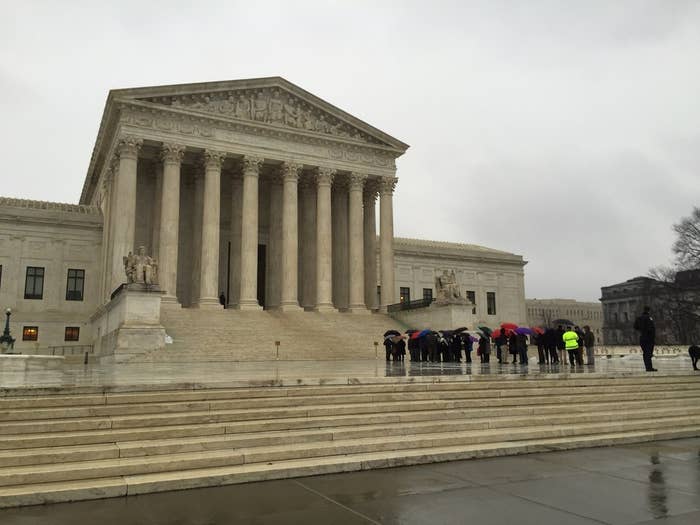 WASHINGTON — The Supreme Court on Monday held off, again, any announcement that it will hear a case or cases challenging bans on same-sex couples' marriages this year.
The Supreme Court did deny Louisiana same-sex couples' request to skip the 5th Circuit Court of Appeals and hear their case directly, but the justices took no action on the four other marriage cases in which same-sex couples are seeking Supreme Court review.
The four other cases — from Kentucky, Michigan, Ohio, and Tennessee — came out of this past fall's decision from the 6th Circuit Court of Appeals to uphold the four states' bans. The 6th Circuit has, thus far, been the only federal appeals court to find such bans to be constitutional.
The dismissal of the Louisiana petition — seeking "certiorari before judgment" of the appeals court — was not surprising given that such requests to skip over the appeals courts are rarely granted.
The four cases are expected to be relisted for the justices' next conference, which will be on Friday. The court could announce any cases it has decided to take from that conference as soon as that afternoon.
As expected, the certiorari petitions in same-sex couples' marriage cases out of Kentucky, Michigan, Ohio, and Tennessee have been redistributed for Friday's Supreme Court conference.
The justices could decide at that time whether to take one or more of the cases, and an announcement of that decision could come as soon as that afternoon.