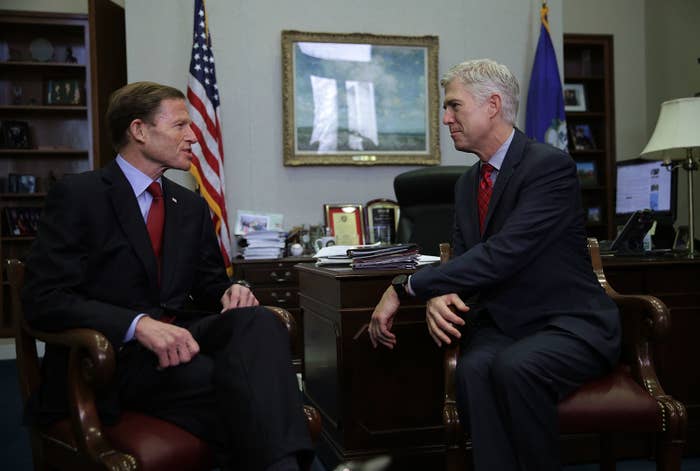 WASHINGTON — The president's nominee for the Supreme Court said Wednesday that President Trump's recent attacks on the judiciary are "disheartening" and "demoralizing," the team helping the White House with the nomination confirmed to BuzzFeed News on Wednesday.
In a meeting with Sen. Richard Blumenthal, first reported by CNN, Judge Neil Gorsuch used those two words to describe Trump's multi-day attacks on courts and specific judges that have heard challenges to his recent travel and refugee ban executive order.
"Behind closed doors, Judge Gorsuch expressed disappointment with President Trump's attacks on the judiciary, but a Supreme Court Justice must prove that he has the courage and independence to stand up to a President in public. I asked Judge Gorsuch to make that statement publicly, and he declined," Blumenthal said in a statement.
"As the nominee of a President who has viciously attacked the independence of the judiciary and declared multiple litmus tests for justices, Judge Gorsuch has a special responsibility to reassure the American people that he will be an open-minded and independent jurist," Blumenthal added. "If he wants the American people to believe that he is truly independent, Judge Gorsuch must tell them in no uncertain terms that President Trump's attacks are not just disappointing – they are abhorrent and destructive to our Constitutional system – and he must condemn them publicly."

In a tweet on Thursday morning, Trump tried to discredit Blumenthal by suggesting he misrepresented what Gorsuch told him.
The judge's comments came just more than a week after Trump announced that Gorsuch, currently a judge on the US Court of Appeals for the Tenth Circuit, would be his nominee for the vacancy on the Supreme Court and five days after US District Judge James Robart put much of the ban on hold.

Specifically, CNN reported, Gorsuch took umbrage at Trump's tweet referring to Robart as a "so-called judge."
Trump continued his attacks throughout the day and in the days since.
On Feb. 5, Trump appeared to place blame for any future terror-related attacks on Robart.
The US Court of Appeals for the Ninth Circuit heard arguments Tuesday over whether to keep Robart's temporary restraining order in place while the case is litigated, leading Trump on Wednesday to say, "I watched last night in amazement and I heard things that I couldn't believe … courts seem to be so political." He added, of Robart's order, "Right now we are at risk because of what happened."
Gorsuch's comments, as incomplete as they are, are significant due to the rarity of a judge speaking out on such political issues. Even in the midst of Trump's attacks on US District Judge Gonzalo Curiel, no federal judges spoke out
In fact, Justice Ruth Bader Ginsburg apparently is the only federal judge — before Wednesday — to directly speak out against Trump's comments or actions.
"He has no consistency about him," Ginsburg said at one point over the summer. "He says whatever comes into his head at the moment."
In a statement sent to BuzzFeed News, former US Senator from New Hampshire Kelly Ayotte said:
Judge Gorsuch has made it very clear in all of his discussions with senators, including Senator Blumenthal, that he could not comment on any specific cases and that judicial ethics prevent him from commenting on political matters. He has also emphasized the importance of an independent judiciary, and while he made clear that he was not referring to any specific case, he said that he finds any criticism of a judge's integrity and independence disheartening and demoralizing.
UPDATE
This report was updated with comment from Sen. Richard Blumenthal.