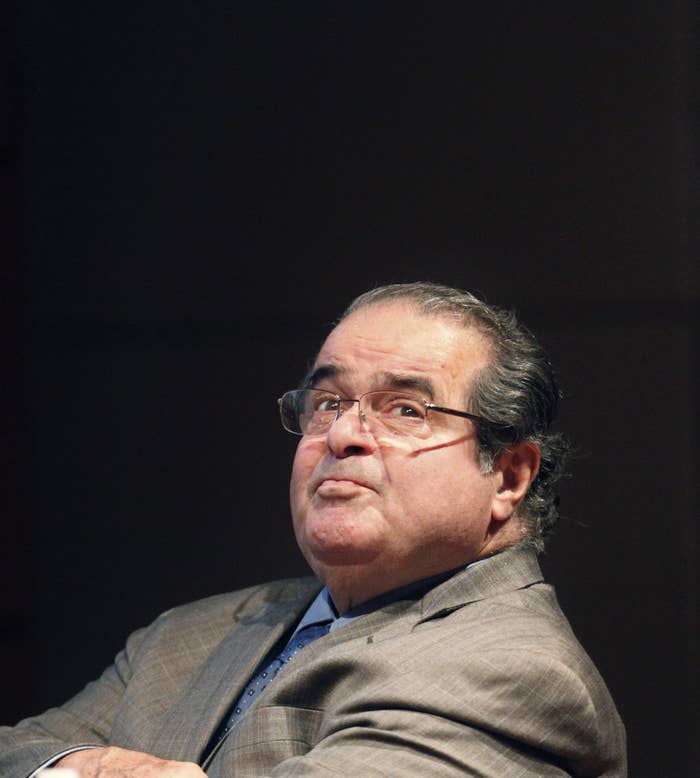 WASHINGTON — Justice Antonin Scalia, who served almost 30 years on the Supreme Court as one of its most prominent and influential conservative voices, died Saturday. He was 79.
"On behalf of the Court and retired Justices, I am deeply saddened to report that our colleague Justice Antonin Scalia has passed away," Chief Justice John Roberts said.
"He was an extraordinary individual and jurist, admired and treasured by his colleagues. His passing is a great loss to the Court and the country he so loyally served. We extend our deepest condolences to his wife Maureen and his family," Roberts said.
A Presidio County, Texas, judge ruled the justice died of natural causes after consulting with his physician and the local sheriff's department, the Associated Press reported. An autopsy was not performed, and arrangements were underway Sunday to return his body to family in Virginia.
President Obama praised the justice in a statement from Rancho Mirage, California.

"He will no doubt be remembered as one of the most consequential judges and thinkers on the Supreme Court," Obama said.

Obama also called Scalia's son, Eugene Scalia, Saturday and "extended his sympathies on behalf of the First Family and the country," White House spokesperson Eric Schultz said in a statement.
Scalia's unexpected death creates a complicated political situation concerning his replacement.
Obama said Saturday night that he will nominate a replacement. "I plan to fulfill my constitutional responsibility to nominate a successor in due time," Obama said. "There will be plenty of time for me to do so and for the Senate to fulfill its responsibility to give that person a full hearing and timely vote."
But the Senate is very unlikely to confirm anyone that Obama nominates before he leaves office this year, especially to replace a justice considered a major pillar of modern conservatism. Top Republicans, GOP operatives, and presidential candidates also made that clear on Saturday evening.

"This vacancy should not be filled until we have a new President," Senate Majority Leader Mitch McConnell, a Republican, said in a statement.

Senate Minority Leader Harry Reid, a Democrat, called for Obama to nominate a replacement "right away."
Obama remembered Scalia as "a larger than life presence on the bench...a brilliant legal mind..with colorful opinions."
Obama said Scalia "influenced a generation" of legal thinkers and is "one of the towering legal figures of our time."
Scalia was an "avid hunter," Obama said, and mentioned Scalia's odd couple friendship with his intellectual counterpart on the Supreme Court, Ruth Bader Ginsberg, saying they enjoyed opera together.
"Justice Scalia and I had fundamental disagreements about how the Supreme Court interprets the Constitution," Vice President Joe Biden said, "but we shared a belief that sharp debates, tough questions, and deep respect for the adversarial process was an essential part of our judicial system and our democracy."

Presidential candidates on both sides of the aisle expressed their condolences regardless of political ideology. Saturday night's GOP debate began with a moment of silence.
Scalia's death could impact the remaining cases before the court in this term, generally expected to end at the end of June. The death of such a reliable conservative could swing some contentious decisions from 5-4 to 4-4. Here's what happens if that's the case:

Among the Supreme Court cases already argued but still to be decided on are the issues of "one person, one vote," affirmative action, and public unions.

Rep. Paul Ryan, the Speaker of the House, summed up Scalia's tenure this way: "Scalia did more to advance originalism and judicial restraint than anyone in our time, and it all started with just two words: 'I dissent.'"
The San Antonio Express-News reported the justice was found dead at a West Texas resort while on a hunting trip. The New York Times reported that he received the Catholic sacrament of last rites.
A source told CNN Scalia had gone to bed Friday night complaining that he felt unwell. He was reportedly found unresponsive Saturday.
A representative of the Cibolo Creek Ranch, where Scalia was reported to have died, told BuzzFeed News she was unable to comment, citing guest confidentiality.
Fellow justices remembered Scalia for his brilliance, wit, and dedication.
"In every case, he gave it his all to get the broad principles and the small details right," Justice Clarence Thomas said.
Across the ideological spectrum, his colleagues agreed he had transformed American jurisprudence and history.
"His views on interpreting texts have changed the way all of think and talk about the law," Justice Elena Kagan said. "I admired Nino for his brilliance and erudition, his dedication and energy, and his peerless writing."
In a statement, Texas governor Gov. Greg Abbott remembered the Supreme Court justice as a "man of God, a patriot, and an unwavering defender of the written Constitution and the Rule of Law."

"He was the solid rock who turned away so many attempts to depart from and distort the Constitution," Abbott said.
New York Mayor Bill de Blasio ordered all flags in the city to half mast until Feb. 22 in honor of Scalia.
Scalia, who had nine children and many grandchildren, was the current court's longest-serving justice, having been nominated in 1986 by President Ronald Reagan.

Long-embraced by conservatives and denounced by liberals, Scalia was the Supreme Court's most prominent originalist, subscribing to an interpretation of the Constitution that frames it through the views of the Founding Fathers.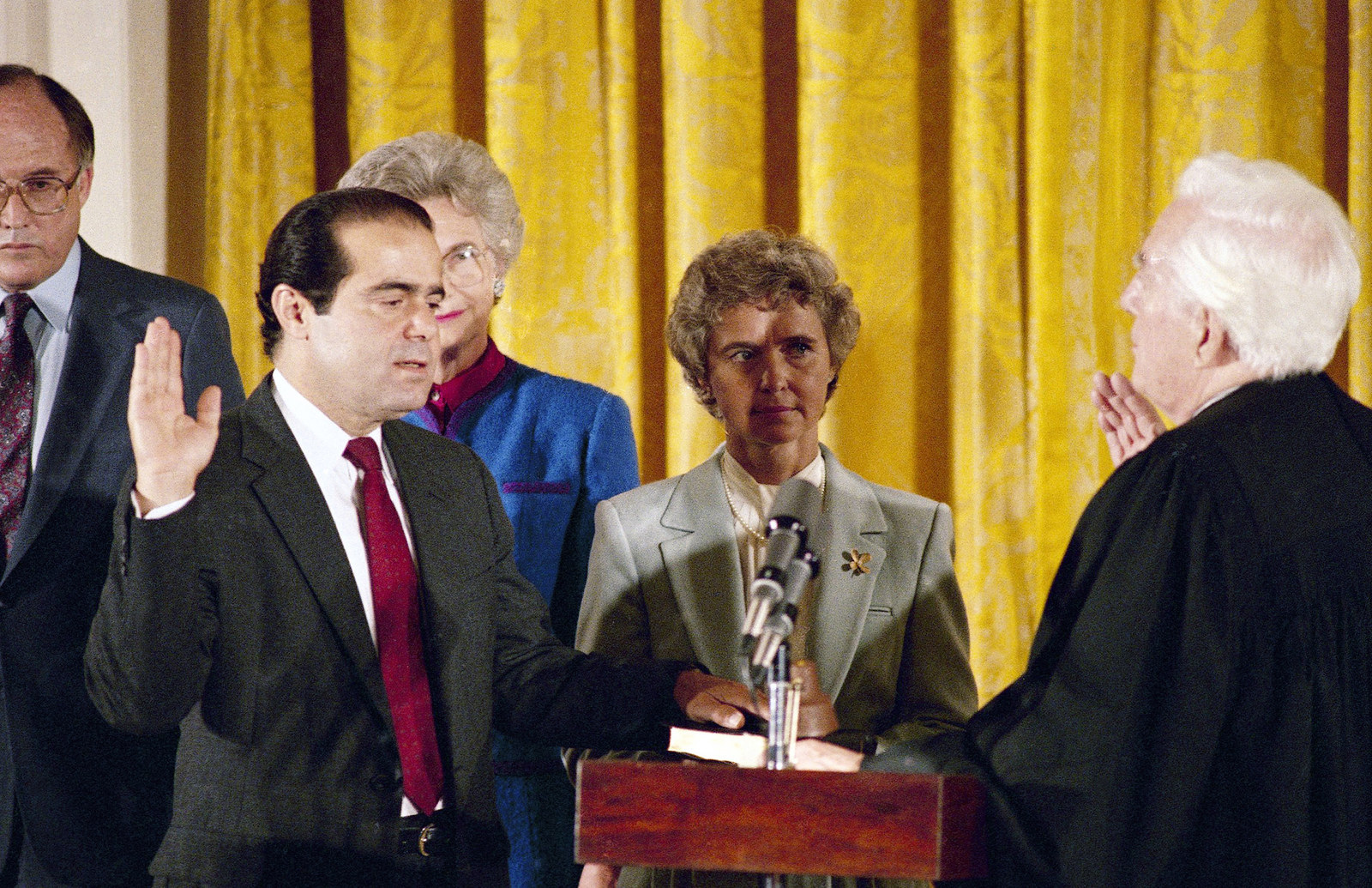 "Although I often did not agree with his legal opinions, no one doubted his commitment or his brilliance," said Vermont Sen. Patrick Leahy, the ranking member of the Judiciary Committee.
Scalia was the first Italian-American to serve on the Supreme Court. His father, Salvatore Eugene Scalia, had immigrated to the U.S. from Sicily as a teenager. Salvatore later earned a doctorate from Columbia and taught at Brooklyn College. His mother, Catherine Panaro Scalia, was the daughter of Italian immigrants.

Scalia was born in Trenton, New Jersey, on March 11, 1936, and was the couple's only child. He graduated first in his class from Xavier High School in Manhattan. By his own account, Scalia was a studious teen and "worked really hard."
"I was never cool," he told CBS in 2008.
Scalia's Catholic faith — which would eventually become one of his defining characteristics — deepened while he was in high school, and he later said he considered joining the priesthood.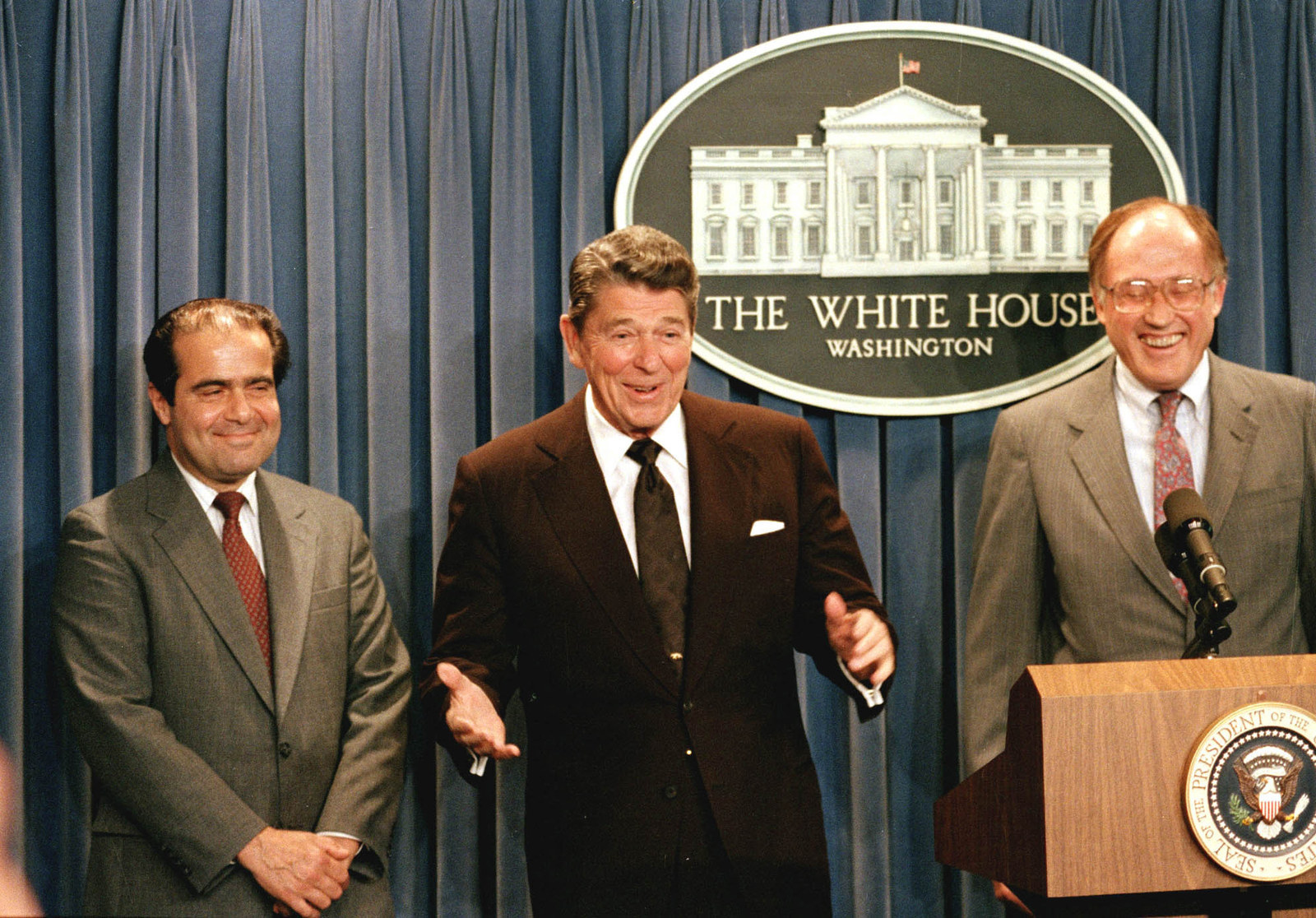 Scalia earned a bachelor's degree in history from Georgetown University in 1957, then graduated from Harvard Law School in 1960. While at Harvard he met Maureen McCarthy on a blind date and the two eventually married.
In the 1960s, Scalia worked as a private lawyer in Ohio. He left Ohio in 1967 to teach at the University of Virginia. He later served in several public agencies under presidents Nixon and Ford, before being nominated for the Supreme Court by Ronald Reagan in 1986.
The Senate unanimously confirmed Scalia's nomination, and he took his seat in September 1986.
Last year, Scalia wrote a scathing dissenting opinion in the landmark case of Obergefell v. Hodges, which held that same-sex couples had a constitutional right to marry. In his dissent, Scalia argued among other things that there was a robust debate over the issue, and that the court should not end that debate. He also characterized the majority opinion as "lacking even a thin veneer of law."
Despite Scalia's opinion in the case, plaintiff Jim Obergefell tweeted his condolences Saturday, saying "thank you for your service to our country, Justice Scalia."

One of Scalia's former law clerks called him "the real deal."
"After oral argument, my co-clerks and I would meet with the Justice to discuss the cases and prepare him for conference. Those meetings revealed the man. Like all of us, the Justice had biases. Yet, unlike most of us, the Justice was often transparent about those biases, and those biases could always be overcome by reason," Ryan Walsh wrote on Facebook. "If the Justice were inclined to disagree with us about a case, he not only would welcome a fight—he would expect it."
"Law was not politics to Justice Scalia," Walsh wrote. "Nor was it mere will. Law, to Justice Scalia, was law."