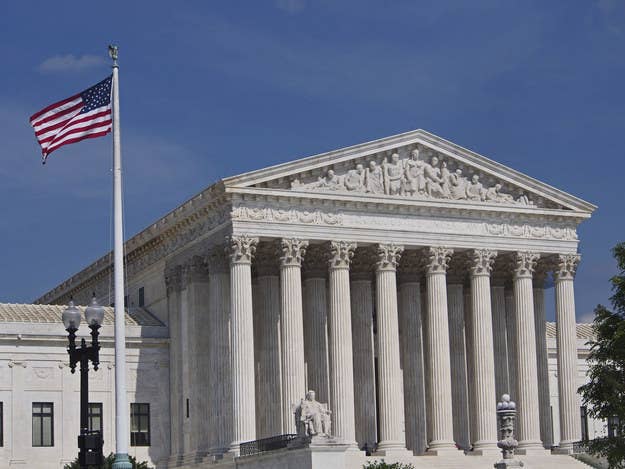 WASHINGTON — Utah will not need to recognize same-sex couples' marriages beginning on Monday, following an unsigned order from Supreme Court on Friday afternoon.
More than 1,000 same-sex couples married in Utah before the Supreme Court issued a stay in January halting same-sex couples from marrying under a trial court order striking down the state's ban on such marriages in December 2013.
Some of the couples who married during that time sued the state, arguing that the state must recognize those marriages — even while the main case, Herbert v. Kitchen, is appealed. A federal trial court judge agreed, and the state was denied a stay pending the appeal of that second case from the trial court judge and the 10th Circuit Court of Appeals.
A temporary stay from the 10th Circuit was due to expire at 10 a.m. Monday, so Utah officials sought the stay from Justice Sonia Sotomayor, to which the same-sex couples responded on Thursday evening.
Sotomayor referred the matter to the full court, and, a little before 5 p.m. Friday, the court issued the order granting the state a stay of the trial court order during the appeal to the 10th Circuit.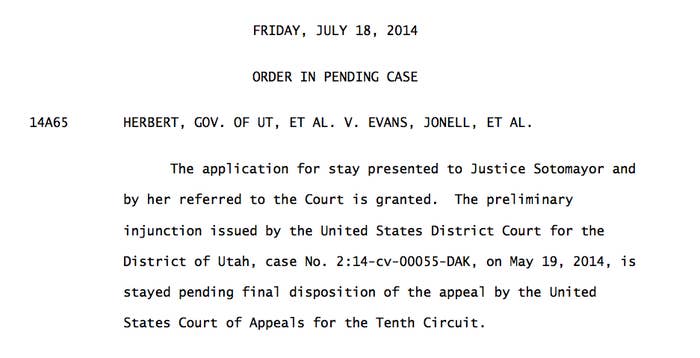 Utah Gov. Gary R. Herbert said in a statement, "I believe the Court made the correct decision to issue a stay in the Evans v. Herbert case. This is an important step in the process toward resolution of this issue. Regardless of where you stand on same-sex marriage, all Utahns deserve clarity and finality when it comes to the law. I believe states have the right to determine their laws regarding marriage and, as I have said all along, that decision will ultimately come from the United States Supreme Court."
Joshua Block, the lead attorney for the ACLU on the case, said in a statement: "We are deeply disappointed by the decision to grant a stay pending appeal, but despite this setback, we are confident that when the appellate process is completed we will prevail and these lawfully married same-sex couples will once again be given the same legal protections as ever other legally married Utah couple."