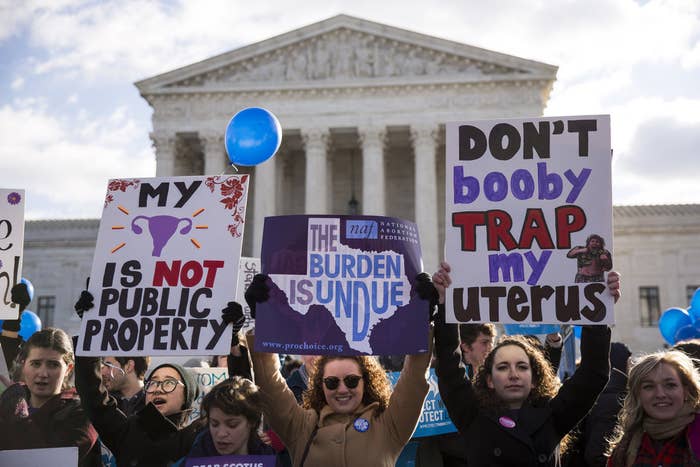 WASHINGTON — The Supreme Court granted Louisiana abortion clinics' request on Friday to temporarily halt enforcement of a state law that required doctors to have admitting privileges at a nearby hospital.
The court noted the law's similarity to a Texas law at issue in the pending Supreme Court case that the justices heard argument in earlier this week.
Justice Clarence Thomas was the sole justice who noted that he would have left in place a lower court ruling allowing the Louisiana law to be enforced during the litigation.
A trial court had previously issued a preliminary injunction preventing the state from enforcing the law, which requires all doctors performing abortions at clinics to "[h]ave active admitting privileges at a hospital that is located not further than thirty miles from the location at which the abortion is performed or induced and that provides obstetrical or gynecological health care services."
Last week, however, the 5th Circuit Court of Appeals issued a stay of the district court's injunction pending the state's appeal. In other words, the law would be enforceable while clinics and doctors appeal the ruling. The clinics then went to the Supreme Court, asking for the 5th Circuit's stay to be vacated as the litigation continues.
The Supreme Court's action in the Louisiana case comes in the wake of vigorous arguments in the Texas case on March 2 and after the justices would have met to cast their preliminary vote in that case.
When the Texas clinics had sought a similar halt on enforcement of that state's law during their appeal, the court granted it — but the relief was granted over the noted objection of four justices.
On Friday, neither Chief Justice John Roberts nor Justice Samuel Alito voiced objection to the move in the Louisiana case. Both had done so this past June in the Texas case. The fourth justice who had objected in the Texas case was Justice Antonin Scalia, who died last month.