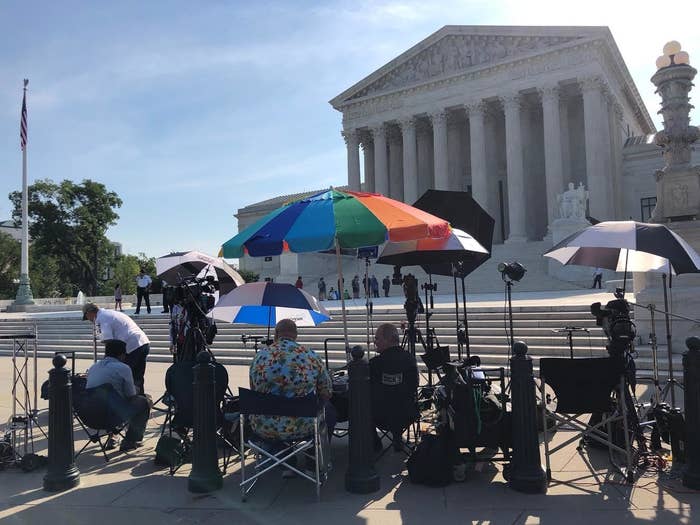 After a year of arguments over whether the Supreme Court believes partisan gerrymandering claims can be resolved by courts, the justices largely punted on Monday — leaving major questions unresolved.
"Over the past five decades this Court has been repeat­edly asked to decide what judicially enforceable limits, if any, the Constitution sets on the gerrymandering of voters along partisan lines," Chief Justice John Roberts wrote in one of two cases decided on Monday. "Our previous attempts at an answer have left few clear landmarks for addressing the question."
Monday, however, provided no clear answers.
In the first case, in which Democratic voters challenged Wisconsin's legislative redistricting process statewide, the Supreme Court held that those voters did not show that they had "a personal stake in the case" — a requirement necessary for the court to find that plaintiffs have standing to bring a case in court.
The justices tossed out a lower court's decision, in which the court had found the state's Assembly district map to be unconstitutional. Roberts, who wrote the court's decision, did not, however, dismiss the case altogether. Instead he sent the case back to the district court "so that the plaintiffs may have an opportunity to prove con­crete and particularized injuries." (On that point, Justices Clarence Thomas and Neil Gorsuch disagreed, writing separately that they would have simply dismissed the case.)
The court did signal that it would be difficult, if not impossible, for voters to show standing in statewide challenges. But even on that point, Roberts acknowledged — citing Justice Elena Kagan's concurring opinion in the case, there were other possible arguments that could be made regarding statewide challenges that were not addressed in the Wisconsin case.
In the second case, in which Republican voters challenged Maryland's congressional redistricting process, the court refused to grant a preliminary injunction to the voters to stop the state from using its current map.
In doing so, however, the court did not rule on the merits of the challengers' claims, instead ruling that the challengers had not shown that the district court abused its discretion when it ruled against granting a preliminary injunction to the challengers.
"In these particular circumstances, we conclude that the District Court's decision denying a preliminary injunction cannot be regarded as an abuse of discretion," the court ruled in a 5-page, unsigned opinion.