Update — 7:02 p.m. EDT: Joseph Wood is dead nearly two hours after the execution began, the Associated Press reported.
Update — 6:44 p.m. EDT: Joseph Wood is still alive and gasping an hour into his execution, according to a filing made by his lawyers. His lawyers have filed a motion for a stay of execution, saying the execution has violated his Eighth Amendment rights.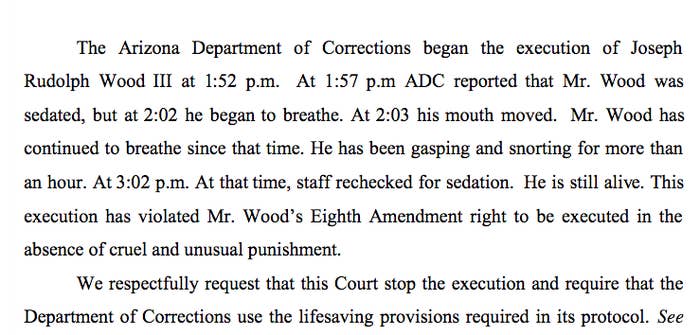 Update — 6:15 p.m. EDT: The execution of Joseph Wood has begun:
The Arizona Supreme Court, after reviewing the request from Joseph Wood, has denied the petition and dissolved the stay of execution. His execution, absent further action, can proceed.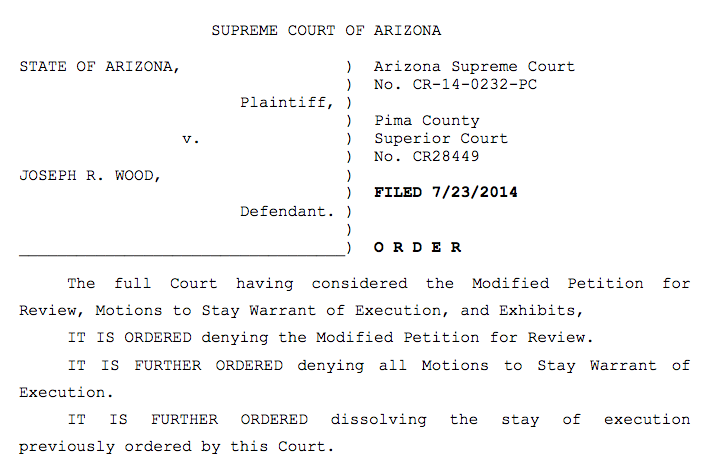 The Arizona Supreme Court issued a stay of execution moments before the scheduled execution of Joseph Rudolph Wood so that the court can consider his petition for review.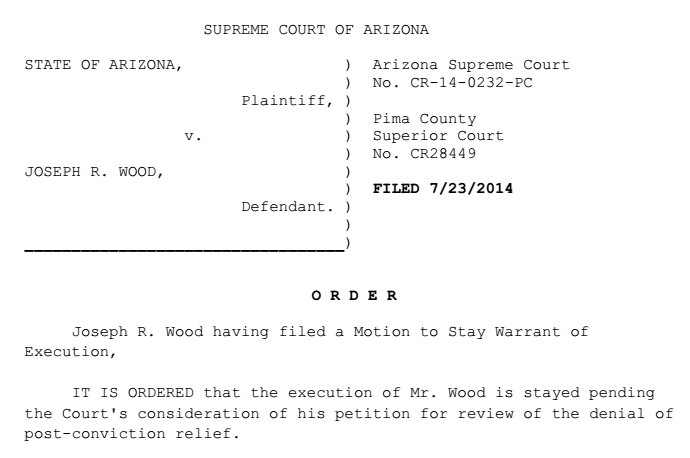 Statement from Dale Baich, one of Joseph Wood's attorneys:
"The Arizona Supreme Court has stayed Mr. Wood's execution so that it can consider the Petition for Review that is now before it. We are hopeful that the Arizona Supreme Court will give the necessary time and consideration to the constitutional claims raised in Mr. Wood's petition, including review of the experimental combination of drugs to be used in the execution."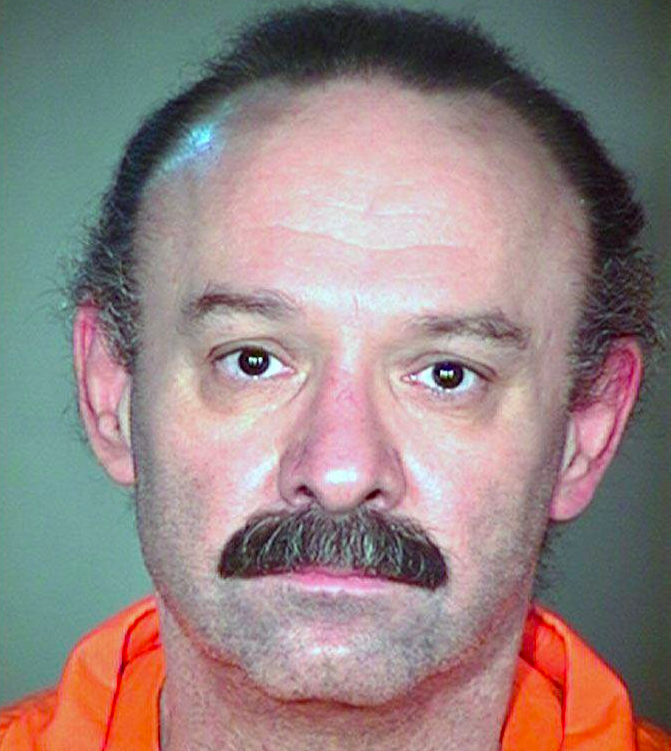 More than 20 years ago, Joseph Rudolph Wood III was convicted of a double murder:

After decades of appeals, the execution was set in May for this 1 p.m. EDT Wednesday:
Once the state began seeking a warrant of execution, the head of Arizona's Federal Public Defender's Capital Habeas Unit, Dale Baich, began seeking additional information about Arizona's specific plans for the would-be execution. A response came June 6:

Several questions remained unanswered: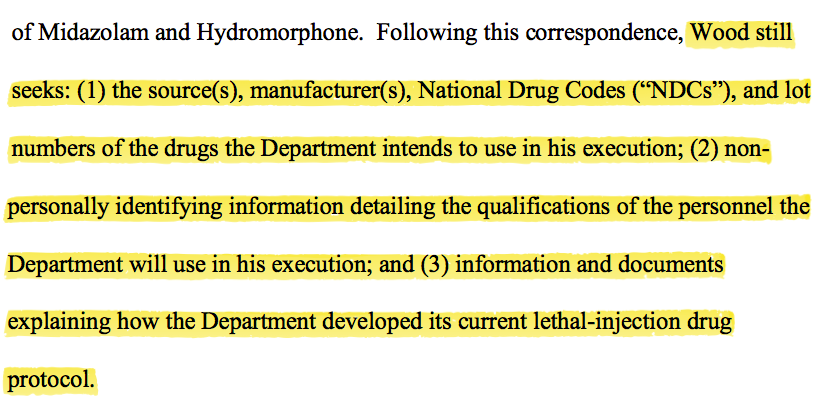 Several death-row prisoners sued because, they argued, the secrecy surrounding the process violates the First Amendment. Wood, with the nearest execution date, filed for an injunction stopping the state from executing him until it releases information: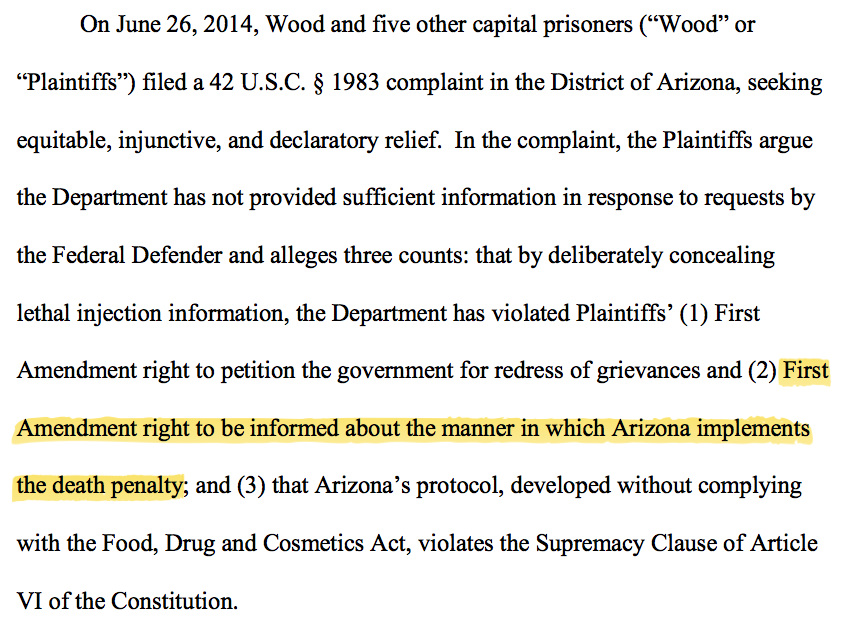 Although the trial court denied the request, a three-judge panel of the 9th Circuit Court of Appeals granted a "conditional preliminary injunction" on July 19: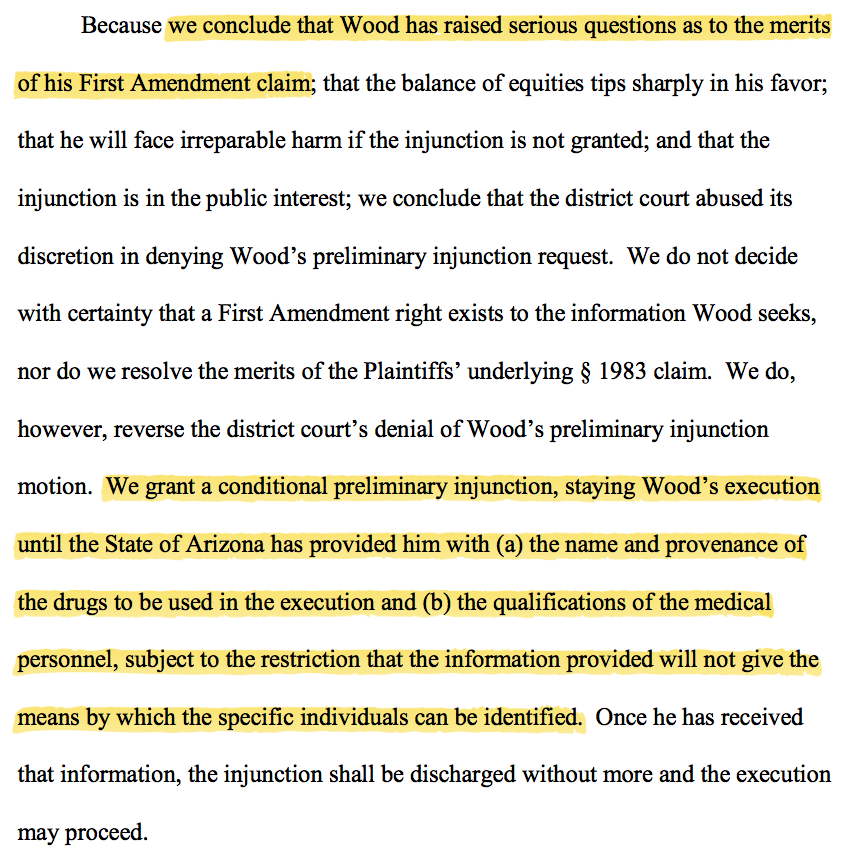 The state asked the full 9th Circuit to lift the stay of execution, which it declined to do on July 21, so the state on Tuesday asked the Supreme Court, through an application to Justice Anthony Kennedy, to vacate the stay: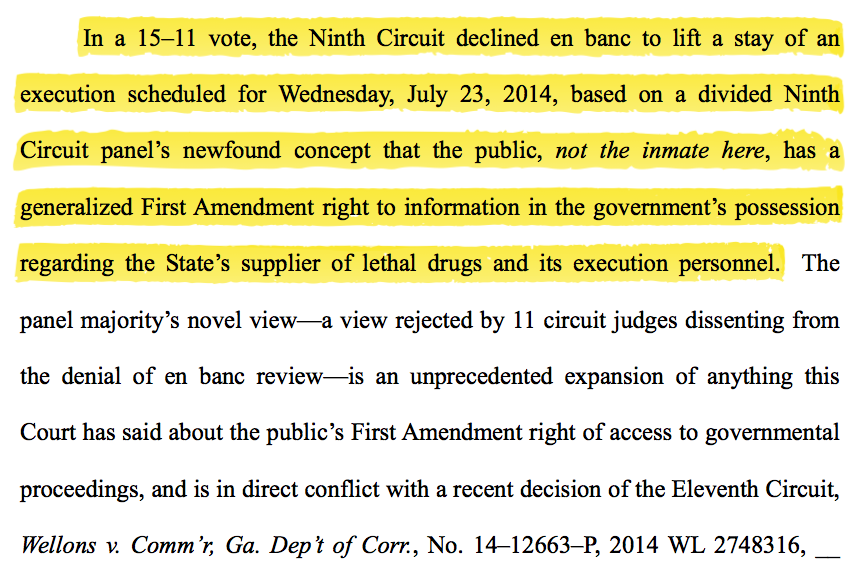 Wood's lawyer filed his opposition to the state's request on Tuesday afternoon: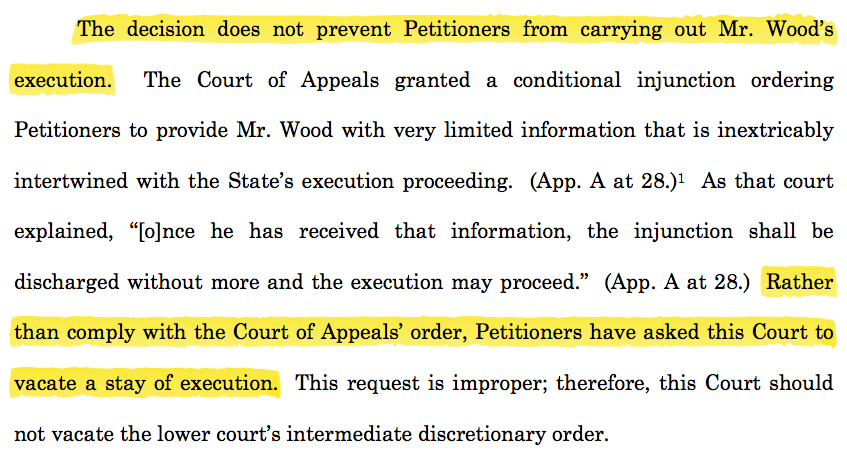 A little before 7 p.m. Tuesday evening, the Supreme Court sided with Arizona, ruling in an unsigned order that the trial court judge who initially denied Wood's request for an injunction based on the First Amendment claim "did not abuse his discretion."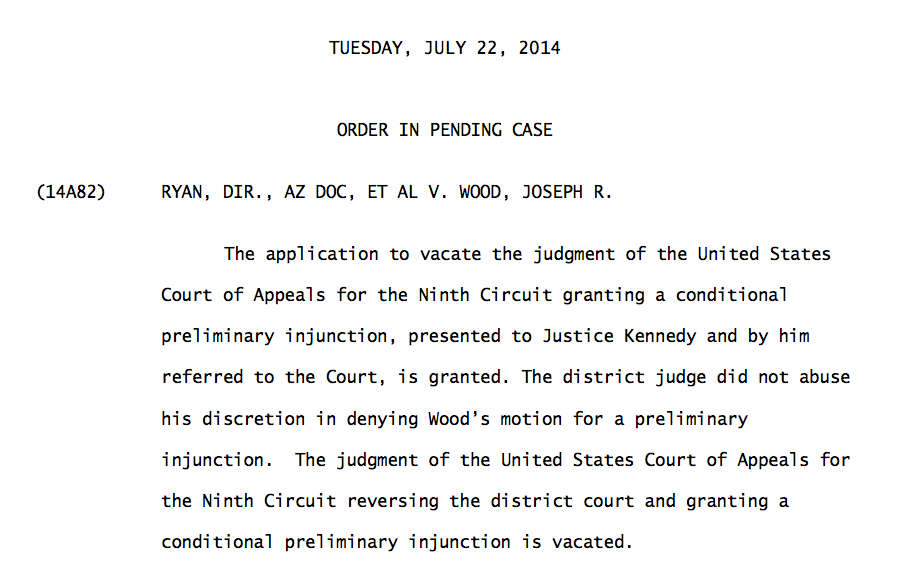 Following the Supreme Court's order, and absent further litigation, Wood's execution will be allowed to proceed at 1 p.m. ET Wednesday.
The Supreme Court denied a further stay request and petition for certiorari on Wednesday morning.