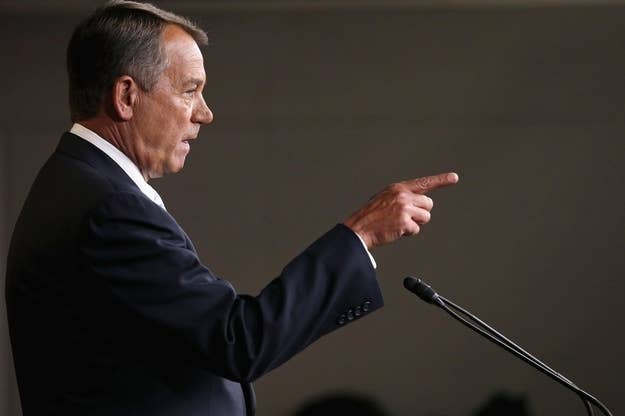 The Supreme Court Monday granted a request by House Republican leaders to delay until Aug. 31 the deadline for when they need to tell the Supreme Court their view of whether it should take two challenges to the Defense of Marriage Act in its upcoming term.
This Thursday was supposed to be the deadline for parties to respond to several outstanding requests — one made by the House Republican leaders — before the Supreme Court asking it to review whether or not DOMA's federal definition of "marriage" is constitutional.
Lawyers for the House Republican leaders, who are going to court to defend the law that bars the federal government from recognizing same-sex marriages, asked for a delay to file their responses up "to and including Aug. 31, 2012." Acting through their majority on the House Bipartisan Legal Advisory Group, they sought the additional time to respond to the requests made by the Obama administration for the court to hear one or both of two challenges to DOMA. The final Supreme Court request currently before the court, filed by the American Civil Liberties Union, currently has a deadline of Aug. 16 for responses.
The deadline extension, which lawyers familiar with the cases say could cause up to a one-week delay in when in the fall the Supreme Court justices would consider when to take the cases, won't likely have any long-term effect on how and when the cases might be considered by the justices.
The new deadline, however, means that House Speaker John Boehner's lawyers could take the chance to take aim at the Obama administration, which stopped defending DOMA in early 2011, following the conclusion of the Republican National Convention on Aug. 30 and before the start of the Democratic National Convention the next week.
There is reason to believe they will. Of the Obama administration decision that it would no longer defend DOMA in court because it had reached the conclusion the provision was unconstitutional, the House Republican leaders in their previous Supreme Court filing referred to that decision by stating that "[t]he executive branch has ... abdicated its traditional role of defending the constitutionality of duly-enacted statutes."
[Correction: Today's delay did not involve the ACLU case.]