Supreme Court Considers What "One Person, One Vote" Means Today
Justices hear cases that could cause an upending of long-established state legislative redistricting principles.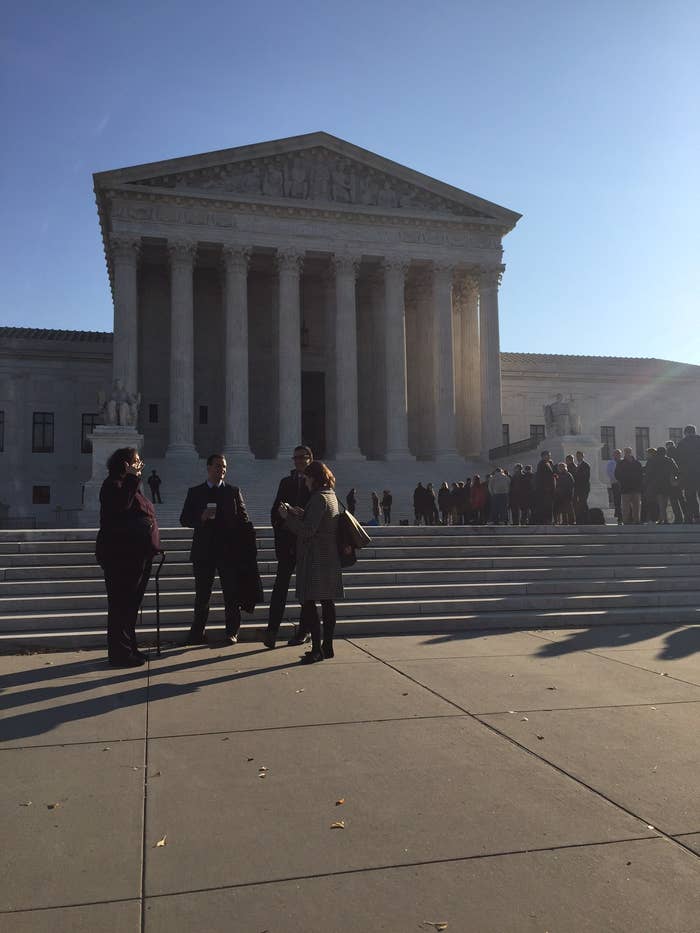 WASHINGTON — The potentially dramatic role that the Supreme Court can play in American elections was on full display Tuesday, as the justices considered two cases that could have a seismic effect on electoral redistricting efforts and issued a decision ensuring that challenges to redistricting maps will more quickly reach the justices in the future.
At issue in the two cases heard Tuesday is the question of what the court's "one person, one vote" cases, key voting rights cases decided in the 1960s, actually protect — people or voters — and the extent of the restrictions placed on states by those cases.
One case could force states to change the underlying numbers they examine to make state legislative redistricting decisions. In the other case, one of the lawyers went so far as to argue that the court should explicitly bless partisan gerrymandering efforts that create significantly different-sized districts.
After the arguments, however, a majority of the justices appeared unlikely to take any of the most dramatic steps being urged of them in the cases before them on Tuesday.
In the most closely watched case of the Tuesday arguments, brought by Sue Evenwel and Edward Pfenninger, the pair sued over Texas's state senate redistricting efforts. Under the "one person, one vote" right, they claim, the key metric that must be measured in protecting that right is a measurement of voters and not overall population, which is the metric used nationwide across the states today.
Evenwel and Pfenninger, however, say that standard isn't what the "one person, one vote" cases intended to protect. Their votes, they say, are being diluted since they live in districts with proportionally more voters when compared against the total population numbers that were used to develop the maps. A victory for them could lead to states across the nation being forced to reconfigure their state legislative maps to ensure that new "one person, one vote" voter-based metrics still would result in maps that treat voters equally across districts.
Both Texas and the Obama administration argue that Evenwel and Pfenninger are wrong and that states are not required to measure voters under the rule, although they differ on further specifics.
Texas argues it is left to states to decide how to reapportion their districts — they could choose to count total population or count only voters — and that the only question is whether "invidious, or impermissible, discrimination" motivated their choice. The Obama administration argues that the court need not decide whether states can use metrics other than total population; the only issue here, the Justice Department argues, is whether a state can use total population in making its redistricting decisions — and that such a choice clearly is permitted.
In the court on Tuesday, Evenwel and Pfenninger's lawyer, William Consovoy, faced skeptical questions from the four more liberal justices — and no questions from other justices. Deputy Solicitor General Ian Gershengorn only received an opening question from Chief Justice John Roberts and a few series of questions from Justice Samuel Alito.
It was, in fact, Texas Solicitor General Scott Keller who faced the most searching questions. Notably, Justices Anthony Kennedy and Stephen Breyer appeared to struggle with the implications of all sides of the case in their repeated questions to Keller — often building off the other's questions.
If, as Texas argued, it would be permissible for a state to choose to use numbers of voters in calculating redistricting, then that must, Kennedy said, be based on a "liberty interest in protecting these voters." When Keller said that was correct, Kennedy followed up by asking "why isn't Texas required at that point to recognize" those interests and "give some consideration" to the kind of voter disparities complained of by Evenwel?
Keller responded that while a state could do so, it should not be seen as being invidious discrimination not to do so.
Breyer followed up on that and a prior question from Alito, saying that it seemed that there was a choice to be made between "voter equality" and "representation" for all people — concluding, "[Y]ou have to say the one or the other." Breyer said that Texas's argument, as he saw it, was that Texas gets to decide which it is.
After some back and forth, however, Kennedy came back in, asking, "But why is one option exclusive of the other? Why can't you have both?"
Keller responded that no plan was submitted that could do so. Additionally, he said he suspected that, in order to do so, "States would inevitably have to disregard many other traditional redistricting factors, like compactness, continuity, keeping communities together" — something Keller said would take away the very leeway the court has pointed to as a "core function" of states' sovereignty in this area.
Kennedy acknowledged, "That sounds highly probable to me."
In the other case of the morning, brought by Wesley Harris and other voters in an "over-populated Arizona legislative district" that they say was impermissibly created because of partisan concerns, the question appeared to come down to how much partisanship is too much partisanship when it comes to redistricting.
Harris's lawyer, Mark Hearne, and Arizona Attorney General Mark Brnovich, representing the state's secretary of state, argued that the redistricting commission violated "one person, one vote" constitutional protections by diluting the votes of Harris and others in part to advance partisan interests.
The three-judge panel that initially considered the case found that the "predominant motive" for the commission to create the map it did was to help ensure preclearance approval that was needed at the time under the Voting Rights Act.
While the more liberal justices questioned why that wasn't the end of the matter, Brnovich and the more conservative justices countered that was irrelevant. "The problem is those motives don't matter" when "undermining … the fundamental principle of 'one ­person, one ­vote,'" Brnovich said, a violation of the Equal Protection Clause. That principle is undermined, he continued, whenever the disparity between districts is increased, even by 1%, in "a systematic and intentional manner."
The real fireworks — some of the only aggressive sparring of the day — came when Jenner & Block partner Paul Smith, defending the commission, took his turn at the podium. When Smith argued that partisanship should have to be the "predominate" reason for disparities in the population between districts in order for it to cause constitutional concerns, Kennedy spoke up, asking if Smith was saying that "it's permissible to use, as one factor, an illegal standard if there are some other factors that are also in play?"
After some back and forth over the role and permissibility of partisanship in redistricting, Breyer brought the discussion back to a pragmatic question: "[H]ow do we write this? There are two areas that are difficult to write," Breyer said, noting the court's past cases of permitting plans to go into effect — generally, but not always — if the population disparity among districts is less than 10% and questioning how the decision would address how much partisanship is too much.
As with the extreme argument brought by Evenwel in the other case, it did not appear that the court was ready to sign on either to Brnovich's argument that a 1% difference in disparity partially based on partisan interests is unconstitutional if intentional or Smith's answer at another point that a plan with 9.9% disparity based solely on partisan concerns "might well [be] constitutional."
Where in the middle the court is likely to end up was not clear. As an exasperated Breyer said to Smith at one point, "[I]f you win this case, there will have to be words that support you." He then asked Smith to tell him what those words should be.
Decisions are expected in both cases by the end of June.
The court's sole decision issued on Tuesday also surrounded a redistricting challenge. In the case, Shapiro v. McManus, a unanimous court reinstated a Maryland redistricting challenge that had been tossed out by a single trial court judge who said it lacked merit — sending it back for consideration by a three-judge panel, a move the justices said was mandatory if requested under the law. The decision, written by Justice Antonin Scalia, to send the case (and other similar challenges) to a three-judge panel — appeals from which go to the Supreme Court — means more such cases are likely to come before the justices in the future.