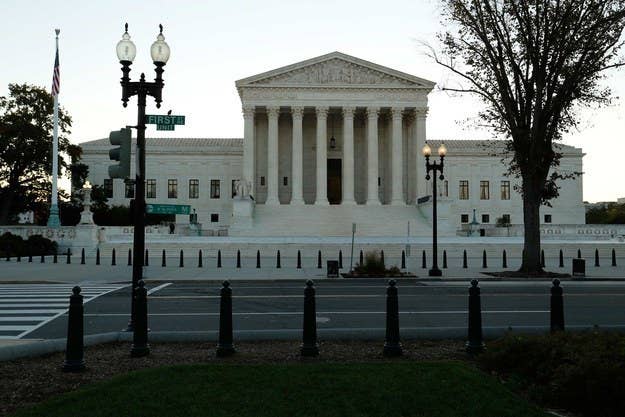 WASHINGTON — Confusion at the Supreme Court kept same-sex couples from marrying in Nevada on Wednesday, a Supreme Court spokeswoman acknowledged Thursday morning.
Originally, Clark County officials in Nevada announced on Tuesday evening that same-sex couples would be able to marry beginning Wednesday afternoon following an appeals court decision striking down Nevada's ban on such marriages. But a Wednesday morning order from Supreme Court Justice Anthony Kennedy put those plans on hold.
The only problem? The Nevada case wasn't supposed to be a part of the order — it was "erroneously included" in an order stopping Idaho same-sex couples' marriages from proceeding.
The 9th Circuit of Appeals struck down both Idaho and Nevada's marriage bans this week. In response to a request from Idaho officials, Kennedy issued a temporary stay keeping the appeals court decision that Idaho's ban on same-sex couples' marriages is unconstitutional from going into effect. The order, however, also included the case number from the Nevada case — putting the Nevada ruling on hold, as well.
Reporters and lawyers were initially confused by the Nevada case's inclusion in the order — presuming the move was the result of the 9th Circuit putting its final action resolving both the Idaho and Nevada cases in a single order. Kennedy later in the day Wednesday issued a second order ending the stay in the Nevada case, but keeping the Idaho stay in place.
Although Kennedy's second order merely stated it was based "[u]pon further consideration," the Supreme Court acknowledged on Thursday morning that Nevada's inclusion in the initial order had been a mistake.
"The order erroneously included the docket number for the Nevada case (the applicants applied for a stay of the Ninth Circuit mandate, which had included the Nevada case number). When the Clerk's Office was made aware of the error, Justice Kennedy issued a new order," Supreme Court public information officer Kathleen Arberg said in a statement on Thursday.