Supreme Court-Appointed Lawyer Argues DOMA Case Cannot Be Heard
Harvard law professor argues the Obama administration's decision to stop defending the law in 2011 means the Supreme Court can't hear the case. House Republican leaders cannot take the administration's place, the lawyer also argues.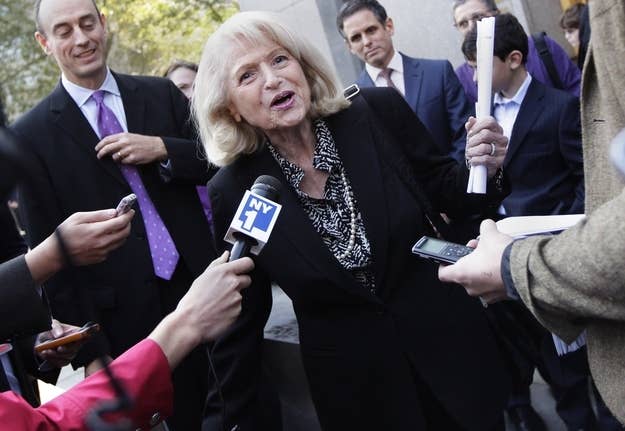 WASHINGTON — The Supreme Court does not have the jurisdiction to hear the challenge to the Defense of Marriage Act that it accepted in December 2012 and the House Republicans who are defending the law do not have constitutional authority to be there, a Harvard Law School professor appointed by the Supreme Court to present those positions argued Thursday evening.
Because President Obama and his administration stopped defending DOMA in court challenges in February 2011, the court raised the question of whether there remains an actual case before the court in Edith Windsor's challenge to the 1996 law.
In the filing, the professor, Vicki Jackson, argued:
The United States' agreement with the courts below (and with Windsor) deprives this Court of jurisdiction, because the United States suffers no injury sufficient to invoke Article III jurisdiction.
In discussing why the House Bipartisan Legal Advisory Group — the 3-2 Republican majority of which voted to take up the defense of DOMA after the administration's 2011 decision to stop defending the law — does not have the authority, or standing, to be there, Jackson argued:
It is the Executive Branch, not Congress, that is obligated to "take Care" that laws are enforced. Moreover, any injury that might arise from nondefense of a law would be to the whole Congress, which one House cannot alone assert.
The Supreme Court appointed Jackson to argue these positions because, presumably, the justices decided they wanted a view outside of the views presented before lower courts on these questions. By the terms of that appointment, then, it was expected that Jackson would be arguing these views.
The Department of Justice, BLAG and Windsor will be able to respond to Jackson's arguments before the March 27 oral arguments in the case.