Supreme Court Agrees To Hear Challenge To Obama's Immigration Actions
The Obama administration asked the justices to take the case. The administration will now argue that the Supreme Court should reverse lower court decisions putting the immigration executive actions on hold.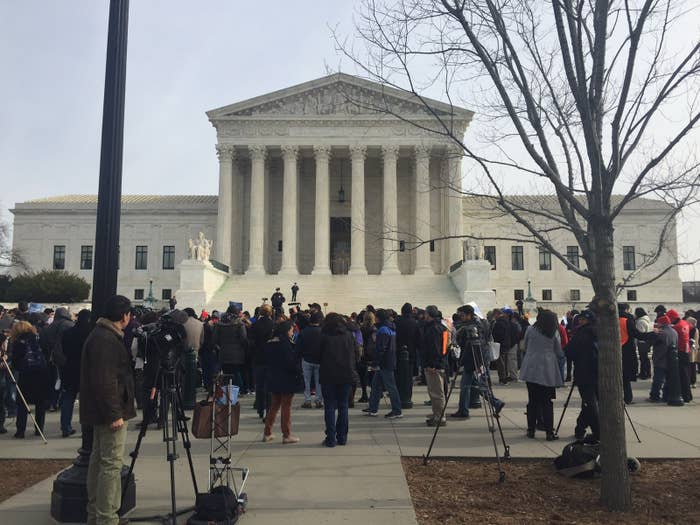 WASHINGTON — On Tuesday, the Supreme Court agreed to add yet another hot-button item to this term's agenda — deciding to hear the administration's defense of President Obama's immigration executive actions, which were challenged by Texas and more than two dozen other states.
The Obama administration asked the justices to take the case in November, weeks after the 5th Circuit Court of Appeals upheld a district court ruling putting the executive actions on hold.
The appeals court ruled, specifically, that the states had the authority to sue the Obama administration over the 2014 order known as Deferred Action for Parents of Americans and Lawful Permanent Residents (DAPA) and that the program would continue to be put on hold because Obama lacked the authority to implement it as he did.
"If left undisturbed, that ruling will allow States to frustrate the federal government's enforcement of the Nation's immigration laws," the Justice Department argued in asking the Supreme Court to take the case.
In addition to taking up the questions posed in the Obama administration's petition about whether the states have authority, or standing, to sue and whether the immigration order violates the law, the court added — as referenced by the states in their response to the petition — a question about whether the order violates the Take Care Clause of the Constitution. The clause directs that the president "take care that the laws be faithfully executed."
The 2014 order also expanded the scope of the Deferred Action for Childhood Arrivals (DACA) program previously put in place. The DAPA and expanded DACE actions authorized deferring deportations for an estimated 5 million undocumented immigrants.

Today's order means there will be briefing on the issue in coming weeks, with arguments likely to be held in April. A decision, in that situation, would be expected by late June.