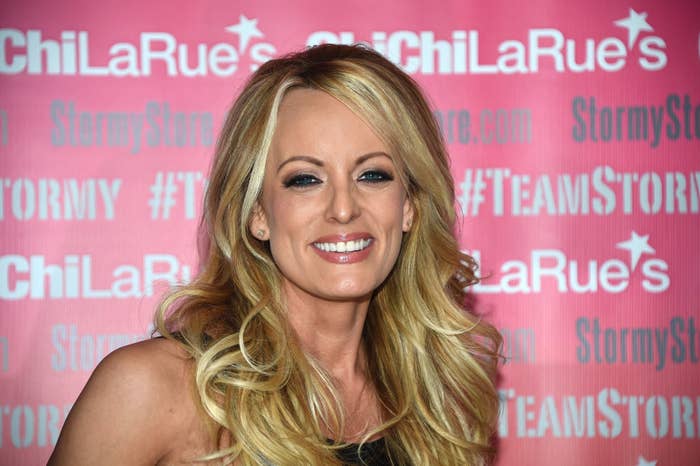 Stormy Daniels has sued her former lawyer, Keith Davidson, and President Trump's longtime personal lawyer, Michael Cohen, alleging that the two "collude[d]" to advance Cohen and Trump's interests at the expense of Davidson's duty to her.
A spokesperson for Davidson called the lawsuit "outrageously frivolous," while Cohen's lawyer told BuzzFeed News it appeared to be "yet another publicity stunt."
In the lawsuit, Daniels includes an exhibit that consists of a series of alleged text messages between Cohen and Davidson. The purported text messages show Cohen attempting to have Daniels appear on Sean Hannity's show in January 2018, after the Wall Street Journal broke the news that Cohen had paid Daniels $130,000 to remain silent about an alleged relationship with Trump and In Touch Weekly magazine published an article about a 2011 interview with Daniels in which she discussed the relationship.
"I have her tentatively scheduled for Hannity tonight," Cohen allegedly texted Davidson Jan. 17, according to the lawsuit. "Call me after your trial."
When Davidson responded that Daniels would be unavailable that day but that he was working on making her available to "commit for tomorrow," Cohen replied, "It's really important. Why?"
Later, according to the lawsuit, Cohen texted that the "wise men" decided it wasn't "smart for her to do any interviews."
"100%," Davidson responded.
"Thanks pal," Cohen replied.
Daniels' lawyer, Michael Avenatti, told BuzzFeed News of the text messages, "We obtained them after months of demands from Keith Davidson. We still have not been provided all of the text messages."

Daniels, the adult film star whose legal name is Stephanie Clifford, sued Trump and Cohen earlier this year in an effort to have the agreement tossed out. In a separate lawsuit, she alleges that Trump defamed her.

In this lawsuit, however, Daniels alleges that Davidson, who represented Daniels in the signing of the agreement, communicated with Cohen in a way that was "to the detriment of Ms. Clifford."
Avenatti alleges in the lawsuit that "Mr. Davidson abdicated his role as an advocate and fiduciary of his client Ms. Clifford, and instead elected to be a 'puppet' for Mr. Cohen and Mr. Trump in order to advance their interests at the expense of Ms. Clifford."
Daniels is suing Davidson, claiming a "breach of fiduciary duty," and Cohen, claiming that his actions were "aiding and abetting breach of fiduciary duty."
In a statement, Avenatti told BuzzFeed News, "These text messages show that the prior denials by Mr. Trump and Mr. Cohen relating to what Mr. Trump knew and about the honesty of my client were absolute lies. There was a significant coverup here ... and we intend on getting to the bottom of it."
Davidson, however, made it clear he intends to fight back.
"This outrageously frivolous lawsuit is yet another desperate attempt by Michael Avenatti to continue his 'publicity tour,' as well as divert attention from the recent allegations against him relating to bankruptcy proceedings and the failure to withhold millions of federal employee taxes," Davidson spokesperson Dave Wedge told BuzzFeed News in a statement.

Wedge added:
Attorney Davidson is very happy that he has filed this lawsuit because he strongly believes that the filing constitutes a full and complete waiver of the attorney-client privilege. Thankfully, the truth can now finally come out to rebut the false narrative about Attorney Davidson that Mr. Avenatti has been pushing in his more than 175 television appearances and countless other media interviews. Attorney Davidson believes that the American people deserve to know the entire truth — and they soon will. This lawsuit has made that happen.
Cohen's lawyer, Brent Blakely, told BuzzFeed News, "This new lawsuit ... has no merit whatsoever as to my client, Michael Cohen, and appears to be yet another publicity stunt. We look forward to defeating this lawsuit in court."
Davidson has played a recurring role in several settlements involving Trump and/or Cohen.

Former Playboy Playmate Karen McDougal was represented by Davidson when she reached an agreement with American Media Inc. that limited her ability to tell her story of her alleged affair with Trump. She settled a lawsuit this year relating to that agreement.
Davidson also represented Shera Bechard, another former Playboy Playmate, in another settlement — this one facilitated, as was Daniels' settlement, by Cohen. Elliott Broidy, a former Republican National Committee official, has said that he had a relationship with Bechard. The Wall Street Journal reported on April 13 that the settlement was made for Broidy.
In addition to Trump, Broidy and Hannity are Cohen's two other legal clients, according to his lawyer's statements in his challenge relating to the April 9 raid made on his properties.