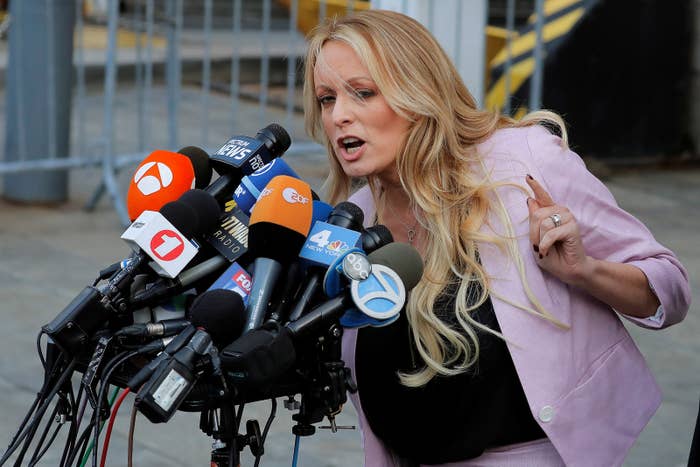 Stormy Daniels has sued President Donald Trump again, saying he defamed her with a tweet.
The lawsuit was filed on Monday in federal court in Manhattan — three days after a federal judge in California put her lawsuit there on hold.
Trump's longtime personal lawyer, Michael Cohen, is also named as a defendant in the California case, but Cohen is under criminal investigation and successfully asked for the California court to put Daniels' case there on hold while the criminal investigation proceeds.
The California case focuses on whether a 2016 settlement agreement — which bars Daniels, an adult film star whose legal name is Stephanie Clifford, from speaking about her alleged relationship with Trump from more than a decade ago — was ever validly formed.
Monday's case is focused instead on a Trump tweet regarding a sketch that Daniels released that purports to be a man she says threatened her in a parking lot in Las Vegas in 2011. In a March interview with Anderson Cooper for 60 Minutes, Daniels described the encounter, saying the man told her to "leave Trump alone" and "forget the story." She later released the sketch in an appearance on The View.
Trump retweeted a picture of the sketch, saying that it was a picture of a "nonexistent man" and adding: "A total con job."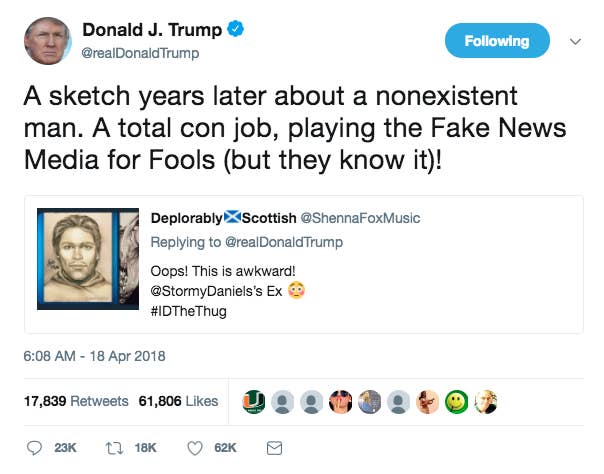 "Mr. Trump's defamatory statement was false because Ms. Clifford was in fact threatened in 2011 as she has recounted and the sketch was the result of her recollection regarding the appearance of the assailant," her lawyers, Catherine Keenan and Michael Avenatti, wrote in the complaint filed Monday.
In a tweet announcing the lawsuit, Avenatti, who has been representing Daniels in various venues in recent months, called Trump's tweet "irresponsible and defamatory," adding, "He is well aware of what transpired and his complicity. We fully intend on bringing it to light."
Daniels claims in the lawsuit that her damages are more than $75,000.

This is a developing story. Please check back at BuzzFeed News for the latest.