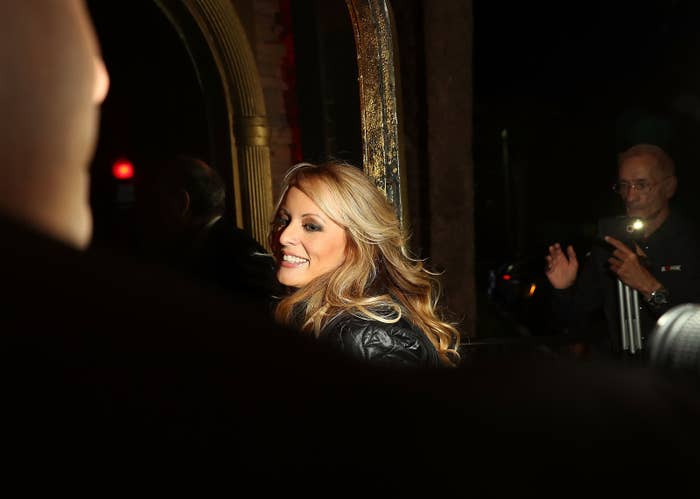 Stephanie Clifford, better known as Stormy Daniels, expanded her pending lawsuit against President Donald Trump and associates, adding a claim alleging that longtime Trump lawyer Michael Cohen defamed her earlier this year.
Clifford, the adult film performer and director who says she had a relationship with Trump back in 2006, filed the lawsuit earlier this year seeking to have a 2016 settlement agreement she signed with Cohen — which led to her being paid $130,000 in exchange for her silence — tossed out as invalid.
On Monday, though, Clifford's lawyer, Michael Avenatti, expanded the suit, adding a defamation claim against Cohen based on a statement he made regarding the payment.
"Just because something isn't true doesn't mean that it can't cause you harm or damage," Cohen said in a mid-February statement. "I will always protect Mr. Trump."

Avenatti points to that statement as the basis for the defamation claim, stating in the amended complaint, "It was reasonably understood by those who read or heard the statement that Mr. Cohen's defamatory statement was about Ms. Clifford."
Clifford says that she had a relationship with Trump a little more than a decade ago that included them having sex on one occasion. In a 60 Minutes interview that aired Sunday night, Clifford claimed that after sitting for a magazine interview about the relationship in 2011, which did not run at the time, she was threatened in a Las Vegas parking lot by a man who told her, "Leave Trump alone. Forget the story." In the waning days of the 2016 election, when the topic came up again, Clifford was offered the settlement agreement, which she agreed to and signed.

In Cohen's February statement — which followed Wall Street Journal and others' reporting on the payment — he said that he "used [his] own personal funds to facilitate a payment of $130,000 to Ms. Stephanie Clifford." The payment was made through Essential Consultants, which Cohen formed, and which is one of the parties to the settlement agreement.
The lawsuit, which Clifford filed in state court in California but Cohen's lawyer removed to federal court, alleges that the settlement agreement should be tossed out primarily because, Avenatti argues, Trump didn't sign it and therefore no agreement was ever formed. Alternatively, Avenatti argues in the amended complaint that the lawsuit should be found to be unenforceable because it is unconscionable — pointing to the damages provision that would require Clifford to pay $1 million for each breach of the confidentiality provision — or void because it violates public policy.
In addition, and in an expansion of the initial lawsuit, Avenatti also takes on the arbitration requirement in the settlement. He argues that the arbitration requirement should be tossed out as violating public policy, in part because, he argues, "the clause plainly is designed to prevent the public disclosure of an illegal campaign contribution" — a reference to the argument that Cohen's payment could be construed as an in-kind contribution to Trump's campaign far surpassing the legal limit — "by mandating that disputes between Plaintiff and Mr. Trump be resolved in a confidential arbitration proceeding shielded from public scrutiny."
Avenatti also argues that there is no arbitration agreement between EC and Clifford — a ruling that would mean EC should not have been able to seek a restraining order against Clifford in arbitration earlier this year.
Cohen and his lawyers did not immediately respond to a request for comment on the amended complaint.