Intimidation Concerns Prompt Stay Of Execution In Missouri Death Row Case
John Winfield was scheduled to be executed on June 18. Concerns raised that state was allegedly intimidating a correctional officer into not supporting clemency. [Update: Missouri Attorney General asks judge to alter her ruling and allow the scheduled execution to proceed.]
WASHINGTON — A federal judge ruled Thursday morning that Missouri's plan to execute John Winfield on June 18 cannot go forward at this time.
U.S. District Court Judge Catherine Perry issued the stay of execution because of concerns that a correctional officer, Terry Cole, was allegedly intimidated by state officials into not supporting Winfield's request for clemency.
Cole had supervised Winfield in the laundry at the prison for five years and initially told Winfield's lawyers that he would provide a letter supporting Winfield's clemency request.
Although the Missouri Department of Corrections policy is that employees can write letters in support of clemency, so long as they make it clear they only are speaking for themselves, the department launched an investigation into Cole "for alleged 'over-familiarity' with Winfield" the day after he told prison officials he was considering doing so.
"The evidence presented to me shows that Winfield is likely to be able to prove at a later trial that prison officials took actions to intimidate [Terry] Cole to keep him from providing support for Winfield's clemency petition," Perry wrote.
It was not immediately clear whether the state would appeal Perry's decision. [Update at 3:45 p.m.: "We are reviewing the ruling," a spokeswoman from Missouri Attorney General Chris Koster told BuzzFeed.]
There have been no executions in the United States since the botched execution in Oklahoma of Clayton Lockett on April 29 led to a review of that state's execution protocol. Prior to Lockett's execution, there had been 19 executions throughout the U.S. in 2014.
The judge laid out the facts of what happened in Missouri leading her to issue the stay of execution on Thursday.
First, over a weekend in May, Winfield's lawyer visited with Cole:

Then, on Monday, Cole talked with prison officials about the issue: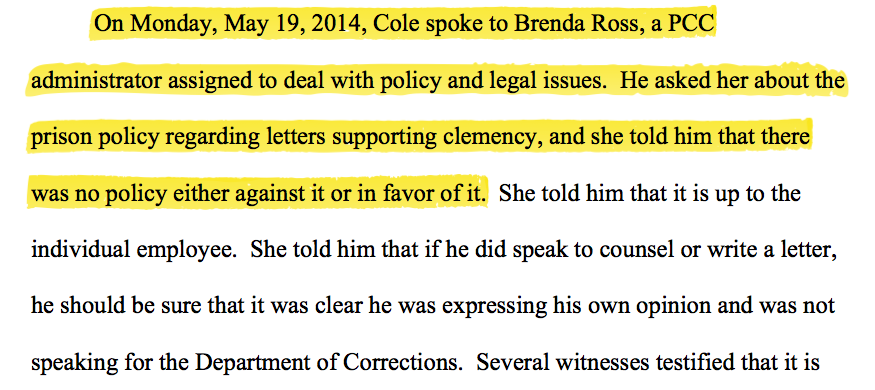 Then, on Tuesday, Cole was told he was under investigation:

Perry also looked outside the specifics of Winfield's case for the death penalty process in Missouri, writing, "The facts of this case may also have the effect of chilling any other MDOC employees who might be inclined to support a clemency petition for a death row inmate."
Judge Perry's injunction:
John Winfield's lawyer, Joseph Luby, issued the following statement on Thursday's stay:
"We are very pleased that the court has granted a stay of execution for John Winfield who was scheduled for execution on June 18, 2014. The court was right to follow controlling precedent from the Eighth Circuit Court of Appeals which says that if a state creates a clemency process, 'the state's own officials [must] refrain from frustrating it by threatening the job of a witness.' (Young v. Hayes). Here, the court correctly found that the state actors intimidated a prison staff member and made him fear for his job, and that such obstruction of the clemency process violated Mr. Winfield's due process rights. The staff member who supervised Mr. Winfield's work at the prison and spent eight hours a day with him wanted to submit a declaration describing Mr. Winfield as among the 'elite one percent of all inmates,' including those incarcerated for non-capital crimes, and detailing Mr. Winfield's superlative work habits, his kindness to other prisoners, the respect with which he is regarded by staff members and prisoners alike, and his important work in mentoring and turning the lives around of younger prisoners. This 20-year corrections staff member was made to fear for his job when he wanted to tell the truth about Mr. Winfield's remarkable rehabilitation and the positive good he will continue to do if his life is spared. We urge Governor Nixon to commute Mr. Winfield's death sentence to a sentence of life without parole."
Missouri Attorney General Chris Koster has asked the judge to alter her ruling, arguing that the court's action Thursday "is based on the Court's premise that the Governor's Office is unaware of Terry Cole's declaration to Winfield's clemency counsel." That, Koster argues, is not true because Cole's statements have been publicized in this action and in the press. "Because the Governor has the information Winfield claims is chilled, the complaint is moot," Koster argues.
Then, Koster also states that, after the judge's ruling, "the Missouri Department of Corrections delivered to the Governor's office this afternoon the Cole declaration."
Because of this, Koster argues that Winfield's motion is now moot and should be denied.