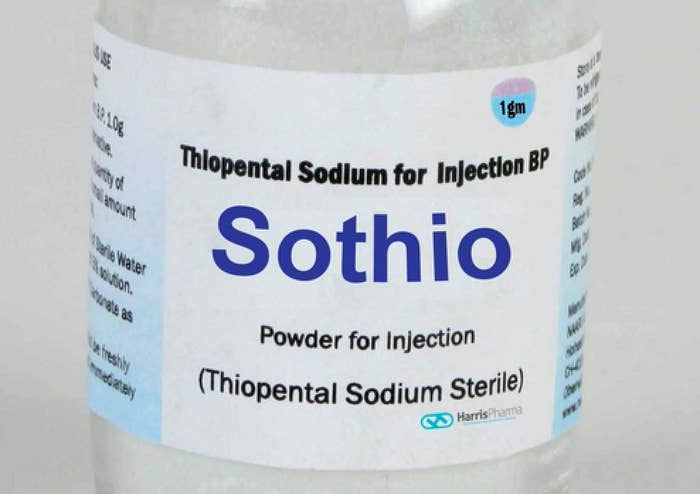 WASHINGTON — At least three states — Texas, Ohio, and Arizona — have hired outside lawyers to help them obtain execution drugs that the U.S. Food and Drug Administration and a related court order have declared are illegal to import, BuzzFeed News has learned.
At least two of those states, Arizona and Texas, BuzzFeed News reported this past week, purchased execution drugs from overseas this summer. The states purchased sodium thiopental from Chris Harris, a drug salesman in India who has sold execution drugs to U.S. states at least six times in recent years, although none of the drugs from those shipments have ever been used in an execution.
The Arizona and Texas shipments were intercepted at airports in late July and are being held by the U.S. Food and Drug and Administration (FDA), which has repeatedly warned states and others that it will not allow importation of sodium thiopental under a federal court's 2012 order. Nonetheless, both states hired outside counsel to assist in their efforts to get the drugs.
The third state, Ohio, has not held an execution since January 2014, when it executed Dennis McGuire using an untested drug combination of midazolam and hydromorphone. The combination resulted in McGuire gasping for air during an execution that lasted 26 minutes.
And yet, over the past two years, Ohio officials have spent more than $30,000 on legal advice from a specialty regulatory firm called FDAImports.com LLC that is run by Ben England. In October, Ohio officials sent a letter to the FDA, arguing that it should be allowed to import sodium thiopental.
Texas, which retained its outside counsel starting in October 2014 to provide it with legal advice regarding "specialized procurement" paid another of England's businesses — Benjamin L. England & Associates LLC — more than $15,000 in April of this year. The payment was rescinded the next week but still appears in a public database.
While it is not known how much the states have spent altogether, Texas authorized $25,000 for its contract, which likely has been extended for an additional term. Nothing about Arizona's payments are known. And, Ohio's records only include payments through Sept. 4. If Arizona's payments are similar to Ohio's payments and Texas's agreement, outside lawyers have been paid more than $75,000 to help three states attempt to get around the FDA, current law, and a federal court order.
In a statement to BuzzFeed News regarding the Arizona and Texas shipments, FDA spokesperson Jeff Ventura said on Monday afternoon, "The FDA will follow standard importation procedures, which allow for the importer of the detained products to offer testimony as to why the shipment is in compliance with the Federal Food, Drug, and Cosmetic Act and should not be refused entry. FDA will evaluate the importer's response and will determine if the product should be refused entry. This process is currently ongoing. FDA will notify the importer once the evaluation is completed."

OHIO: On Jan. 16, 2014, Dennis McGuire was executed by the state of Ohio. The execution was the first of three botched executions in 2014, all of which used midazolam as a sedative.

In the months that followed, Ohio officials delayed upcoming executions as they reviewed what happened in the McGuire execution.
The botched execution also initiated a flurry of activity in ongoing litigation over the state's lethal injection procedures. On August 8, 2014, a U.S. District Court judge issued an order that Ohio conduct no executions for the remainder of the year. Over the next month, the state filed its answers to the complaint.
Then, the case seemed to stop — for public purposes, at least. From Sept. 6 to Dec. 10, there are no filings on the public docket for the case. The docket numbers associated with document entries in the case, however, jump from 499 to 503 during that time. Two other "missing" docket numbers exist in the month that followed a Dec. 11 filing, the first public action in the case since September.
While an ongoing protective order in the case prevents anyone in the case from discussing what happened during that time, there are public records that point to evidence that ODRC was busy during the time.
During those quiet months, Ohio's Department of Rehabilitation and Correction began paying FDAImports.com LLC — a company run by Ben England that assists with importation of drugs and other FDA-regulated items. Between November 2014 and July of this year, ODRC paid the company more than $33,000 for "Legal Services," BuzzFeed News found in a review of records from the "Ohio Checkbook" website run by the state treasurer's office.

On Nov. 25, 2014, FDAImports.com received its first payment from Ohio: $7,560, according to the treasurer's office records. To be paid by that time, England and the state had to have signed a contract, and FDAImports.com would need to have completed and billed for the time worked.
England's name is well known to those involved in death penalty litigation. A former longtime FDA employee, he testified as an expert on behalf of death row inmates in Arizona in 2011, concluding that the attempt by the Arizona Department of Corrections to import several drugs, including sodium thiopental, from a foreign internet pharmacy, was illegal for several reasons. The court, ultimately, found against the inmates' more broad claims challenging the state's protocol, but did not decide on the questions raised about the imported drugs because Arizona "has agreed not to use them in any execution absent express consent from the DEA."
Soon thereafter, a federal judge in D.C. did decide the issue, ruling in 2012 that FDA had "a mandatory obligation … to refuse to admit the misbranded and unapproved drug, thiopental, into the United States." It also ordered the FDA to stop "permitting the entry of, or releasing any future shipments of, foreign manufactured thiopental that appears to be misbranded or [an unapproved new drug]. A federal appeals court upheld the order in 2013.
Now, however, England is providing legal advice to Ohio's Department of Rehabilitation and Correction. On Feb. 12, 2015, FDAImports.com was paid $9,240 by ODRC. Less than two weeks before the payment, on Jan. 30, ODRC announced that it had canceled all executions for the year, moving them to 2016.
A few months later, in mid-June, England received a letter from the director of the FDA's Office of Enforcement and Import Operations, saying that it had "come to [the FDA's] attention" that England's firm "has inquired about the status of sodium thiopental." The FDA official, Douglas Stearn, told England that "there is no FDA approved application for sodium thiopental, and it is illegal to import an unapproved new drug into the United States."
Seven days later, on June 26, the director of ODRC also got a letter from the FDA, this time from the director of the Import Operation Division of the U.S. Public Health Service. As reported this summer by BuzzFeed News, Capt. Domenic Veneziano wrote in the letter of "information received" by the FDA that ODRC "intends to obtain … sodium thiopental." While it is not clear from the text of the letters that they are relating to the same information, ODRC did pay FDAImports.com $7,350 over the course of the summer.
After not responding initially, ODRC responded to the FDA in a four-page letter this October, noting that "Ohio has no intention of breaking any federal laws or violating any court orders" but arguing that "there is a legal framework for a state, if it so chooses, to import sodium thiopental in accordance with [the laws and court order]." The letter proposes that if five conditions are met, then the 2012 order would not apply to such importation of sodium thiopental and, as such, it should be allowed.
A month earlier, a move from the other side took place. In late September, lawyers for the death row inmates filed an amended complaint in their ongoing litigation, adding new defendants, among other changes.
In the amended complaint, the inmates are now also suing "Defendants Drug Suppliers #1-25" — individuals and companies whose names are "unknown at this time." The inmates' lawyers write that the individuals or companies — noting that they could be foreign companies — are "engaged in manufacturing, procurement, transportation, import, export, sale (either retail or wholesale), supplying, or other distribution of drugs" and are helping ODRC "either directly or through intermediaries, with obtaining drugs for the purposes of carrying out executions by lethal injection."
England did not respond to multiple requests for comment, and an attorney for the inmates in the ongoing lethal injection litigation said he had no comment. An ODRC spokesperson said she was looking into the matter, and days later said the request was "forwarded to legal for review," but no response has yet been provided to BuzzFeed News. Among the requests from BuzzFeed News are for a copy of any retention agreement with FDAImports.com and any further breakdown of the expenses incurred by FDAImports.com.

ARIZONA: Similar to Ohio, Arizona had a botched execution involving the use of midazolam. On July 23, 2014, Arizona executed Joseph Wood. The execution took nearly two hours, and Wood reportedly gasped and snorted for air at least an hour into the execution. A week later, it was revealed that the Arizona Department of Corrections had injected Wood with 750 mg each of midazolam and hydromorphone — when the protocol only called for the use of 50 mg of each drug.

Also similar to Ohio, Arizona has not conducted an execution since then.
Yet, the Arizona Department of Corrections and the Texas Department of Criminal Justice both purchased sodium thiopental this year from Chris Harris, a man in India who has sold the drug to several states in recent years. According to documents released this past week in Arizona, the state requested the wire transfer to purchase the drugs on March 6. The shipments intended for both states were held by customs officials on July 25 when they arrived in Houston and Phoenix airports, respectively. (More on Texas later.)
Although Arizona officials said nothing publicly about the matter at the time, officials had been working secretly convince U.S. officials to allow them to import the drugs before the drugs even arrived in Phoenix. One DEA letter references conversations about the issue beginning in mid-June.
After the shipment was held at the airport, the director of the Arizona Department of Corrections told officials that, if ADOC is allowed to take control of the sodium thiopental, it would not to use the drugs until their use was OK'ed by the FDA or a court.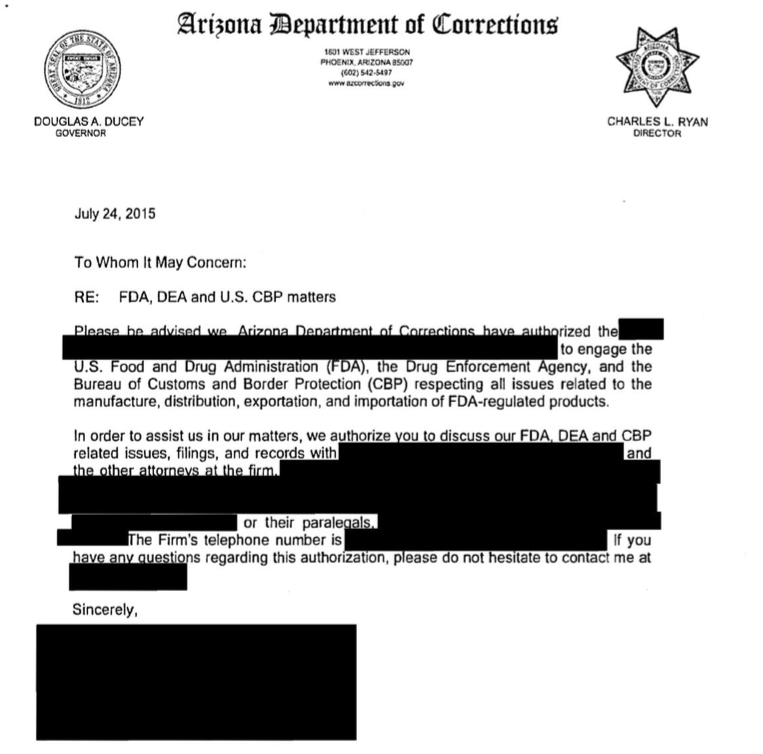 The day before the drugs arrived in Phoenix, though, a memo from ADOC that was simply addressed "To Whom It May Concern" announced that, regarding "FDA, DEA and U.S. CBP matters," the ADOC has "authorized" an outside firm to "engage" the three agencies "respecting all issues related to the manufacture, distribution, exportation, and importation of FDA-regulated products." The memo was made public in redacted form this past week in response to a discovery request in ongoing litigation in the state.
While the names of the lawyers, and even the state official who signed the letter, are redacted in the version made public this past week, the purpose of the ADOC memo was made clear on Aug. 18, when the memo was attached to a request to the FDA's Douglas Stearn in a "Request for Delivery of Imported Sodium Thiopental to Destination." The memo to Stearn — the same person who had written to England a month earlier — states that the firm represents ADOC. The firm and all identifying lawyers' information is redacted.
On Aug. 21, the FDA rejected the requests, officially changing the status of the shipment to "detained" from its prior designation of "pending FDA review." On Aug. 24, the FDA's Veneziano responded to the ADOC, in a redacted letter released this past week, stating that FDA "determined that this shipment should not be allowed to move to destination at this time."
Arizona DOC officials have not responded to repeated requests from BuzzFeed News for comment on the importation attempt or the hiring of outside lawyers.

TEXAS: Since Ohio executed McGuire, the state of Texas has put 22 people to death. It has neared the end of its supply of pentobarbital at times, but it always gets more of the drug in time for its next execution. The state even had enough to provide Virginia with three vials of the drug for its Oct. 1 execution of Alfredo Prieto. Citing secrecy laws, however, Texas does not reveal the source of its execution drugs.

Nonetheless, Texas Department of Criminal Justice officials acknowledged to BuzzFeed News this past week that it did seek to import sodium thiopental, although the amount has not been made public.
"TDCJ cannot speculate on the future availability drugs, so we continue to explore all options including the continued use of pentobarbital or alternate drugs to use in the lethal injection process," TDCJ spokesperson Jason Clark told BuzzFeed News. "The current execution protocol calls for the use of pentobarbital and there are no immediate plans to change it."

Texas's purchase does not appear to be a last-minute decision. Around the same time that Ohio was beginning its relationship with England's FDAImports.com, TDCJ also obtained outside counsel.
In a contract signed by TDCJ Chief Financial Officer Jerry McGinty on Oct. 13, 2014, Texas retained an outside counsel whose name is redacted in the document obtained by BuzzFeed News. The document was released earlier this year as part of a request by lawyers for Texas death row inmate Rodney Reed.
Specifically, the description of the "legal services to be provided" are that "[o]utside counsel will provide legal services regarding specialized procurement." The request for documents leading to the production of this contract, however, was specifically seeking only documents relating to the state's lethal injection drugs, including "[a]ny and all documents or correspondence of any kind reflecting any effort made by TCDJ to obtain additional lethal injection drugs not already in TDCJ's possession."
The agreement, which could have been amended since then, was to last from Sept. 29, 2014, through August 31, 2015, and the outside counsel was to be paid no more than $25,000 during that time. Then-Attorney General Greg Abbott's office sent an email noting its approval of the contract on Oct. 21, 2014.

While TDCJ's spokesperson had no comment on the outside counsel's contract, an unusual set of entries appears on the "Texas Transparency" website run by the state comptroller's office. On April 3 of this year, the TDCJ paid Benjamin L. England & Associates LLC $16,022.50. On April 7, the payment was rescinded in full.
The payment, although rescinded, is of a specific amount and includes a specific name. It also corresponds with the timing of when Arizona made its purchase from Chris Harris in early March To have been paid on April 3 in Texas, England's work would have had to have been completed and he would have had to bill the state prior to then.
Given that Texas and Arizona's eventual shipments were made it the same time, it would not be unexpected if the purchase was made at the same time, or at least in the same time period, as well. This is further suggested by Harris's own communications, having told Nebraska officials on April 15, when trying to sell them sodium thiopental, that he had "a batch being manufactured for 2 states that have placed an order."
Although TDCJ won't provide any comment on its outside counsel or payments made to that counsel, the TDCJ spokesperson, Clark, did say on Oct. 23 that the agency is "appealing the detention of the drugs through the FDA's internal proceedings," a move making it likely that the outside counsel has been retained for a further term.
UPDATE
Comment from the FDA regarding challenges to the Arizona and Texas shipment detentions has been added to this report.
CORRECTION
The most recent inmate executed by Ohio was named Dennis McGuire, not McQuire as initially stated in the article.