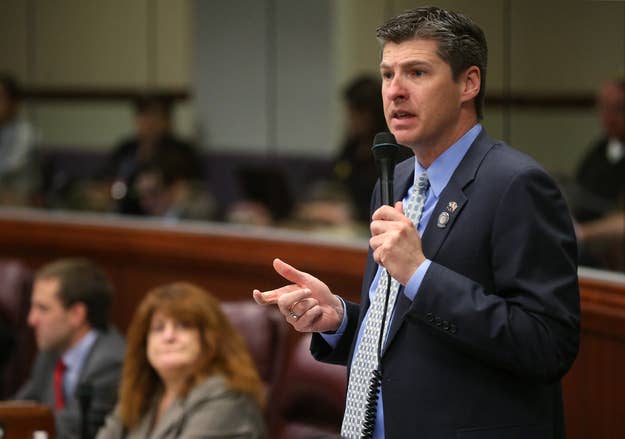 WASHINGTON — Lawmakers in the Nevada Assembly voted 27-14 on Thursday to reverse the state's 2002 marriage amendment, and while the state Senate had already voted to end the ban, Nevada same-sex couples won't have a shot at marriage until 2016.
Why?
Like the dozens of other states that passed constitutional marriage amendments, Nevada's 2002 amendment can only be reversed through another constitutional amendment, a process that can take significant time and money.
In Nevada, the state's constitutional amendment process requires two consecutive legislatures to vote to send the amendment to the people before the people would vote on the repeal. As such, even if all goes as advocates hope, the soonest gay and lesbian couples could marry in Nevada is after the 2016 elections.
That lengthy process has not, however, been the picture America has seen in recent months.
Lawmakers from Rhode to Delaware and Minnesota have voted for marriage equality legislation in recent weeks. In Illinois, the bill's sponsor has said the House will concur in the Senate's vote in support of marriage equality legislation there by the end of the month. Lawmakers in DC are much more commonly expressing support for the once divisive issue. And the Supreme Court is considering cases that could affect same-sex couples across the country.
Talk of momentum, however accurate it might be regarding public opinion polls, is quickly going to hit a roadblock — 30 of them in fact — that won't simply crumble after an impassioned floor speech or, as with Ohio Sen. Rob Portman, after learning that he has a gay son.
The roadblocks are the 30 state constitutional amendments like the one in Nevada banning gay couples from marrying — and keeping even more progressive states like California and Oregon from moving forward on the marriage front.
"We're quickly getting to a place of having two Americas when it comes to LGBT people," Human Rights Campaign spokesman Michael Cole-Schwartz told BuzzFeed this week, detailing the wide range of rights the LGBT people have in some states and the harsh barriers to equality that LGBT people face in other parts of the country.
In Alaska, Arizona, California, Colorado, Mississippi, Missouri, Montana, Nevada, Oregon, and Tennessee, only marriages between one man and one woman are recognized. In Alabama, Arkansas, Florida, Georgia, Idaho, Kansas, Kentucky, Louisiana, Michigan, Nebraska, North Carolina, North Dakota, Ohio, Oklahoma, South Carolina, South Dakota, Texas, Utah, Virginia, and Wisconsin, same-sex couples are banned both from marriage and civil unions, with some states' provisions being even more restrictive.
Although there remains the possibility of the Supreme Court ruling on the challenge to California's Proposition 8 amendment that would strike down it and all of the other amendments like it across the country, the justices appeared very skeptical of that route when they heard the case in March.
So, the likelihood is that the amendments — none of which have been repealed in a state yet — will need to be addressed by advocates one by one.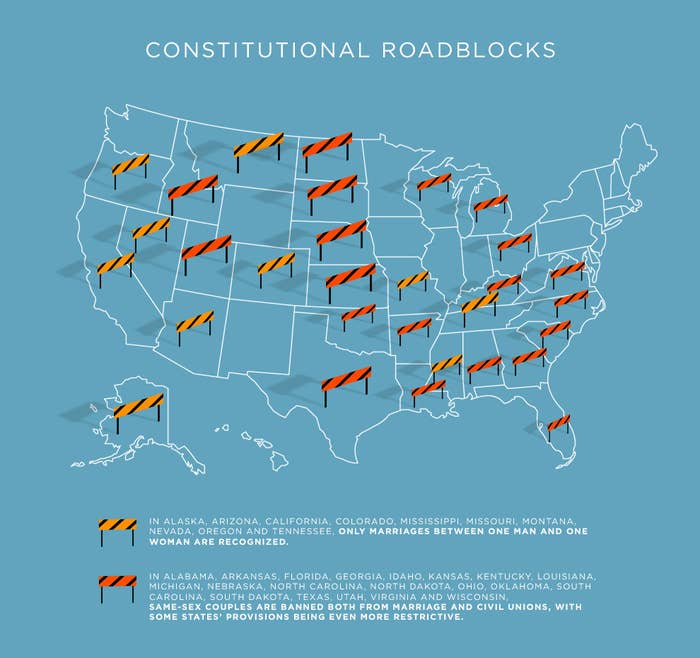 "We will have to overturn some amendments and win the states without amendments, even as we continue the national and federal strategies," Freedom to Marry's Evan Wolfson said, noting his group's aim is "to achieve critical mass and rise to national resolution" — most likely achieved through an eventual Supreme Court ruling striking down all the bans — and not have to win in each of the 50 states.
Reversing the bans already in place will require a statewide vote, followed by any necessary legislation, administrative action or court ruling — depending on the specifics in each state — to allow gay couples to wed.
In some states, the process — already under review at organizations like the Human Rights Campaign and Freedom to Marry — is relatively straight forward. Oregon voters can get a repeal amendment on the ballot by gathering signatures equal to 8 percent of the votes cast in the last election for governor, and advocates are expected to take repeal of their state's amendment to the voters in 2014.
In most places, though, it's not that simple. In North Carolina, which passed its amendment in May 2012, 60 percent of all members of the legislature must vote to place a constitutional amendment on the ballot. In Wisconsin, as in Nevada, a majority of both chambers in the legislature must vote in two successive sessions to place an amendment before the voters.
In Ohio, where the group FreedomOhio is considering going to the ballot to try and reverse the state's 2004 amendment, they would need to collect signatures equal to 10 percent of the votes cast in the most recent election for governor to get the amendment before the voters.
Most of the other 24 states with marriage amendments have multiple ways change their constitutions, from citizen-backed initiatives to legislative routes to constitutional conventions — most of which are called for by legislative votes.
How those changes are pursued in practice will depend greatly on what Supreme Court does, with both the case challenging the Defense of Marriage Act and the one challenging Proposition 8.
"Once a decision has come down, the question for everyone is going to be, 'What's next?' And I think it's 'what's next' in terms of DOMA, and if DOMA is struck down, what does that mean and where are you going to be able to get benefits and where might you not be. What other states could be next? What does the scope of a Supreme Court decision look like?" HRC's Cole-Schwartz said.
And, as Wolfson noted, there always would be the option of attempting to bring another case like the one challenging Proposition 8 before the justices to seek a "national resolution."