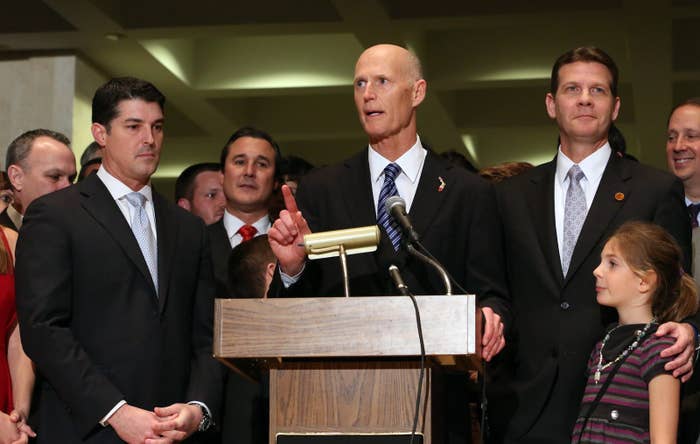 Florida's death penalty law remains unconstitutional despite recently enacted changes legislators had hoped would fix problems with the sentencing process identified by the U.S. Supreme Court, a state judge ruled on Monday morning.
Circuit Court Judge Milton Hirsch ruled that the new statute's requirement that 10 of 12 jurors are all that is required to find in favor of a verdict of death during the penalty phase of a capital trial is unconstitutional.
"But for the ultimate decisions made within the judicial branch of government — guilty or not guilty, life or death — majority rule is insufficient," Hirsch wrote. "We ask, indeed we insist, that they reflect the will of all rather than the will of the few or even the many."
Florida Gov. Rick Scott signed the new law into effect on March 7. The law was passed in response to the U.S. Supreme Court decision, which held that Florida's death sentencing process was unconstitutional because the jury only gave a sentencing recommendation in capital cases and the ultimate decision on sentencing a person to death was placed in the hand of a judge.

Under the new Florida law, the jury makes the sentencing decision, but a non-unanimous decision of the jury — here, 10 of 12 — can impose a death sentence on a person. Such a non-unanimous jury decision to impose death is only allowed in a handful of states.
Hirsch found that such a practice is not permitted: "We cannot accede, we will not accede, we have never acceded, to outcomes as to which no more can be said than that some jurors have spoken."

The new law was challenged by Karon Gaiter, who has been charged with first degree murder in Miami-Dade County. The prosecution has said it intends to seek death in his case.
From Hirsch's ruling: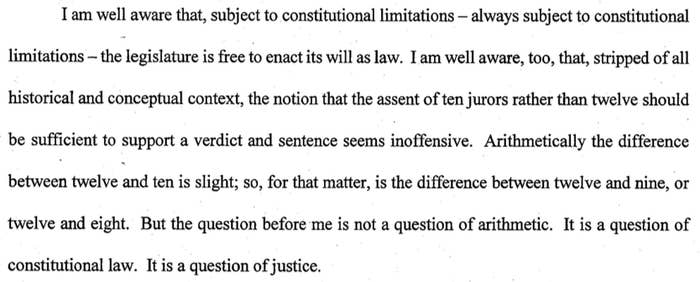 Just this past week, the Florida Supreme Court held arguments about the fate of Timothy Hurst, the man at the center of the U.S. Supreme Court decision that led to the new death sentencing law being passed, and others already on Florida's death row.