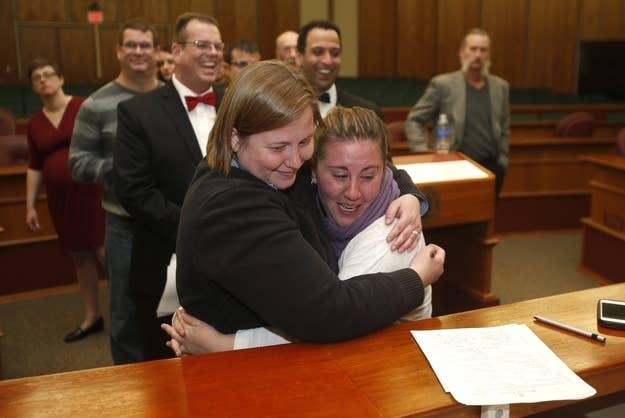 WASHINGTON — Same-sex couples in Michigan will remain unable to marry during the appeal of last week's trial court ruling striking down the state's ban on such marriages.
The federal appeals court hearing the appeal of the lawsuit challenging Michigan's ban ruled Tuesday in a brief order, "We GRANT Michigan's motion to stay the district court's order pending final disposition of Michigan's appeal by this court."
The three-judge panel to consider the state's request was split 2-1 on the request, with Circuit Judge John Rogers and U.S. District Court Judge Karen Caldwell ruling in favor of the stay and Circuit Judge Helene White opposing the stay.
Referencing the U.S. Supreme Court's decision in January to halt same-sex couples' marriages in Utah with a stay during the appeal of the marriage case there, the court opinion stated, "There is no apparent basis to distinguish this case or to balance the equities any differently than the Supreme Court did in [the Utah case]. Furthermore, several district courts that have struck down laws prohibiting same-sex marriage similar to the Michigan amendment at issue here have also granted requests for stays made by state defendants."
White, however, wrote that in her examination of the factors to consider when deciding whether to grant a stay, she concluded that "a stay is not warranted."