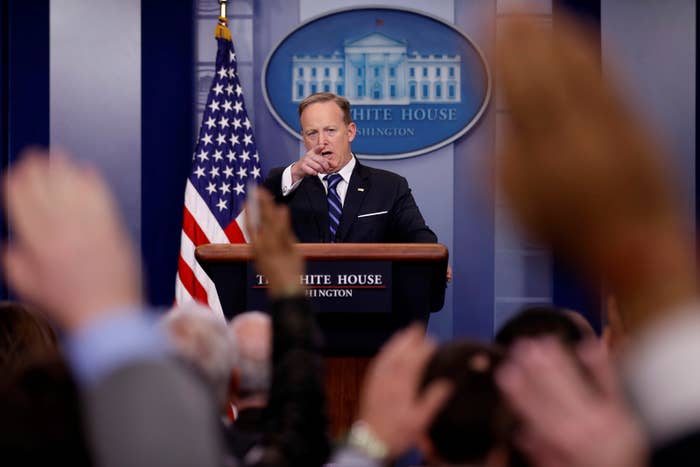 WASHINGTON — The White House strongly defended the Trump administration's decision to withdraw Obama-era guidance aimed at protecting transgender students on Thursday as a states' rights issue that had already suffered a court loss this past summer.
"It's a states' rights issue," White House press secretary Sean Spicer repeatedly said at the daily press briefing on Thursday, where he faced several questions about the decision. "That's entirely what he believes, that if a state wants to pass a law or rule or an organization wants to do something in compliance with the state law, that's their right. It shouldn't be the federal government getting in the way of this."
Spicer refused to engage when asked if transgender students' rights is a civil rights issue, reiterating the states' right point and saying, "It's a question of where it's appropriately addressed."
Detailing a five-point list to back up the decision to withdraw the guidance, Spicer repeatedly raised a 2016 trial court ruling by US District Judge Reed O'Connor in Texas that enjoined the enforcement of the guidance nationwide.
"We have to remember, this guidance was enjoined last August by a court," he said. "It hasn't been enforced."
Spicer did not, however, mention a conflicting ruling from the US Court of Appeals for the Fourth Circuit. (That case is on appeal, scheduled to be heard by the Supreme Court next month.) The Fourth Circuit sided with the Obama administration earlier in 2016 — holding that the administration's position, that regulations implementing Title IX of the Education Amendments of 1972 could be interpreted to provide protections for transgender students under the law's sex discrimination ban, was permissible.
On Wednesday, the Trump administration withdrew that guidance, Spicer said, for five reasons.
"[T]he law that was passed in 1972 did not contemplate or consider this issue," he said. Later, reiterating a point he made earlier in the week, Spicer said, "The idea this was even contemplated is preposterous on its face."
The US Supreme Court has made clear that — specifically in the realm of civil rights laws — "statutory prohibitions often go beyond the principal evil to cover reasonably comparable evils, and it is ultimately the provisions of our laws rather than the principal concerns of our legislators by which we are governed."
That decision, written by Justice Antonin Scalia, addressed whether same-sex sexual harassment was prohibited under Title VII of the Civil Rights Act of 1964. Scalia noted that many had said that "male-on-male sexual harassment in the workplace was assuredly not the principal evil Congress was concerned with when it enacted Title VII" — a line that echoes Spicer's comments on Thursday. Nonetheless, Scalia concluded, "We see no justification in the statutory language or our precedents for a categorical rule excluding same-sex harassment claims from the coverage of Title VII."
Spicer continued: "Number two, the procedure for this guidance letter that was done through the Obama administration was not properly followed. There was no comment period," referring to an argument that the guidance should have gone through additional review under the Administrative Procedure Act. "There was no input from parents, teachers, students or administrators. None."
The Obama administration, however, began addressing the protections provided to transgender students under federal law years before the guidance was issued. The Justice Department and Education Department, for example, reached a settlement with Arcadia Unified School District in California over the treatment of a transgender student in 2013. What's more, the underlying legal basis for the protections — that sex discrimination bans include, by their very definition, protections against anti-transgender discrimination — has been a developing area of the law for an even longer period.
"The question here is whether discriminating against someone on the basis of
his or her gender non-conformity constitutes sex-based discrimination under the
Equal Protection Clause," the US Court of Appeals for the Eleventh Circuit held in 2011 in a case brought by Vandy Beth Glenn. "For the reasons discussed below, we hold that it does."
More Spicer: "Number three, there's a reason that the Texas court had this matter enjoined. Because it didn't follow the law and it had procedural problems," he said, not providing any specific rationale for how that is a different reason, as opposed to just being a reiteration of the first two points.
"Four, as I mentioned, it's a state rights issue," he said.
"Number five, we have to recognize that children do enjoy rights from anti-bullying statues that are in almost every state. There's a difference between being compassionate for individuals and children who are struggling with something, wanting to make sure they're protected, and how it's being done," he said.

Anti-bullying laws, of course, would not necessarily cover the full range of anti-transgender discrimination and specifically would not address the questions related to bathroom and locker room use that have been highlighted in recent years.
Asked later in the briefing about President Trump's personal belief on the matter, Spicer deflected.
"The president believes it's a state's rights issue," Spicer said. "He's not — I understand what you're asking. As [another reporter] pointed out, when the issue came to one of his own properties, he was very clear" — a reference to Trump's comments that Caitlyn Jenner would be free to use the restroom in accordance with her gender identity in Trump Tower.
"Again, what he doesn't want to do is to force his issues or beliefs down — he believes it's a state's rights issue."