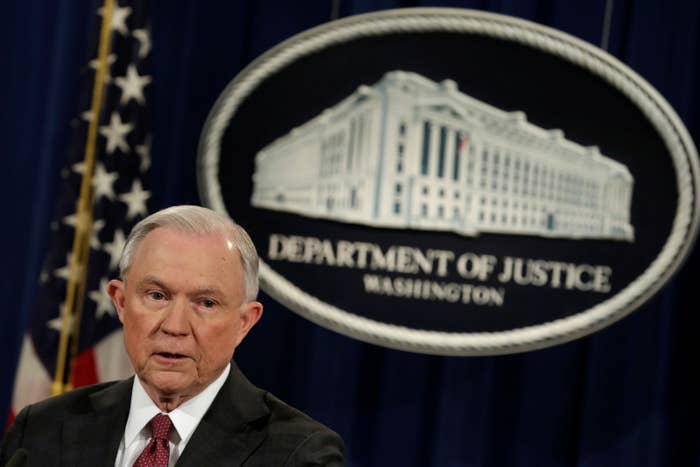 WASHINGTON — Attorney General Jeff Sessions on Friday asked for the resignations of all 46 remaining presidentially nominated and Senate-confirmed federal prosecutors from the Obama administration, effectively immediately, his office announced.
The move, which two US attorneys said came at the request of President Trump, leaves career prosecutors to run those US attorney's offices until a new US attorney is nominated and confirmed for the job or until one is appointed by Sessions.
At least two of the 46 — people with other roles beyond being a US attorney — will stay on the job for now.
"The President called Dana Boente and Rod Rosenstein tonight to inform them that he has declined to accept their resignation, and they will remain in their current positions," Justice Department spokesperson Peter Carr said in a statement.

Boente, the US attorney for the Eastern District of Virginia, also is the acting deputy attorney general and is responsible for overseeing any Justice Department investigations into the 2016 presidential campaign due to Sessions' recusal. Rosenstein, the US attorney for Maryland, is the president's nominee to be deputy attorney general and, if confirmed, would oversee investigations from which Sessions has recused himself.
While new presidents generally replace most of the US attorneys across the nation, the timing — seeking to have the US attorneys leave office immediately and before a successor is nominated, let alone confirmed — does appear to be unusual.
Sarah Isgur Flores, Justice Department spokesperson, announced the news on Friday afternoon.

"As was the case in prior transitions, many of the United States Attorneys nominated by the previous administration already have left the Department of Justice. The Attorney General has now asked the remaining 46 presidentially appointed U.S. Attorneys to tender their resignations in order to ensure a uniform transition," she said in the statement.
"Until the new U.S. Attorneys are confirmed, the dedicated career prosecutors in our U.S. Attorney's Offices will continue the great work of the Department in investigating, prosecuting, and deterring the most violent offenders," she added.
Flores confirmed that the resignations are to be due effective immediately.

The US attorney for the Eastern District of New York, Robert Capers, confirmed the immediate resignation order in a statement, saying, "This afternoon, I was instructed to resign my position as United States Attorney for the Eastern District of New York, effective March 10, 2017."

Deirdre Daly, who had been the US Attorney for the District of Connecticut, on Friday announced her resignation, "effective immediately," according to a statement posted on the office's website. A spokesperson from the Connecticut US attorney's office told BuzzFeed News in an email that Daly "was notified over the phone this afternoon."

Paul Fishman, the US attorney for New Jersey, announced in a statement, "This afternoon, the President requested my resignation, along with the remaining presidentially appointed U.S. Attorneys across the country, effective at midnight tonight."
Minnesota's US attorney, Andrew Luger, also announced his resignation, effective immediately. Montana's US attorney, Mike Cotter, told the Associated Press that he got the call from Boente, as acting deputy attorney general, informing him the his resignation was being sought by Trump and was to be effective at 5 p.m. Friday.
One of the US attorneys who was asked to resign on Friday, who requested anonymity to speak with a reporter, told BuzzFeed News that he did not receive any advance notice that the administration planned to ask for resignations, and wasn't aware of any other US attorney who did.

The office of one high-profile US attorney — Preet Bharara, who oversees federal prosecutions out of Manhattan and had been reportedly asked to stay on by President Trump — did not confirm his ouster, although he appears to be included in the order.
Matthew Miller, a former spokesperson for the Justice Department at the start of the Obama administration, said they handled things differently.
"U.S. attorneys were generally allowed to stay until a replacement was nominated and confirmed by the Senate. Some chose to resign immediately, and some stayed for months or even years," he told BuzzFeed News. "For example, George Holding in North Carolina stayed on for more than two years, until he indicted John Edwards and then used that as a platform for getting elected to Congress. Rod Rosenstein, of course, stayed for all eight years."
Similar delays in when the US attorneys actually left office occurred in other administrations, as detailed in a Los Angeles Times story surrounding controversy raised over firings of US attorneys in the George W. Bush-era Justice Department.
In March 1993, President Clinton's attorney general Janet Reno asked for the immediate resignation of all US attorneys, prompting criticism that she was interfering with a pending investigation into a Clinton ally, according to reports at the time. Reno denied that allegation, saying she was treating all US attorneys the same.
Sessions was the US attorney for the Southern District of Alabama at the time, and received a resignation request letter dated March 23, 1993, from Reno. The letter, obtained by BuzzFeed News, asked for his immediate resignation, and thanked him for his service.
It was not immediately clear how long Sessions stayed on after submitting his resignation, but he didn't step down right away.
An Associated Press report from April 10, 1993, about a criminal case his office was handling quoted him as the US attorney. Another report says that Reno appointed another lawyer to serve as the interim US attorney as of April 30. The Los Angeles Times report details that several US attorneys served for several months into the Clinton administration and some into 1994.
President George W. Bush didn't issue an across-the-board request that Clinton-era US attorneys immediately resign, but he did replace most by the end of his first year in office.
There are 94 US attorney's offices across the country, one for each federal judicial district. Nineteen of the offices had an acting US attorney overseeing the office as of March 6, according to a Justice Department website. The remaining 28 are serving either under appointment from the attorney general or by court order.