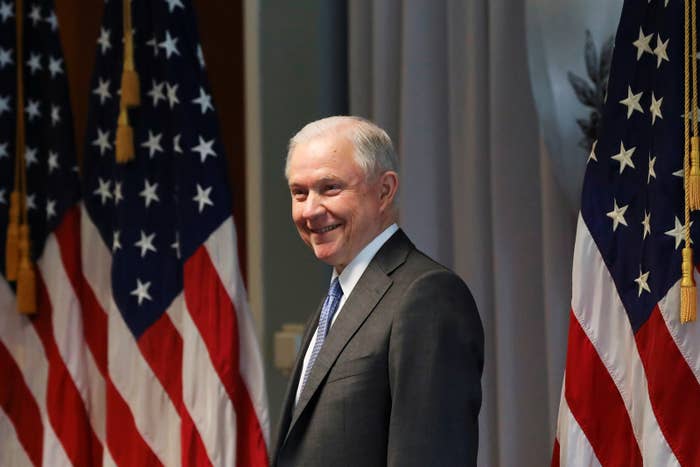 A day after an LGBT employee group at the Justice Department announced plans to honor lawyers and a student seeking to advance transgender rights at a pride month program next week, Attorney General Jeff Sessions spoke positively to staff Thursday about the upcoming event.
"We are going to have a pride group, in this very room, I think next week, I believe it is, and so that's perfectly appropriate, and we will protect and defend and celebrate that — and protect the rights of all transgender persons," Sessions said in response to a question posed to him by an intern.
The answer appeared in a video posted by Courtney Hagle, who wrote, "Had the honor of asking Attorney General Jeff Sessions a question that is very important to me today!"
Hagle asked Sessions about the lack of acknowledgement from the White House or Justice Department of pride month thus far in June, leading Sessions to reference the planned June 28 program. Reached by BuzzFeed News, Hagle declined to comment on the video and question she asked of Sessions.
On Wednesday, BuzzFeed News reported that DOJ Pride — the department's group for LGBT employees and allies — planned to recognize transgender student Gavin Grimm and department lawyers who were working on two lawsuits brought by DOJ to support transgender rights at next week's program.
When Sessions and Education Secretary Betsy DeVos withdrew pro-transgender guidance regarding students' restroom use, the move resulted in a delay in Grimm's lawsuit challenging his school's restroom policy beyond his high-school graduation.
Despite DOJ Pride's plans, Sessions appeared to remain supportive of the event — although he did not say whether he would be attending. DOJ spokespeople have not said who, if anyone, from department's leadership will be attending.
Sessions went on, in responding to Hagle, to discuss a review he says he ordered regarding anti-transgender killings.
"For example, I received a letter expressing concern about the sudden transgender persons who had been killed, and concern about it, and so I, first thing, directed the civil rights division to look into those ... to see if there was any uniform attack, or if there was just a uniform hostility that would result in these murders, and to review each one of those cases that were sent to me," he said. "And they have done that, and I think it's possible that they're going to re-open one and solve it, as a result of that."
Justice Department spokespeople did not immediately respond to a request for more information about the letter Sessions was referencing, the review he said he called for, or what case the attorney general believes may be re-opened.
Sessions concluded by saying that "we are not going to allow persons in this country to be discriminated against or attacked in any way for their sexual orientation —"
Hagle then spoke up again — cutting off Sessions, so it was not clear if he would have added "or gender identity," or otherwise acknowledged the distinction between sexual orientation and gender identity — and reiterated the part of her initial question regarding the lack of White House recognition of LGBT Pride Month — a question BuzzFeed News has posed directly to the White House, only to be told that we will be informed if any proclamation is released.
To that, Sessions simply responded that he didn't know the White House's plans.
UPDATE
This article has been updated to provide clarification regarding Sessions's remarks about "sexual orientation."