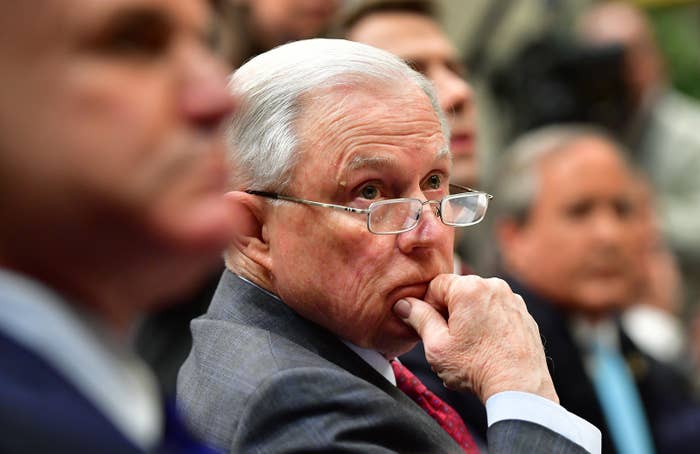 Attorney General Jeff Sessions and FBI Director Chris Wray have asked the US attorney in Chicago to oversee the Justice Department's document production to a House committee looking into the department's handling of the investigation into Hillary Clinton's private email server.
The Justice Department is expected to announce US Attorney John Lausch's new responsibilities on Monday, a department spokesperson confirmed Sunday night. Sessions and Wray, per the spokesperson, asked Lausch to take on the new responsibilities over the weekend. CNN reported the move earlier Sunday evening.
The request in question comes from the House Judiciary Committee, which has asked for "all documents reviewed by the Department of Justice Office of the Inspector General" related to the Clinton investigation.
The move from Sessions and Wray comes after President Donald Trump openly criticized the department on Twitter Saturday for failing to produce the documents requested.
The Lausch move comes as the FBI is expected to produce 3,600 pages of additional material requested by the committee on Monday.

"[Lausch] will have independent authority to oversee this production and report progress to the Attorney General," Justice Department spokesperson Sarah Isgur Flores said in a statement. "Mr. Lausch will also be available to meet with members of Congress to discuss the redaction process to ensure that they remain confident in the Department's efforts to be as transparent as possible with the Committee."
The Justice Department acknowledged Sunday that Trump's criticism played a role in the move, with Flores stating that the "Attorney General and FBI Director understand the concerns of members of Congress and the President about the pace of production and level of redactions in the documents already received by the Committee."
DOJ, however, noted that redactions are necessary "in order to preserve the integrity of other investigations and to avoid the appearance of political influence in criminal prosecutions." The department noted that the inspector general initially received more than a million pages of material, much of which was not relevant to the investigation — as well as grand jury material, classified information, and information about unrelated and ongoing investigations.

According to the department, 54 FBI staff are working each day in two shifts from 8 a.m. to midnight on the task.
Lausch, who Trump nominated last year to serve as the US attorney for the Northern District of Illinois, was confirmed to the job in November 2017. Less than a month ago, Sessions announced that he had appointed Lausch to serve as a member of the Attorney General's Advisory Committee of US Attorneys.
Lausch is the second federal prosecutor being asked to take on responsibilities related to congressional inquiries and presidential criticism. In March, Sessions said in a letter to Congress that he had tasked US Attorney John Huber of the District of Utah to oversee a review of the FISA warrant process, specifically regarding allegations that the Obama administration abused the process in obtaining a warrant against Carter Page.