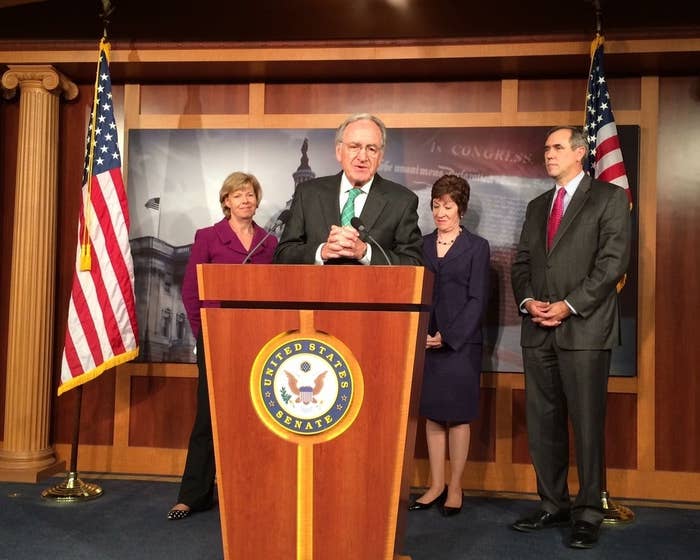 WASHINGTON — The Senate passed the Employment Non-Discrimination Act — a bill that would bar most employers from discriminating against lesbian, gay, bisexual, and transgender people — on a 64-32 vote Thursday, a landmark victory for LGBT advocates that faces an uphill battle in the House.
"The Senate said today in a strong bipartisan voice that discrimination is just plain wrong. We are one step closer to equality for our LGBT friends and family," the bill's lead sponsor, Sen. Jeff Merkley, said in a statement following passage.
Despite this fall's government shutdown, Senate Majority Leader Harry Reid made good Thursday on a promise to put LGBT job protections to a vote on the Senate floor this year.
Ten Republicans joined all 54 present Democrats in voting for the bill. In addition to ENDA co-sponsors Sens. Mark Kirk and Susan Collins, Republicans Sens. Kelly Ayotte, Jeff Flake, Orrin Hatch, Dean Heller, John McCain, Lisa Murkowski, Rob Portman, and Pat Toomey supported the legislation. Sens. Bob Casey and Tom Coburn are absent from the Senate Thursday, for family and health-related reasons, respectively. Sens. John Barrasso and Jeff Sessions did not vote.
The last time the full Senate voted on ENDA was in 1996, when the legislation contained only sexual orientation and not gender-identity protections and the bill failed 49-50. The bill was voted on as part of the Senate's consideration and eventual passage of the Defense of Marriage Act. The House passed a similar sexual orientation-only version of ENDA in 2007, but the Senate did not consider it and President George W. Bush opposed it.
When the final cloture was called on the bill at a little past noon Thursday, the same 10 Republicans joined 54 Democrats in voting to end debate on the bill. Only 34 senators opposed cloture.
Human Rights Campaign president Chad Griffin celebrated the news, saying, "Today, a strong bipartisan majority of the United States Senate made history by standing up for a fundamental American truth. Each and every American worker should be judged based on the work they do, and never based on who they are. This broad Senate coalition has sent a vital message that civil rights legislation should never be tied up by partisan political games."
An amendment by Toomey to expand the entities covered by the religious exemption provision in the bill failed on a 43-55 vote Thursday, although an amendment by Portman and co-sponsored by several other Republicans to expand the impact of the religious exemption to prevent government retaliation against entities who utilize the exemption was approved on a voice vote on Wednesday.
In the run-up to Thursday's vote, Reid reflected on how much of the change on LGBT issues is a generational inevitability — which he said he believes is one of the reasons why the House leadership should consider the bill.
"I have three adult grandchildren now, in addition to my children. For me to feel any differently about this, they wouldn't be proud of their grandfather," he said. "With my five children, it's a non-issue. But for my three adult grandchildren, it's a non, non, non, nonissue. I mean, they can't imagine why anyone gives a damn."
Griffin said his organization will be pushing for House action, noting, "We firmly believe that if the House of Representative were freed by Speaker John Boehner to vote its conscience, this bill could pass immediately. It's unconscionable that any one person would stand in the way of this crucial piece of the civil rights puzzle."
Reid agreed, saying that if the House voted on ENDA it would pass: "Easy."
Of the Senate action itself — and Democrats' unified front on the bill — Reid did sound a note of triumph, telling reporters, "I think it's important for the Senate as an institution. I'm very proud of my caucus."
President Obama's statement on the Senate passage of ENDA:
For more than two centuries, the story of our nation has been the story of more citizens realizing the rights and freedoms that are our birthright as Americans. Today, a bipartisan majority in the Senate took another important step in this journey by passing the Employment Non-Discrimination Act, which would help end the injustice of our fellow Americans being denied a job or fired just because they are lesbian, gay, bisexual or transgender. Just as no one in the United States can lose their job simply because of their race, gender, religion or a disability, no one should ever lose their job simply because of who they are or who they love.

Today's victory is a tribute to all those who fought for this progress ever since a similar bill was introduced after the Stonewall riots more than three decades ago. In particular, I thank Majority Leader Reid, Chairman Harkin, Senators Merkley and Collins for their leadership, and Senator Kirk for speaking so eloquently in support of this legislation. Now it's up to the House of Representatives. This bill has the overwhelming support of the American people, including a majority of Republican voters, as well as many corporations, small businesses and faith communities. They recognize that our country will be more just and more prosperous when we harness the God-given talents of every individual.

One party in one house of Congress should not stand in the way of millions of Americans who want to go to work each day and simply be judged by the job they do. Now is the time to end this kind of discrimination in the workplace, not enable it. I urge the House Republican leadership to bring this bill to the floor for a vote and send it to my desk so I can sign it into law. On that day, our nation will take another historic step toward fulfilling the founding ideals that define us as Americans.