Senate Leaders Ready To Pass LGBT Rights Bill, Look To House For Next Steps
"We'd like to have as broad a coalition as possible in order to create as much momentum as possible for the House to say, 'Well, this really does merit taking this up,'" Sen. Jeff Merkley says of his efforts to pass the Employment Non-Discrimination Act. Senate Majority Leader Harry Reid pushes House to act after expected Senate passage Thursday.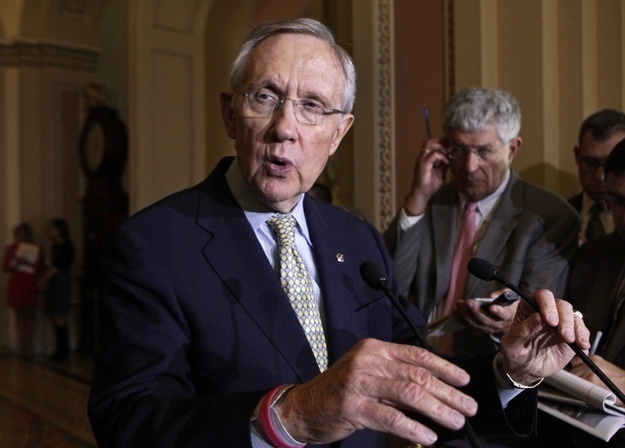 WASHINGTON — The final vote on the Employment Non-Discrimination Act — legislation aimed at banning discrimination against LGBT people in most workplaces — has not yet taken place in the Senate, but Majority Leader Harry Reid is already focused on the next steps.
"I hope to finish it by 5 o'clock [Thursday], maybe earlier," Reid told reporters at a roundtable discussion Wednesday morning. And then, he said, pressure will come to bear on the House — where Speaker John Boehner has said he opposes the legislation, making it unlikely to reach the floor.
Reid dismissed talk of a discharge petition, by which 218 members could force Boehner to advance the bill to a vote in the House, and said attaching the legislation to another bill — like the National Defense Authorization Act — was unlikely. He suggested a more direct path, saying, "I think we're better off joining ENDA with the other things that the House has held up that it's so ridiculous — immigration, marketplace fairness, postal reform, farm bill — I think pretty soon it starts looking like the House is living in some other world and we would work on in that way," Reid said. "One loud chant about what they haven't done. They can't continue going like they are."
When it was suggested later that House movement is unlikely, Reid insisted otherwise, saying, "I think the House is going to have to capitulate" on ENDA and other legislation.
The inclusion of gender identity protections in the bill will be the first time a chamber votes on such protections in ENDA, as the versions of the bill voted on in the Senate in 1996 and the House in 2007 only contained sexual orientation protections. Reid said the move reflects his and society's change on the issue. As he put it, his three adult grandchildren look at it as a "non, non, non, non-issue."
"This legislation is no different than anything else, it's no different than your personal relationships that you have with people: They never stay the same, you either go forward or backwards. ... Things change, and, talking about me personally, it's been kind of an interesting trip for me as I've changed," he said of his changed view on transgender inclusion in the bill. "I think I've personally acknowledged that I've changed. I think in this instance ... I haven't gone backward, I've gone forward."
With cloture reached Monday to proceed on the bill and a final vote in the works for Friday, Reid is looking for a way to make the bill become a law. For lead sponsor Sen. Jeff Merkley, however, getting to this point was difficult — and he told BuzzFeed that negotiations are ongoing to get more support.
"We weren't sure we would find a window to get this on the floor. We weren't sure we would find the 60 votes to get on to the bill, which, as you saw we just had 61 votes the other night and we had many folks who were maybe going to be here, were maybe not going to be here," he said. "There were a tremendous number of phone calls just related to who was going to be here Monday night to take this vote, and is this the appropriate strategy, or should we be delaying this for a day and then who was going to be missing?"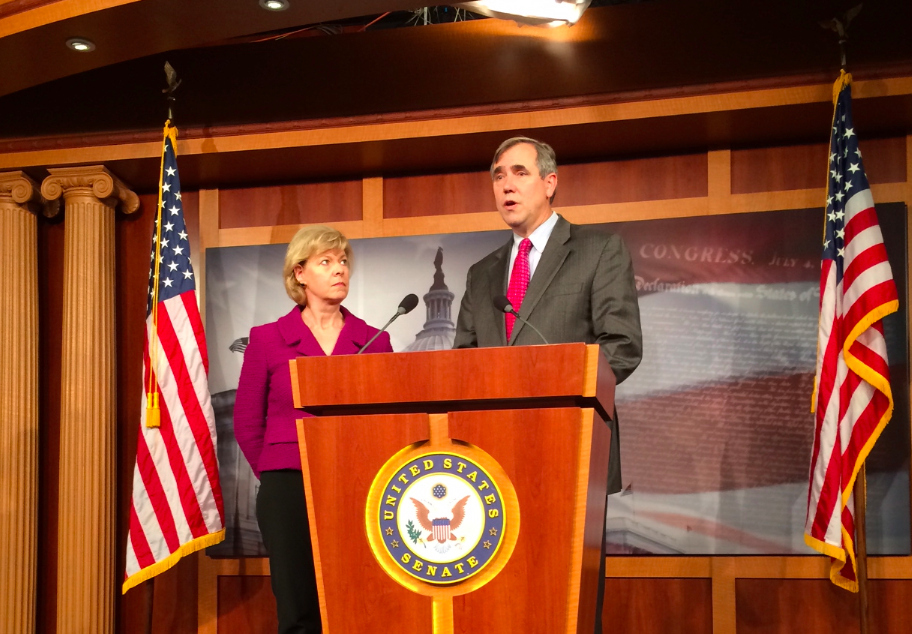 Regarding the amendment from Sen. Rob Portman of Ohio to ensure that religious entities exempted from the bill face no government retaliation for doing so, which was supported by Sen. Kelly Ayotte of New Hampshire and passed by voice vote Wednesday, Merkley said that a lengthy process led to the last-minute support for cloture on Monday night.
"For weeks there's been communication about the heart of the Portman-Ayotte amendment and what it would look like, and we've been coordinating with the various advocacy groups trying to find the magic language that everyone could sign off on," and they hadn't yet done so when Merkley got on the plane to come back to DC on Monday.
As such, Merkley said he knew the "evening would be trying to massage this into having the 61 votes," he said. "We ended up on the couch there in the Republican cloak room, working it out. At that point, I don't think any of us were seeing the room that we were in ..."
The breadth of ENDA's overall religious exemption has faced criticism from some on the left — including The New York Times editorial board this week — but Reid downplayed that criticism with a dose of pragmatism, saying, "There's nothing we do that's perfect. ... You do the best you can. The goal is to get something passed, move it forward. This allowed us to move forward."
Although the bill is expected to pass the Senate, Merkley said he isn't leaving anything to chance. "I'm down here on the floor, keeping my finger on the pulse. You never know what's going to go awry," he said Wednesday afternoon.
Specifically, he said that discussions were ongoing to see if there is way to secure support for the bill from Sen. Jeff Flake, who had backed an earlier House version of the bill that lacked protections for transgender people but voted against proceeding on the bill Monday night.
"We've been working very hard on a possibility of doing a minor clarification about the issuance of guidance in an effort to help Sen. Flake. It doesn't look like we're going to be able to get that worked out, but nonetheless that process continues," he said. "Without damaging the integrity of the bill, we'd like to have as broad a coalition as possible in order to create as much momentum as possible for the House to say, 'Well, this really does merit taking this up.'"
That momentum, Reid said, will help push the House to move on the bill.
"The House is — there's 232 of them [Republicans], 218 is a majority. Let's say that they only lose eight — I think they'll lose more than that — but let's say they lose eight. So, that knocks it down to 224 if my math is right. That's pretty close to 218. That's a pretty tough place to govern when you have 435 members and you only have a majority of four," he said, although his count does not reflect the death of Rep. Bill Young last month. "So, I think they better be careful on putting big stop signs up to all this legislation the American people agree with."