Senate Democrats Meet Privately With LGBT Leaders In Outreach
The topics of the closed-door meeting ranged from marriage to workplace discrimination to bullying, the committee's chairman said. The ACLU is pushing Senate Democrats to keep two measures opposed by LGBT advocates out of the final version of the House-passed defense bill.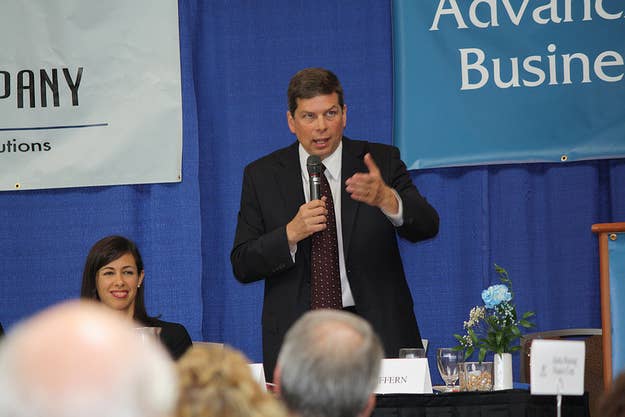 WASHINGTON, D.C. — A dozen Senate Democrats met with the heads of almost all of the nation's leading lesbian, gay, bisexual and transgender rights organizations on Capitol Hill today.
"We talked about the bullying issues, we talked about the marriage issue, we talked about workforce discrimination. That was just the general gist of it," Sen. Mark Begich, the chair of the Senate Democratic Steering and Outreach Committee, told BuzzFeed after the meeting. Members of the media were not permitted in the meeting, which a staffer said was by invitation only.
"This was really just to hear about their issues and what their concerns are, and at the same time, for us just to have an open dialogue," Begich added.
In addition to Begich, an attendee reported that Sens. Michael Bennet of Colorado, Richard Blumenthal of Connecticut, Al Franken of Minnesota, Kay Hagan of North Carolina, Amy Klobuchar of Minnesota, Frank Lautenberg of New Jersey, Patrick Leahy of Vermont, Jeff Merkley of Oregon, Patty Murray of Washington, Bernie Sanders of Vermont and Jeanne Shaheen of New Hampshire. Klobuchar and Sanders are both up for re-election in November, although neither are facing a tough challenge in their bids.
All of the leading senators on key legislation pushed by LGBT advocates attended the closed-door meeting. In the Senate, Merkley is the lead sponsor of the Employment Non-Discrimination Act, which would explicitly ban anti-LGBT workplace discrimination; Franken is the lead sponsor of the Student Non-Discrimination Act, which is modeled as a "Title IX" for sexual orientation and gender identity; and Leahy is the lead sponsor of the Respect for Marriage Act, which would repeal the Defense of Marriage Act.
Among the organizational leaders in attendance were Eliza Byard, Executive Director, Gay, Lesbian, Straight Education Network; Rea Carey, Executive Director, National Gay and Lesbian Task Force; Chad Griffin, President, Human Rights Campaign; Susan N. Herman, President, American Civil Liberties Union; Mara Keisling, Executive Director, The National Center for Transgender Equality; Kate Kendell, Executive Director, National Center for Lesbian Rights; Joshua Seefried, Co-Founder and Co-Director, Outserve; Winnie Stachelberg, Executive Vice President, External Affairs, Center for American Progress; Rachel B. Tiven, Esq., Executive Director, Immigration Equality; and Evan Wolfson, Founder and President, Freedom to Marry. A staff member or two from several of the organizations also were in attendance.
In conjunction with the meeting, the ACLU's Herman delivered a letter to Begich, supporting the affirmative legislation but also noting that "one of the most important requests of Senate Democrats is to ensure that two anti-gay provisions included in the House-passed FY 2013 National Defense Authorization Act (NDAA) (H.R. 4310) are not included in the final version of this legislation that will be sent to President Obama for his signature later this year."
The two provisions — one relating to religious liberty of servicemembers and one relating to same-sex couples' weddings — were amended into the defense bill in the House. LGBT advocates and the White House had opposed both measures.
ACLU's LGBT Priorities Letter to Senate Democrats