Senate Democrats Eye Push For Gay Couples' Protections In Immigration Bill
"I hope it will receive a majority vote in the committee," Judiciary Committee member Richard Blumenthal says of same-sex couples' immigration measure. "My hope is that Republicans who may be talking about this provision being a deal breaker will reconsider."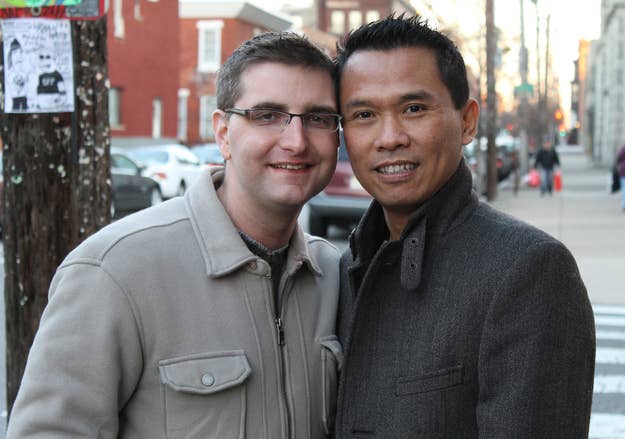 WASHINGTON — The Senate Judiciary Committee as soon as next week could insert new protections for same-sex couples into bipartisan immigration reform legislation quickly making its way through the chamber — injecting another contentious social issue into the already heated immigration debate.
Although the bipartisan "Gang of Eight" senators did not include language allowing Americans in same-sex relationships to sponsor their foreign partner for a green card in the base bill, Democratic lawmakers and aides alike said its inclusion during the committee markup, which begins next week, appears likely.
"I expect that it would be an amendment that could be adopted by the committee. … I hope it will receive a majority vote in the committee," Judiciary Committee member Sen. Richard Blumenthal said Tuesday.
Although Chairman Patrick Leahy is expected to offer the amendment, at least officially his office insists no final decision has been made.
"The Chairman believes that equality and family unification need to be a part of this legislation but he has not decided his amendment strategy yet," a Judiciary Committee aide told BuzzFeed. "All amendments must be filed by next Tuesday night (the 7th) at 5 p.m. Then members will decide what to offer in the Committee mark ups."
But staff for Democrats on the committee said a vote on the amendment, similar to language in the Uniting American Families Act, is likely a foregone conclusion.
"Frankly, the bill getting out of committee without the Uniting American Families language isn't really a possibility we've considered," said Ian Koski, a spokesman for Sen. Chris Coons, who also serves on the committee. Spokespersons for two other members of the committee, Sens. Al Franken and Sheldon Whitehouse, also voiced support for the provision.
The base immigration reform bill introduced by the Gang of Eight earlier this month did not include such protections, but LGBT advocates said at the time that they were hopeful such a measure would be added to the bill in committee. The Defense of Marriage Act's prohibition on the federal government recognizing same-sex couples' marriages mean that requests by such couples for green cards are not granted and have been denied in the past.
The measure to allow same-sex couples to be eligible for green cards has been introduced as the Uniting American Families Act for the past several sessions of Congress, and its absence from the base bill drew only muted criticism from supporters of the measure's inclusion at the time.
Assuming Leahy does introduce the amendment, it is all but certain to be accepted. "This Judiciary Committee has a strong and consistent record on matters of equality and we expect that this amendment will have equally strong support," Koski said.
All 10 of the Democratic members on the committee have expressed support for marriage equality and are considered reliable votes in favor of LGBT equality measures.
One Democratic aide, however, said the decision of whether the amendment will be offered and voted upon in committee once deliberations on the bill begin May 9 is up to Leahy.
A possible reason for Democrats' desire to keep from stating their plans unambiguously is the nature of the delicate coalition attempting to move immigration reform forward.
Sen. Jeff Flake — a Republican member of the Gang of Eight who also is on the Judiciary Committee — put the issue front and center in a statement provided to BuzzFeed. "There's a reason that this language wasn't included in the Gang of Eight's bill — it's a deal breaker for most Republicans. Finding consensus on immigration legislation is tough enough without opening the bill up to social issues," Flake said in the statement.
If the provision ends up being added into the bill, Republicans could be given an attempt to remove the provision on the floor, but it almost definitely would fail. At that point, the question would be whether Senate Republicans otherwise inclined to vote for the bill would be willing to give up those political gains in order to eliminate the potential for a gay-rights gain in the immigration reform bill.
Even if included in the Senate bill, the measure likely would not find its way into any House version of immigration reform, which would either lead to a conference committee or a situation similar to that faced by the Violence Against Women Act reauthorization, when House Republicans balked at a more inclusive Senate version in the last session of Congress but relented and passed the Senate version earlier this year.
But Blumenthal dismissed that notion that the same-sex provisions could end up being a deal breaker. "There's no justification for that result. My hope is that Republicans who may be talking about this provision being a deal breaker will reconsider," Blumenthal said.