Eldridge is seeking to challenge Republican Rep. Chris Gibson:

Although the cause of marriage equality does get a line in his campaign website bio, neither his job at Freedom to Marry nor his husband are included in his campaign bio: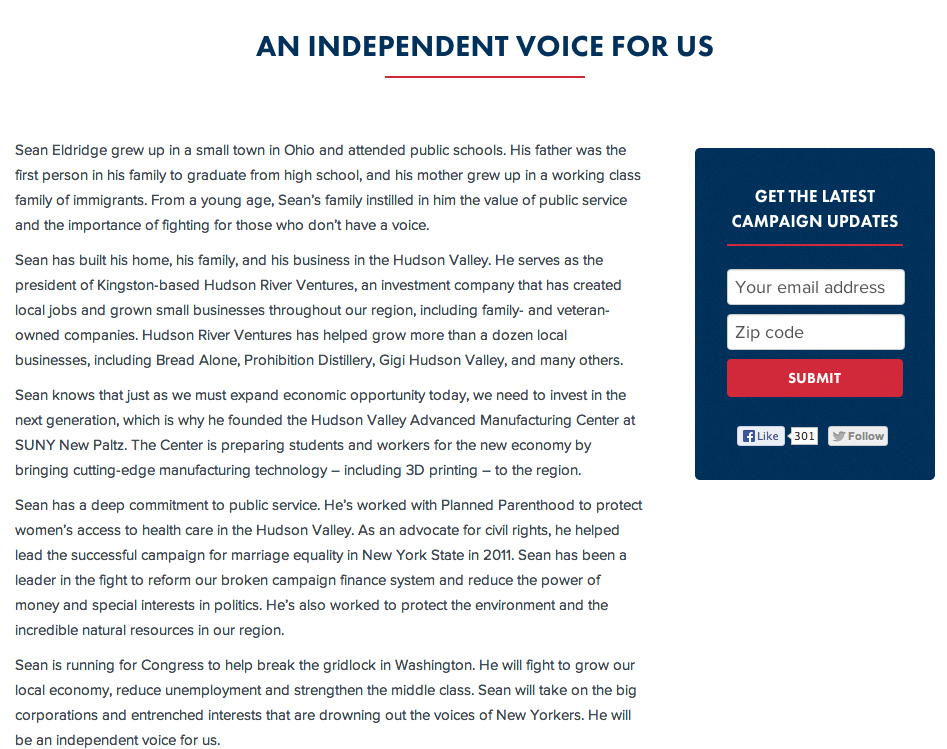 Update: A person from the PR firm being used by Eldridge's campaign noted that Eldridge does mention his marriage equality support in his online bio, as posted above, and in the issues section of his website:

For his part, Hughes was one of the first retweets of his husband's news Sunday night: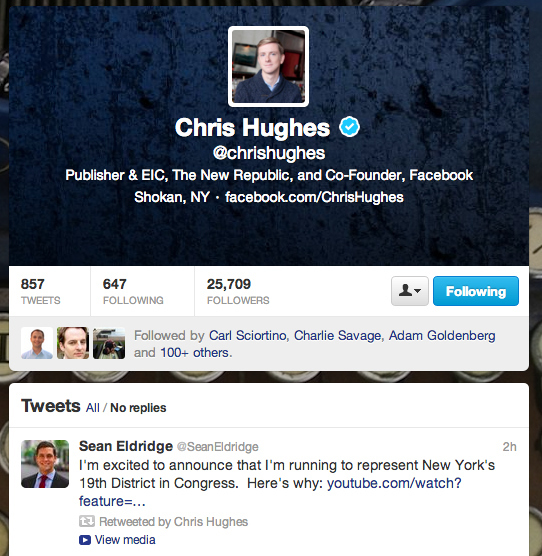 Update: In an early Monday morning news release announcing his candidacy, Eldridge's campaign makes no mention of his marriage equality work or his husband: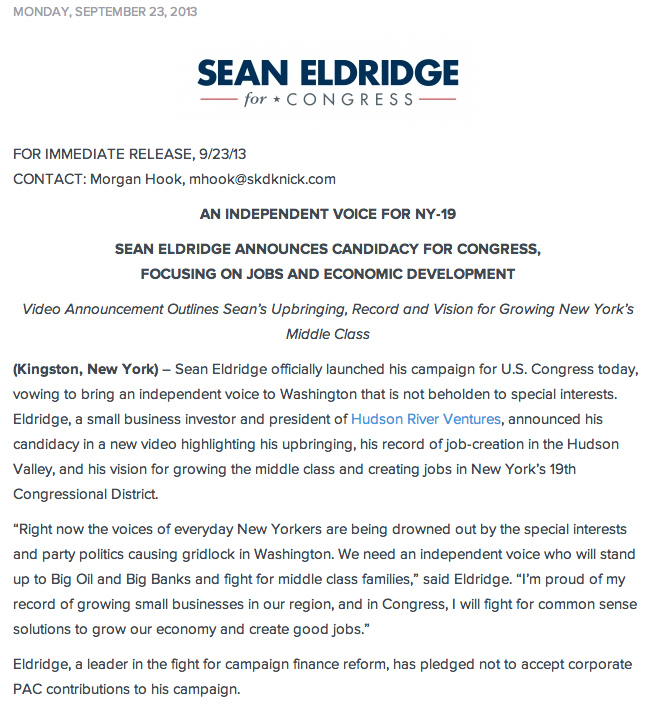 SEAN ELDRIDGE FOR CONGRESS VIDEO TRANSCRIPT
I love the Hudson Valley. It's where I'm building my family, my home, and my business. Right now the voices of everyday New Yorkers are being drowned out by the special interests and party politics causing gridlock in Washington.
We need an independent voice who will fight for us. And that's why I'm running for Congress. I was raised in a small town in Ohio and went to public schools. My father was the first person in his family to graduate from high school. And my mom grew up in a working-class family of immigrants.
My parents taught me the value of public service and the importance of fighting for those who don't have a voice. And that's how I've tried to live my life.
I've joined with Planned Parenthood to fight for women's health. I've worked to protect our environment and New York's incredible natural resources.
And I've worked to reform our broken campaign finance system.
I founded Hudson River Ventures, an investment company that has created local jobs and grown small businesses throughout our region, including family- and veteran-owned companies. We all know that we need to grow our economy, and I know firsthand what it takes to support small businesses, and create good jobs.
Laura Pensiero, owner of Gigi Hudson Valley: Hudson River Ventures allowed me to expand my business and hire more employees. There is not a lot of support for small businesses out there but Sean believed in us. We need to prepare students for the new economy, which is why I founded the Hudson Valley Advanced Manufacturing Center at SUNY New Paltz, bringing new manufacturing technology including 3D printing, to our region.
Larry Gottlieb, President of Hudson Valley Economic Development Corporation: We see 3D printing as being an exciting technology with so many applications. We're proud that we were able to pull together a dream team of economic development professionals and organizations, Sean Eldridge, Central Hudson, SUNY New Paltz.
I'm proud of what we've accomplished, but we have so much more to do.
To strengthen our economy and create jobs.
Protect Medicare and Social Security.
Balance our budget.
Provide tax relief for middle class families.
And reduce the influence of money and special interests in politics.
Instead of looking out for Wall Street and Big Oil, we need Washington to help our small businesses and our family farms.
I have been very blessed in my life. I am proud to live in the greatest state in the greatest country on earth. I'm running for Congress, because I know that we can do better.
I hope that you'll join me.