Scott Panetti Will Not Be Executed In Texas Tonight
The schizophrenic man was scheduled to be executed Wednesday for killing his wife's parents. [Update: A federal appeals court has issued a stay of execution, which the state is not going to appeal immediately, meaning the execution will not go forward at this time.]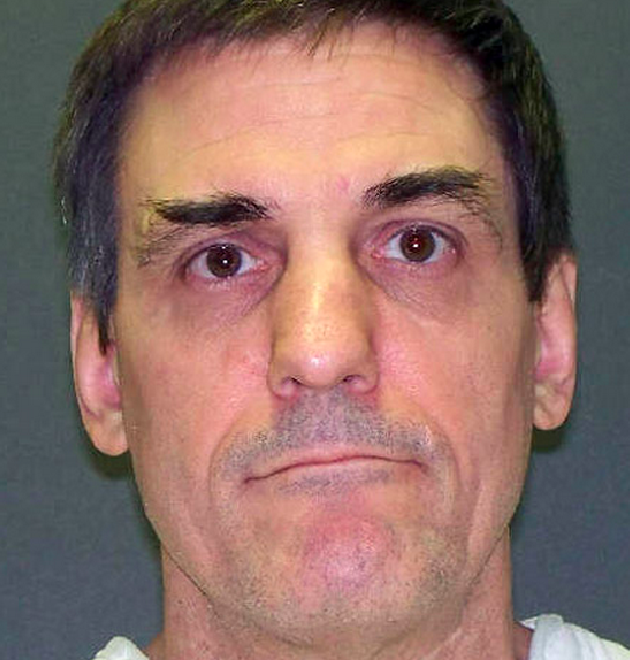 WASHINGTON — Lawyers for Scott Panetti have multiple requests pending before Justice Antonin Scalia, asking the justice to stop Texas from executing their client at 6 p.m. CT Wednesday.
Panetti was sentenced to death in 1995 for the double-murder of his then-wife's parents, faced more than a decade of hospitalizations related to his schizophrenia before the 1992 killings, and has been challenging his competency or execution sentence for much of the time since trial.
In addition to the stay requests at the Supreme Court, there also are requests for the court to grant his habeas corpus petition and declare that he cannot be constitutionally executed due to his serious mental illness.
Panetti's lawyers are asking the Supreme Court to "review this case to determine whether the imposition of the death penalty on offenders with severe mental illness offends contemporary standards of decency."
Put together, the requests ultimately ask the court to issue a stay of execution in Panetti's case, accept and hear his case, and rule that it violates the Eighth Amendment to execute a person like Panetti. Scalia could rule on the stay requests himself, or — more likely — refer the requests to the full court.
Texas officials, in a Tuesday filing, opposed the requests and were incredulous of his ultimate request, stating that it "would undermine the sentences of a majority of the nation's death row inmates." They went on to claim that Panetti did not cite to "a single example" where a court extended the categorical protection from execution extended to those with intellectual disabilities to those with serious mental illness.
Additionally, the state continued to press earlier claims that "Panetti's mental health condition has long been exaggerated to his benefit."
Beyond the Supreme Court, Panetti's lawyers still have another request pending before the 5th Circuit Court of Appeals, appealing a district court's denial of counsel appointment to press a competency claim and a related stay of execution. That request makes Supreme Court action unlikely until the 5th Circuit resolves those claims because it is expected Panetti's lawyers also would ask for Supreme Court review of that decision if denied a stay from that court.
Finally, there is Gov. Rick Perry, from whom Panetti's lawyers are asking for a stay of execution. The state Board of Pardons and Paroles unanimously recommended against reprieve or commutation on Dec. 1, leaving Perry only with the option of a 30-day stay of execution.
In this effort, Panetti's lawyers are not alone. Among those asking Perry to spare Panetti's life are a group of conservatives — from Gary Bauer to Ken Cuccinelli — who wrote to Perry, "As conservatives, we must be on guard that such an extraordinary government sanction not be used against a person who is mentally incapable of rational thought. It would be immoral for the government to take this man's life."
Update — 11:47 a.m. Wednesday: The 5th Circuit Court of Appeals issued a stay of execution. The stay is only issued "pending further order of the court," which is expected to set a schedule for consideration of Panetti's appeal.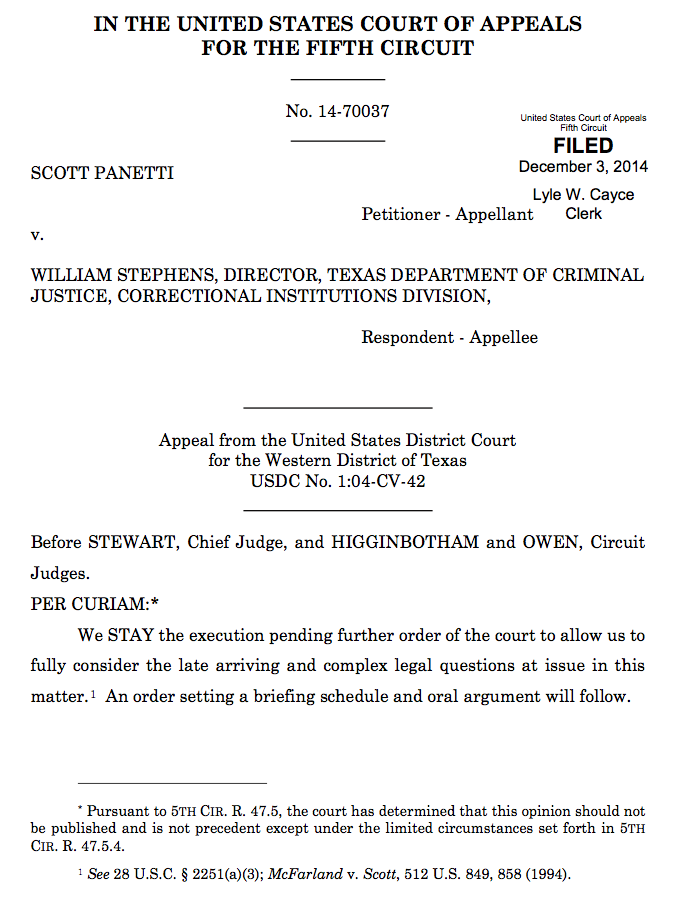 It was not immediately clear whether that unannounced schedule would cause a delay of execution beyond Wednesday. It also was not immediately clear whether Texas would, or even could, try to seek further review at this time in order to proceed with the scheduled execution.
An official with the Texas Attorney General's Office told BuzzFeed News the state will not immediately appeal the stay of execution issued by the 5th Circuit Court of Appeals. The state will present its arguments to the 5th Circuit when a schedule is determined by the court, the official added.