Retired Justice Sandra Day O'Connor, who became the first woman appointed to the Supreme Court when she was confirmed in 1981, announced Tuesday that she has been diagnosed with the "beginning stages of dementia, probably Alzheimer's disease," and "is no longer able to participate in public life."
In a letter announcing the diagnosis, O'Connor spent most of her time sharing her passion for civics education, which she wrote she committed herself to soon after retiring from the Supreme Court a dozen years ago.
"I feel so strongly about the topic because I've seen first-hand how vital it is for all citizens to understand our Constitution and unique system of government, and participate actively in their communities," she wrote.
In summing up her public life, which had included service in the Arizona attorney general's office, legislature, and courts before her US Supreme Court appointment, O'Connor expressed gratitude.
"While the final chapter of my life with dementia may be trying, nothing has diminished my gratitude and deep appreciation for the countless blessings in my life," she wrote.

"As a young cowgirl from the Arizona desert, I never could have imagined that one day I would become the first woman justice on the U.S. Supreme Court," she continued. "I hope that I have inspired young people about civic engagement and helped pave the pathway for women who may have faced obstacles pursuing their careers."
In her nearly 25 years on the Supreme Court, appointed by former President Ronald Reagan, O'Connor often served as the swing vote on major issues — but also in key moments, like when she cast her vote with the conservatives in ending the 2000 presidential election with the court's decision in Bush v. Gore.
Rather than charting out a direct, constant path for the court to take, her decisions on hot-button social issues often reflected the specifics of the case or the changing of the times. She voted to uphold affirmative action in a university setting in a 5-4 decision in 2003 after having written a key decision in 1995 that subjected federal government affirmative action programs to strict scrutiny — meaning they likely would not be upheld. She, along with Justices Anthony Kennedy and David Souter, reaffirmed a woman's right to an abortion in a pivotal 1992 5-4 decision — after having written what many thought of as a roadmap for overturning Roe v. Wade in a dissenting opinion in 1983. On gay rights, O'Connor joined the majority opinion upholding Georgia's sodomy law on a 5-4 vote in 1986 — but later voted in 2003 to strike down Texas's sodomy law in an opinion holding that state laws focused only on same-sex sodomy violated equal protection guarantees.
In a statement, Chief Justice John Roberts praised O'Connor's commitment to civic life.
"I was saddened to learn that Justice Sandra Day O'Connor, like many Americans, faces the challenge of dementia. But I was not at all surprised that she used the occasion of sharing that fact to think of our country first, and to urge an increased commitment to civics education, a cause to which she devoted so much of her time and indomitable energy," he said. "Although she has announced that she is withdrawing from public life, no illness or condition can take away the inspiration she provides for those who will follow the many paths she has blazed."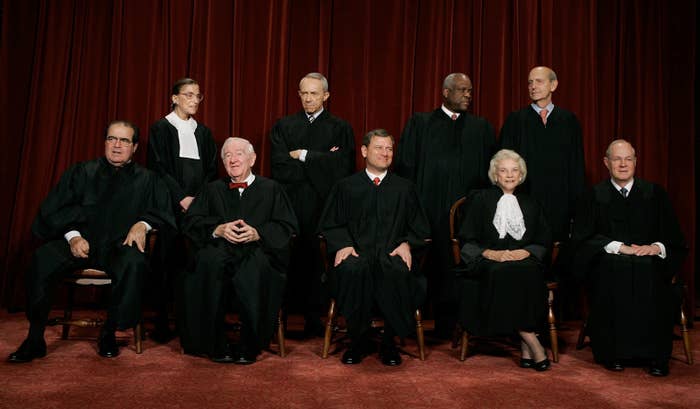 O'Connor was Reagan's first nominee to the court, when he announced her as his pick to replace Justice Potter Stewart on the court on July 7, 1981. She was confirmed on a 99-0 vote, took her seat on the court on Sept. 25, 1981.
Nearly 24 years later, she announced her retirement from the court in the summer of 2005 and served until her successor, ultimately Justice Samuel Alito, was confirmed on Jan. 31, 2006.
In Tuesday's letter, O'Connor wrote that she will continue to live in Phoenix, Arizona.