San Francisco Asks Court For "Advance Notice" On New Weddings
If the Supreme Court denies an appeal of the Proposition 8 challenge, same-sex couples soon will be able to marry in California. Although the city wants 24-hour notice to prepare, court rules suggest that might not happen. [UPDATE: LA asks for notice, too.]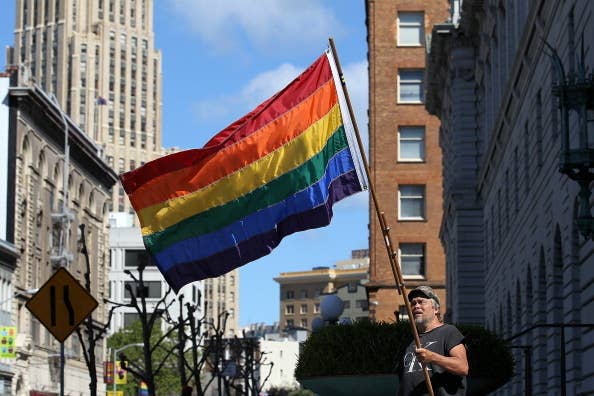 WASHINGTON—Should the Supreme Court decide on Friday that it is not going to consider an appeal of the challenge to California's Proposition 8, the City of San Francisco is asking for "24 hours advance notice" before an appeals court takes the final step to allow same-sex couples there to marry.
Under the appeals court's rules, though, it's not clear such advance notice is possible.
The city asked for the notice in a letter from Chief Deputy City Attorney Therese M. Stewart to the Ninth Circuit Court of Appeals on Tuesday. Concerned about being "deluged by same-sex couples seeking marriage licenses" and "large gatherings, including protesters" after a ruling that would allow same-sex couples to once again marry in California, Stewart asked for the 24-hour notice so the city could coordinate the "substantial" logistical efforts involved.
The request went to the Ninth Circuit, and not the Supreme Court, because of the specific procedures involved in ending an appeal.
If the Supreme Court announces that it is denying the request of the backers of Proposition 8 to hear an appeal of the case, then the Ninth Circuit's ruling striking down the law will stand. The Ninth Circuit mandate has been stayed, or put on hold, while the request to the Supreme Court, called a petition for a writ of certiorari, is pending. If the petition is denied, the appeals court then will issue a mandate to return the case to the district court, which will enable its final judgment in the case to take effect.
San Francisco is asking that it be given advance notice before the mandate is issued. Under the Federal Rules of Appellate Procedure, however, "The court of appeals must issue the mandate immediately when a copy of a Supreme Court order denying the petition for writ of certiorari is filed." As such, even if the Ninth Circuit wished to do so, it's not clear that it could give San Francisco the "advance notice" it is seeking.
THURSDAY UPDATE: Citing an "immediate and substantial demand from same-sex couples for marriage licenses and ceremonies," the county clerk in Los Angeles filed a letter with the Ninth Circuit on Thursday stating that he joins in San Francisco's request.
San Francisco's Mandate Notice Request Letter
Los Angeles's Mandate Notice Request Letter