Same-Sex Couples Urge Supreme Court To Let Utah Weddings Continue During Appeal
"[T]his case is not an 'exceptional case' warranting a stay."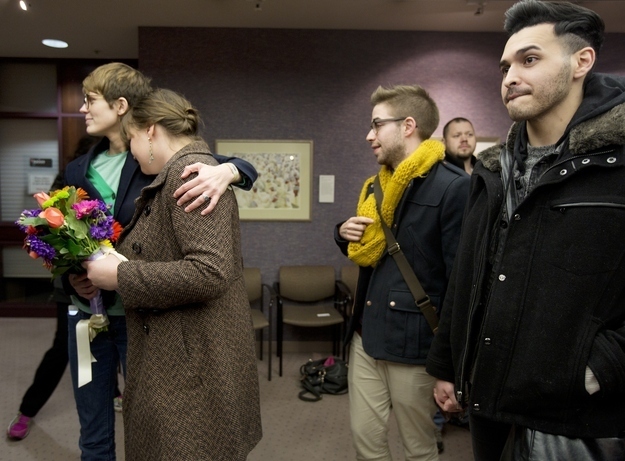 WASHINGTON — Lawyers for same-sex couples in Utah urged Justice Sonia Sotomayor Friday to allow same-sex couples to continue to marry while Utah officials appeal their trial court loss.
The Friday filing came in response to a request by Utah Attorney General Sean Reyes on Tuesday, in which the state asked for same-sex couples' marriages to be stopped during the appeal.
The lawyers for the same-sex couples suing the state argued that Utah officials had misstated to the Supreme Court the standard that state officials had to meet in order to justify the Sotomayor stepping in to issue a stay when the appeal is at the 10th Circuit Court of Appeals and both the trial court and appeals court declined to do so.
"Applicants have not cited to a single case in which the Court has granted a stay of a district court order pending appeal when the appellate court has already denied a stay under circumstances even remotely similar to the circumstances here because this case is not an 'exceptional case' warranting a stay."
Substantively, the lawyers for the couples argued that the state failed to show that it has made a "strong showing" that it is likely to succeed in its appeal, citing "the reasoning in Windsor" — this past June's Supreme Court decision striking down part of the federal Defense of Marriage Act:
"Applicants suggest that Windsor's emphasis on federalism shows that the Court is likely to uphold Utah's marriage ban as a valid exercise of state sovereignty. Ultimately, however, in striking down a federal law that discriminated against married same-sex couples, Windsor relied not on federalism, but on the Due Process Clause of the Fifth Amendment."
The lawyers take direct aim at a lengthy portion of the state's argument by noting, "Applicants cannot show that this Court is likely to reverse the District Court's ruling by citing to a hodgepodge of articles that purportedly show that same-sex parents are inferior to opposite-sex parents."
Additionally, the lawyers argue that same-sex couples and their children would face "undisputed, irreparable harm" if a stay is granted.
Finally, the couples' lawyers argue that Utah officials haven't shown that their case, Herbert v. Kitchen is likely to be reviewed by the Supreme Court.
Sotomayor can decide the state's request on her own or refer it to the entire court for consideration.
Read the same-sex couples' filing at the Supreme Court:
Download PDF