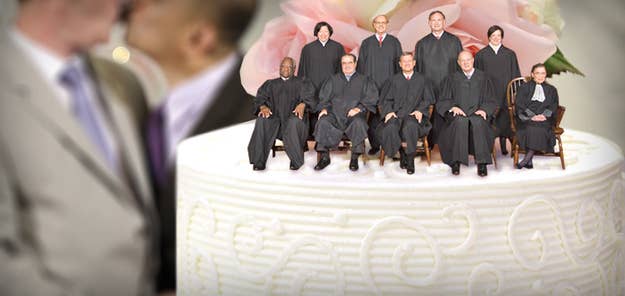 The Supreme Court is scheduled to consider whether it will hear cases challenging the constitutionality of the Defense of Marriage Act and California's Proposition 8 on Nov. 20, according to a series of announcements on Monday on the Supreme Court's dockets.
The justices are expected to review the possible cases before them and vote on which, if any, of the cases to hear this term, which began earlier this month. Four justices have to agree to hear a case in order for the court to take it.
The court is expected to announce the outcome of that conference, whether it is taking any cases and which requests, called petitions for a writ of certiorari, by Nov. 26.
Once the justices decide to take an appeal of a case, the court then sets a schedule for parties to brief the court on the issues involved and for oral arguments before the justices in D.C. The court's decisions are generally all issued by the end of June in the term that they are heard.
Monday's development has been expected since before the court's term began earlier this month, as BuzzFeed has reported previously.
Several cases challenging the federal definition of "marriage" as limited only to marriages between one man and one woman have been presented to the court, including a pair of cases decided together earlier this year by the First Circuit Court of Appeals out of Boston, Gill v. Office of Personnel Management and Massachusetts v. United States. The House Republican leaders, who have been defending DOMA in court challenges since the Obama administration stopped doing so in February 2011, believe the court should hear the appeal of that decision.
The Obama administration on Friday announced that it believes the court should instead take the case of Edith Windsor, who recently received a ruling in her favor from the Second Circuit Court of Appeals in New York City.
Two other DOMA challenges, Pedersen v. Office of Personnel Management and Golinski v. Office of Personnel Management, also are scheduled to be considered.
The challenge against Proposition 8, California's marriage amendment, also was distributed to the justices today. It originally had been distributed for the conference of Sept. 24, but the justices held the case — likely so that it could be considered at the same conference as the DOMA cases, some of which were not fully briefed in time for that conference.
Additionally, Arizona Gov. Jan Brewer's request that the court hear an appeal of a case challenging the state's ability to end state employees' health care benefits for same-sex domestic partners was distributed for the Nov. 20 conference. The Ninth Circuit Court of Appeals had ruled that the move was unconstitutional.