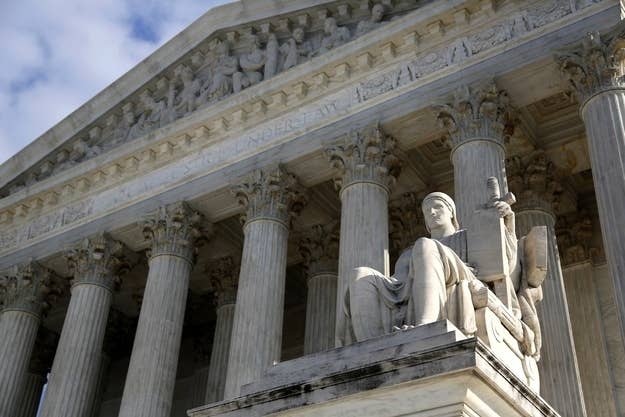 WASHINGTON — The focus earlier this month in Oklahoma was on a federal trial court judge's ruling for marriage equality there, but now a couple has appealed another part of the ruling, in which the judge tossed out a same-sex couple's challenge seeking recognition of their California marriage in Oklahoma.
Lawyers for that same-sex couple announced Friday that they are appealing the ruling to the 10th Circuit Court of Appeals. Their part of the lawsuit asked a court to declare that neither an Oklahoma amendment nor federal law can permit Oklahoma to refuse to recognize their California marriage.
U.S. District Court Judge Terence Kern ruled Jan. 14 in a longstanding marriage case that a same-sex couple — Mary Bishop and Sharon Baldwin — could not be prevented from marrying in Oklahoma by an Oklahoma amendment banning such marriages, a ruling previously appealed by Tulsa County Clerk Sally Howe Smith.
In the same ruling, as reported by BuzzFeed at the time, Kern also rejected the claims of a second couple — Susan Barton and Gay Phillips — finding that the couple who married in California lacked standing, or legal authority, to challenge the constitutionality of Section 2 of the Defense of Marriage Act, which purports to allow states not to recognize same-sex couples' marriages entered into in other jurisdictions.
As to the Oklahoma amendment provision, which prohibits Oklahoma from recognizing same-sex couples' marriages performed elsewhere, Kern also found the couple lacked standing. This is so, he wrote, because the "couple has not taken any steps to obtain recognition and has not shown that [Tulsa County Clerk] Smith is the proper official" from whom they would obtain such recognition.
On Friday, the lawyer for Barton and Phillips — who also represents the other couple — filed a notice with Kern's court that it is appealing his decision "as to Part B of the Oklahoma Constitutional Amendment" to the 10th Circuit Court of Appeals. The lawyer for the couple, Don Holladay, told BuzzFeed Friday afternoon that "the appeal is solely as to the Court's standing ruling on Part B of the Oklahoma Amendment" and does not include the DOMA portion of the ruling.
Howe earlier began her appeal of the ruling as to Bishop and Baldwin, in which Kern had found that the provision of the Oklahoma amendment banning Oklahoma from granting same-sex couples marriage licenses was unconstitutional.
Read the notice: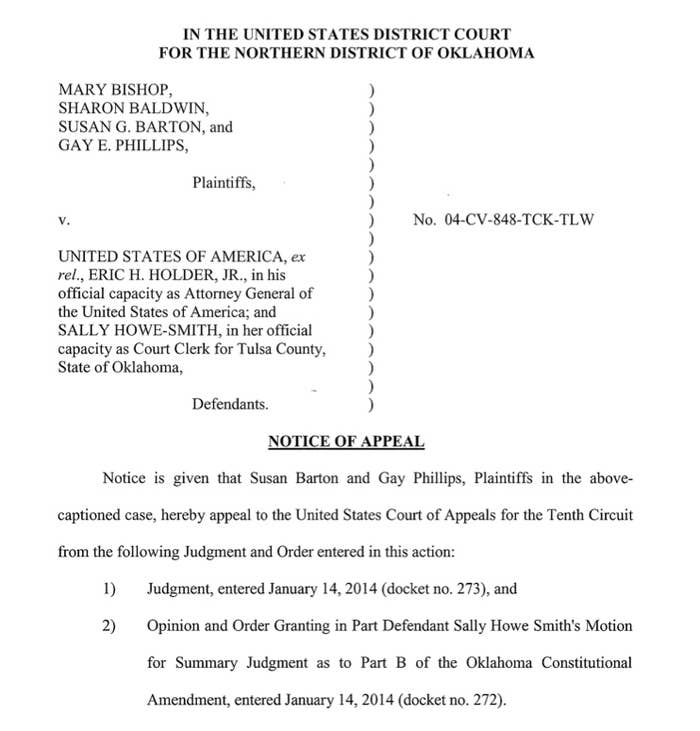 [Correction: An earlier version of this article did not reflect the Tulsa County Clerk's previously filed notice of appeal in this case.]