Ryan Says DADT Repeal Is A "Done" Issue. Does Romney Agree?
"Now that it's done, we should not reverse it," Ryan said this weekend. Romney has only said that he isn't "planning on reversing" the repeal of the ban on out gay military service, and whether he agrees with his running mate's definitive stance is unclear.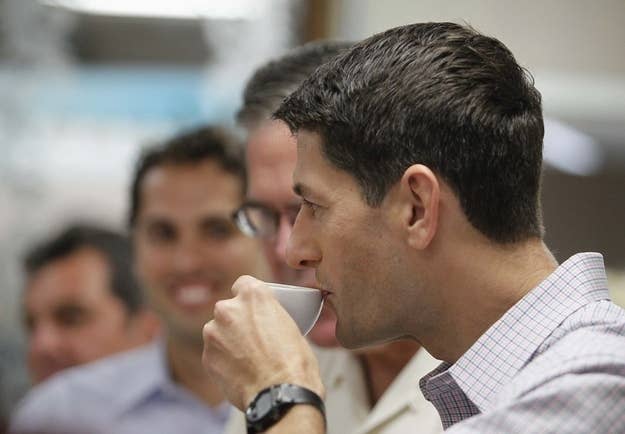 Mitt Romney said in 2011 that he isn't "planning on reversing" the end of "Don't Ask, Don't Tell," but his campaign today wouldn't say whether he agrees with his running mate that the issue of repeal is "done."
Rep. Paul Ryan, said this weekend that the military's ban on out gay, lesbian and bisexual service is "done ... [a]nd, I think we need to move on."
"Now that it's done, we should not reverse it," Ryan told WPTV NewsChannel 5 in Miami on a visit through Florida over the weekend. Although Ryan voted against repeal in 2010, his weekend statements go a step further than his running mate — and significantly further than the Republican Party platform.
Asked whether Romney agrees with Ryan's comments, a Romney spokesman would only point today to comments Romney made in December 2011 to the Des Moines Register editorial board. Romney said then that the DADT repeal has "already occurred. I'm not planning on reversing that at this stage. I was not comfortable making the change during a period of conflict, due to the complicating features of a new program in the middle of two wars going on, but those wars are winding down, and moving in that direction at this stage no longer presents that problem."
Though similar, Romney's language about "planning" and "at this stage" made his comments less definitive than what Ryan said this weekend. The Romney spokesman did not respond when asked whether Romney agreed with Ryan's more definitive comments.
The Republican Party platform, meanwhile, states that the Republicans "reject the use of the military as a platform for social experimentation," and later notes that they support "an objective and open-minded review of the current Administration's management of military personnel policies and will correct problems with appropriate administrative, legal or legislative action." The language was praised at the time by Elaine Donnelly, a leading opponent of gay military service.
Obama campaign spokeswoman Clo Ewing responded to Ryan's comments this weekend: "Americans and the LGBT community in particular are not going to fall for Mitt Romney and Paul Ryan's attempts to run away from their extreme and discriminatory positions in order to win votes."
This past week, the Obama administration and campaign celebrated the one-year anniversary of the repeal, which took effect Sept. 20, 2011.
"Mitt Romney would have kept DADT in place and said repealing it would be a 'social experiment,' while Paul Ryan who went as far as voting against repeal," Ewing said. "The American people will support President Obama because they recognize he is committed to equal rights, as opposed to Mitt Romney and Paul Ryan who have made clear they are not."