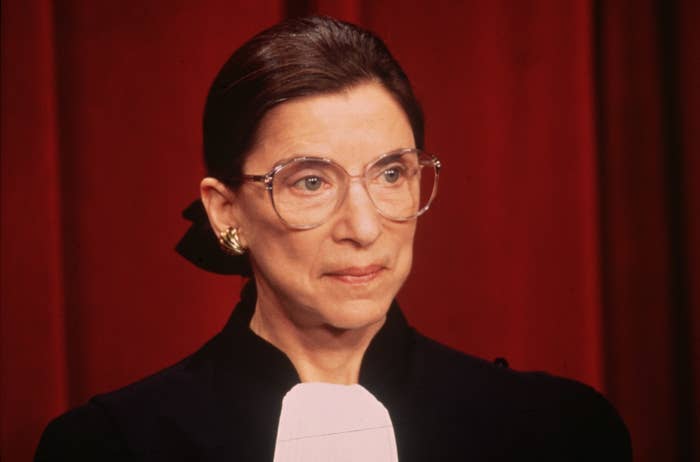 WASHINGTON — Justice Ruth Bader Ginsburg, the trailblazing lawyer for sex equality who served on the US Supreme Court for more than 25 years, died Friday evening, the court announced. She was 87.
The death of the liberal firebrand in the final year of the Trump administration sets the stage for a brutal partisan nomination fight over her successor. The confirmation of a conservative justice to replace Ginsburg would continue the rightward shift of the court since President Donald Trump took office, putting progressive views solidly in the minority on the Supreme Court for the indefinite future.
Ginsburg spent nearly 40 years on the bench, first as a judge on the US Court of Appeals for the DC Circuit and then on the Supreme Court. As the cofounder of the Women's Rights Project at the American Civil Liberties Union, Ginsburg played a leading role — if not the key role — in pressing courts to accept legal arguments that laws that treated men and women differently are unconstitutional.
"My most fervent wish is that I will not be replaced until a new president is installed," Ginsburg told her granddaughter says before she died, NPR News reported.

Even those she fought most strongly in her efforts acknowledged her role as "the Thurgood Marshall of gender equality law," a title that put her in the company of the trailblazing civil rights pioneer.

Former president Bill Clinton, who nominated Ginsburg to the bench in 1993, called her "one of the most extraordinary Justices ever to serve on the Supreme Court."
"She was a magnificent judge and a wonderful person—a brilliant lawyer with a caring heart, common sense, fierce devotion to fairness and equality, and boundless courage in the face of her own adversity. Her 27 years on the Court exceeded even my highest expectations when I appointed her.

"Her landmark opinions advancing gender equality, marriage equality, the rights of people with disabilities, the rights of immigrants, and so many more moved us closer to 'a more perfect union,'" Clinton said. "Her powerful dissents, especially her ringing defense of voting rights and other equal protection claims, reminded us that we walk away from our Constitution's promise at our peril. And she did it all with kindness, grace, and calm, treating even her strongest adversaries with respect."
President Donald Trump called Ginsburg a "titan of the law."
"Renowned for her brilliant mind and her powerful dissents at the Supreme Court, Justice Ginsburg demonstrated that one can disagree without being disagreeable toward one's colleagues or different points of view. Her opinions, including well-known decisions regarding the legal equality of women and the disabled, have inspired all Americans, and generations of great legal minds," Trump said.
Former president George W. Bush said Ginsburg "dedicated many of her 87 remarkable years to the pursuit of justice and equality, and she inspired more than one generation of women and girls."
Ginsburg died at her home in Washington surrounded by family, from complications of metastatic pancreatic cancer, according to the court. She will be buried at Arlington National Cemetery.

"Our Nation has lost a jurist of historic stature. We at the Supreme Court have lost a cherished colleague. Today we mourn, but with confidence that future generations will remember Ruth Bader Ginsburg as we knew her a tireless and resolute champion of justice," Chief Justice John Roberts Jr. said in a statement.
Over the past decade, Ginsburg survived multiple bouts of cancer and other health setbacks, but each time she returned to the bench and dismissed speculation that she might retire. She was treated for cancer in 2009, then again in August 2019, and most recently in the summer of 2020. In 2014, she was treated for a blockage in one of her arteries. In November 2018, she fell and fractured three ribs — doctors then discovered malignant nodules in her left lung, which were removed.
Just days before Ginsburg released a statement on July 17, 2020, announcing that she was receiving chemotherapy for a recurrence of cancer, the court notified the public that Ginsburg had been admitted to a hospital in Baltimore for a separate issue related to a bile duct stent. In her July statement, Ginsburg said that despite her health setbacks, she'd kept up her work and maintained an "active daily routine."
"I have often said I would remain a member of the Court as long as I can do the job full steam. I remain fully able to do that," she said at the time.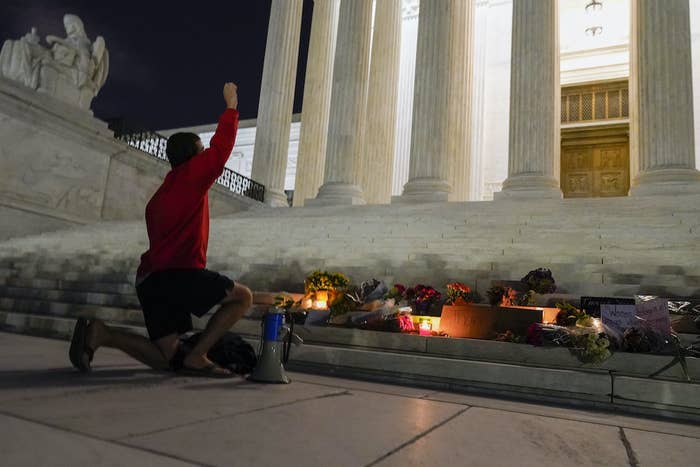 Ginsburg's death comes shortly after Trump released a new short list of people he would nominate to the Supreme Court if a vacancy came up, adding to the two dozen names he's already made public. They include several federal judges confirmed during his first term, including former White House lawyer and DC Circuit Judge Greg Katsas; three US senators — Sen. Ted Cruz, Josh Hawley, and Tom Cotton; White House deputy counsel Kate Comerford Todd; Christopher Landau, Trump's US ambassador to Mexico; and current and former Justice Department officials.

Senate Majority Leader Mitch McConnell said Friday night that the Senate would vote on whoever Trump nominates to replace Ginsburg, despite blocking former president Barack Obama's March 2016 Supreme Court nomination because it was too close to the election. McConnell refused at the time to move Judge Merrick Garland's nomination forward and held the seat open until Trump became president and Justice Neil Gorsuch was nominated and confirmed to the late justice Antonin Scalia's seat.

McConnell has long said he would vote for another Trump Supreme Court nominee in 2020, arguing that the election year standard only applied to Obama's pick of Merrick Garland because the Senate was controlled by a different party than the president.
Senate Minority Leader Chuck Schumer tweeted Friday night, quoting McConnell directly from 2016: "The American people should have a voice in the selection of their next Supreme Court Justice. Therefore, this vacancy should not be filled until we have a new president."
Ginsburg became a celebrity of sorts in recent years — a combination of her efforts to publicize her views and make them accessible to the public and efforts by younger generations, particularly younger women, to share the Brooklyn-born lawyer's story as one of a woman who was a national leader and worthy of fame beyond legal circles.

Secretary of State and former Democratic presidential nominee Hillary Clinton noted that "Ginsburg paved the way for so many women, including me. There will never be another like her. Thank you RBG."
In 2015, authors Irin Carmon and Shana Knizhnik tapped into Ginsburg's status as a pop culture icon with their book Notorious RBG. A documentary about the justice's life, RBG, was nominated for an Academy Award in 2019. That year, actor Felicity Jones played her in the movie On the Basis of Sex, a fictional account of one of the early cases she worked on. Fans could buy necklace and earring versions of her decorative collars, known as jabots. On Saturday Night Live, comedian Kate McKinnon repeatedly portrayed the justice, delivering zingers she called "Gins-burns."
"It was beyond my wildest imagination that I would one day become 'Notorious RBG,'" Ginsburg said in an Aug. 26 speech, which marked her first public appearance after completing a round of treatment for pancreatic cancer. "I am now 86 years old, yet people of all ages want to take their picture with me — amazing."
The interviews and books, as well as a documentary and star-studded movie based on her life, were, in some ways, inevitable.
More than 45 years ago, on Jan. 17, 1973, Ginsburg made her first oral argument at the court, ending her time at the podium by citing Sarah Grimké, an abolitionist who also fought for women's rights. In a moment that has reverberated since, Ginsburg quoted two sentences from Grimké: "I ask no favor for my sex. All I ask of our brethren is that they take their feet off our necks."
She embraced her status as a feminist icon. Whenever she was asked how many women justices would be enough on the nine-member Supreme Court, she would answer: "When there are nine."

A Liberal Icon
President Clinton's nomination of Ginsburg in 1993 came about, in part, she and others have said, due to the strong advocacy of her husband. When Justice Byron White announced his retirement from the bench in Clinton's first year in office, Martin Ginsburg — as detailed by Jill Lepore in the New Yorker — was working to ensure that his wife was among those being considered by the new administration.
Ultimately, the effort succeeded, and Clinton met with Ginsburg on June 13, 1993. That day, Clinton decided and told Ginsburg she would be his nominee to the Supreme Court. The next day, he announced her nomination.
For the next 25 years, Ginsburg — the second woman on the high court after former justice Sandra Day O'Connor — became one of the most consistent liberal voices on the court. Particularly since the retirement of the late justice John Paul Stevens in 2010, Ginsburg has been the senior liberal voice on the Supreme Court, authoring influential majority opinions.
As was the practice of her longtime friend and ideological opposite, Scalia, Ginsburg also authored strident, direct dissents that sought to direct lawmakers and members of the public who were likely to be in agreement with her to pay attention to the fact that, in her view, the court got it wrong.
One of her most famed dissents came in response to a sex discrimination case brought by Goodyear employee Lilly Ledbetter. When Ledbetter realized that she was being paid less than her similarly situated male coworkers due to past performance evaluations that she argued were themselves discriminatory, she sued. The Supreme Court ruled 5–4 against Ledbetter, holding that Ledbetter's claim was not allowed because the clock had already run out on filing a claim — the proper time for filing her complaint, the court held, would have been when she first received the discriminatory evaluations.
"The Court's insistence on immediate contest overlooks common characteristics of pay discrimination. Pay disparities often occur, as they did in Ledbetter's case, in small increments; cause to suspect that discrimination is at work develops only over time," Ginsburg wrote in her dissent.
Going further, however, Ginsburg sent a blunt message to lawmakers: "This is not the first time the Court has ordered a cramped interpretation of Title VII, incompatible with the statute's broad remedial purpose. … Once again, the ball is in Congress' court. As in [the past], the Legislature may act to correct this Court's parsimonious reading of Title VII."
The Lilly Ledbetter Fair Pay Act of 2009, reversing the court's decision, was the first bill signed into law by Obama.
Ginsburg's majority opinions for the court have had similar power. In 1996, in her third year on the bench, Ginsburg wrote the court's majority opinion striking down the Virginia Military Institute's male-only admissions policy.

Ginsburg laid out the history of the court's handling of sex discrimination cases, assessing their importance and detailing what those cases meant for the country in 1996.
"Today's skeptical scrutiny of official action denying rights or opportunities based on sex responds to volumes of history," she wrote. "As a plurality of this Court acknowledged a generation ago, 'our Nation has had a long and unfortunate history of sex discrimination.'"
The case Ginsburg was referring to, Frontiero v. Richardson, was the first one she'd argued before the court.
House Speaker Nancy Pelosi called Ginsburg's death "devastating" in a statement Friday night. "Justice Ginsberg embodied justice, brilliance and goodness, and her passing is an incalculable loss for our democracy and for all who sacrifice and strive to build a better future for our children. … We must honor Justice Ginsburg's trailblazing career and safeguard her powerful legacy by ensuring that the next Associate Justice of the Supreme Court upholds her commitment to equality, opportunity and justice for all," she said.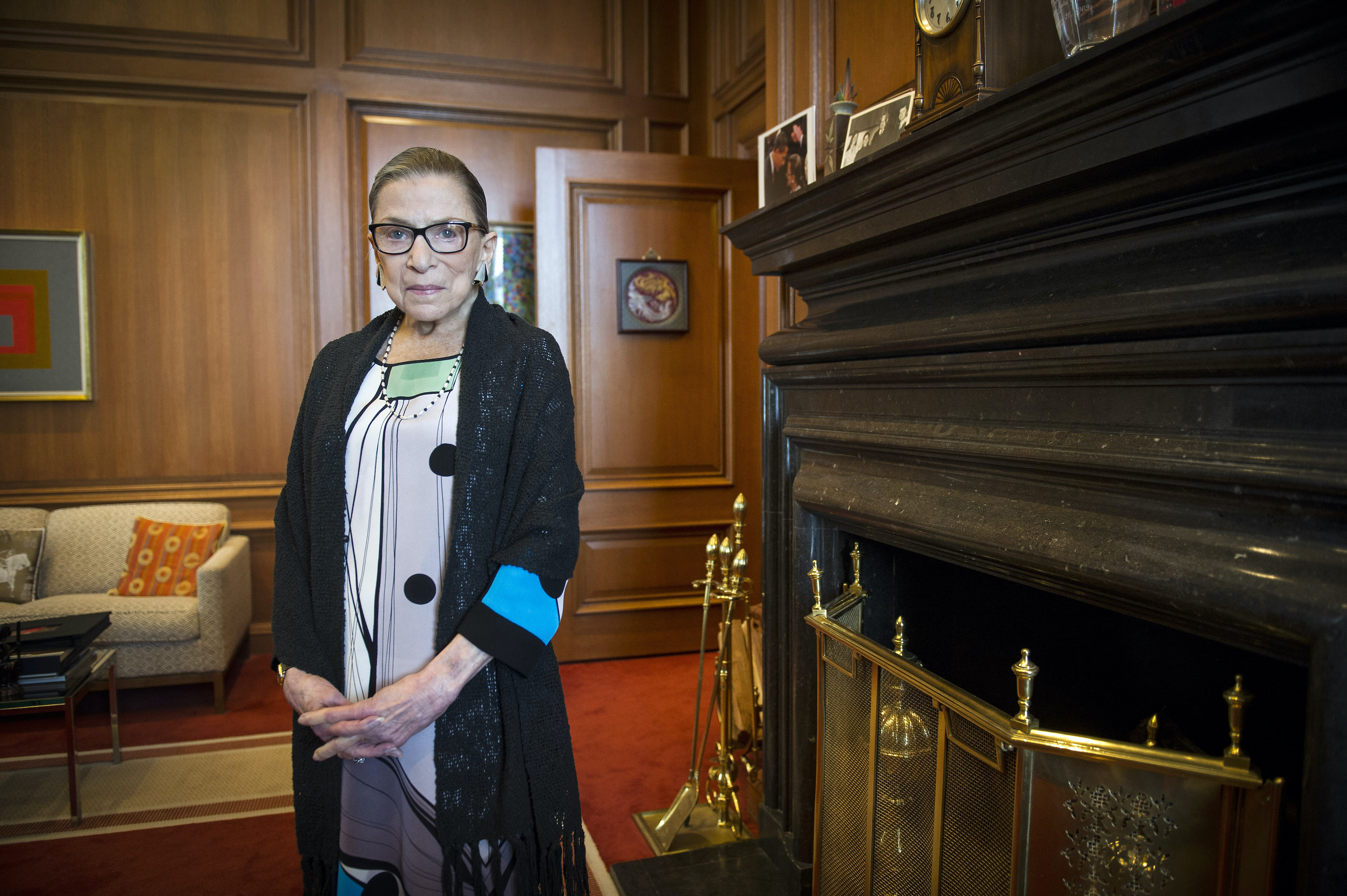 From the ACLU to the Bench
As a lawyer for the ACLU Women's Rights Project, Ginsburg worked on a brief the group filed in the Supreme Court as an amicus curiae, or friend of the court, in a case called Reed v. Reed. In Reed, the Supreme Court in 1971 struck down a law that "males must be preferred to females" to administer a family member's estate. Chief Justice Warren Burger wrote that the law was "the very kind of arbitrary legislative choice forbidden by the Equal Protection Clause of the Fourteenth Amendment."
When Ginsburg argued her first case before the court two years later, the Frontiero case, she was seeking clarification about the standards for reviewing other, similar types of discriminatory laws. The case centered on Air Force dependents' benefits, which were automatically granted to a man in the military with a wife but only granted to a woman in the military with a husband if she provided evidence of the husband's financial dependency.
Ginsburg argued the court should apply the Equal Protection Clause of the 14th Amendment to sex-based discrimination claims similar to how the court had analyzed race-based claims. "To provide the guidance so badly needed and because recognition is long overdue, amicus urges the Court to declare sex a suspect criterion," she told the court.
Under that "suspect criterion" standard, such laws are presumptively unconstitutional. For the government to win, it had to show that such laws advanced a compelling government interest and that the discriminatory provision was narrowly tailored to advance that interest.
Although the court sided with Sharron Frontiero, the woman Ginsburg was supporting, only four justices — not a majority — adopted Ginsburg's "suspect classification" reasoning to resolve the case, with the others holding that the statute in question was impermissible because it represented an "arbitrary legislative choice."
The question remained unresolved — and Ginsburg's effort continued.
Ginsburg's next argument at the court showed that she still had work to do. She lost, with the court holding 6–3 that a Florida tax law that provided an exemption to widows but not widowers was constitutional.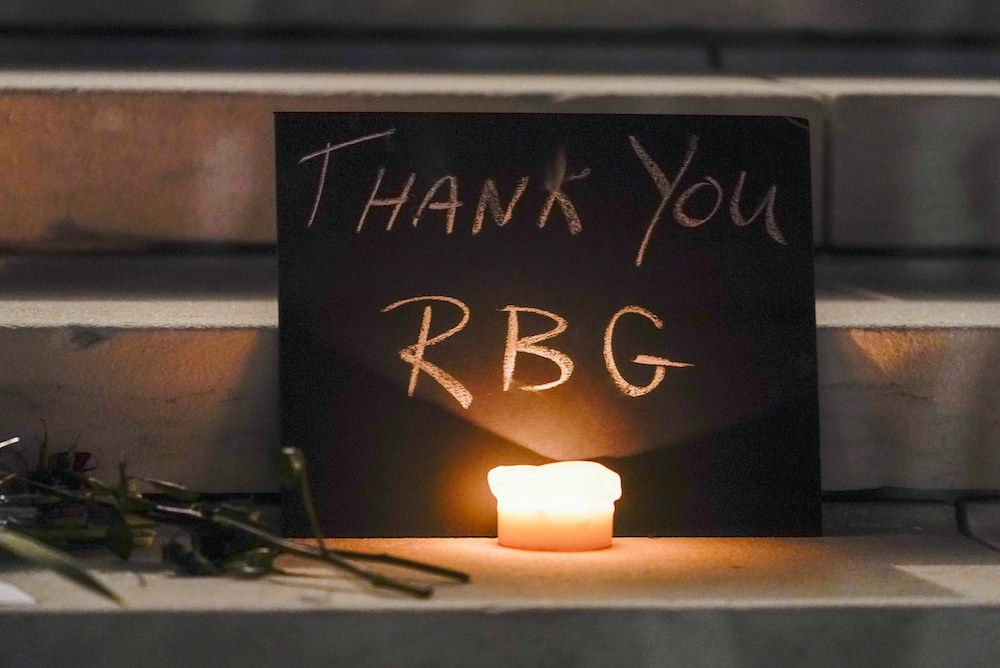 Three years later, however, in a case where Ginsburg authored the ACLU's amicus brief, the Supreme Court did — in a 5–4 vote — adopt the view that laws that differentiate based on sex should be subjected to more scrutiny by the court than laws that do not. Specifically, the court held that an intermediate, or heightened, scrutiny applied and that "classifications by gender must serve important governmental objectives and must be substantially related to achievement of those objectives."

Her work continued at the ACLU, alongside her life with her husband, prominent tax lawyer Martin Ginsburg, and their children, Jane and James. The couple had married before attending Harvard Law School. She was caring for her husband, raising Jane, and attending law school all at the same time when he was diagnosed with and treated for cancer.
After graduating from Columbia Law School — to which Ginsburg transferred when her husband moved to New York City after he graduated from law school the year before her — she was unable to find work at a law firm. After clerking for a federal judge in New York, Ginsburg ended up taking a job as a law professor at Rutgers University, where she primarily taught civil procedure law and eventually received tenure. She later moved to Columbia, where she continued to teach while working with the ACLU.
In 1980, then-president Jimmy Carter — who had made a point of advocating for more diversity in the judiciary — nominated Ginsburg for the DC Circuit, where she served until she joined the Supreme Court.
Martin Ginsburg died in 2010.
Additional reporting by Ruby Cramer.