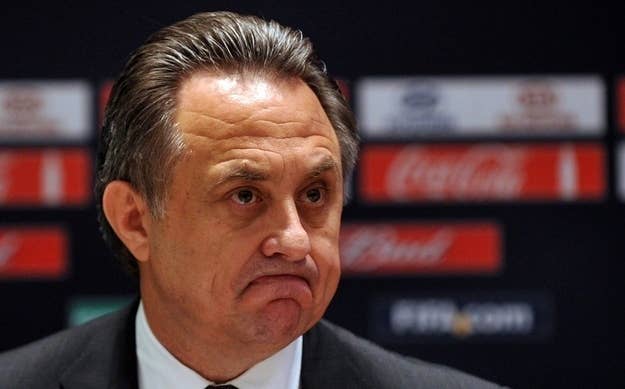 WASHINGTON — Contradicting a statement put out last week by the International Olympic Committee, Russian Sports Minister Vitaly Mutko told R-Sport Thursday that Russia's anti-LGBT propaganda law would remain in effect during the Sochi Olympics in February 2014.
"No one is forbidding an athlete with non-traditional sexual orientation from coming to Sochi, but if he goes onto the street and starts propagandizing it, then of course he will be held accountable," Mutko told R-Sport.
The comments come a week after the IOC announced that it had received assurances "from the highest level of government in Russia that the legislation will not affect those attending or taking part in the Games." The sports minister's comments also came two days after a Russian lawmaker made similar comments regarding his view that the law could not be suspended during the Olympics.
The legislation, signed into law by Russian President Vladimir Putin this June, authorizes the 15-day jailing of foreigners and fines for both foreigners and Russians who are convicted of "promotion of non-traditional sexual relations among minors." The breadth of the law, as judged by public comments of officials and early attempts at prosecution, could criminalize any public discussion or dissemination of information about homosexuality. If committed "with the use of the media," the penalty could include "administrative suspension of activity for up to ninety days."
Asked about the development, a U.S. Olympic Committee spokesman — referencing a letter sent to sport organizing bodies around the country that BuzzFeed published on Tuesday — said that "our letter says all we're currently prepared to say." In the letter, sent from USOC head Scott Blackmun, he stated that the USOC was "engaged in active discussions with the International Olympic Committee and the U.S. State Department" regarding Americans' safety at the Olympics.
IOC officials did not immediately respond to a request seeking comment.
The Human Rights Campaign, which had questioned the IOC's announcement at the time, responded to Thursday's statement saying that officials have made clear that gay people "will be in harm's way" if they go to Sochi for the Olympics.
"One wonders which Russian authorities the IOC is speaking to," HRC's vice president for communications, Fred Sainz, told BuzzFeed regarding the IOC's prior statement. "Within the past twenty-four hours, two high level officials have gone out of their way to contradict the IOC in no uncertain terms. The opinion of the Russian government is now perfectly clear: if you're gay and you come to Russia for the Olympics, you will be in harm's way."
All Out, an organization aimed at mobilizing people and their social networks across the globe on equality issues, has been working with Russian activists on LGBT issues for the past two years and likewise criticized Thursday's statement.
"The founding principles of the Olympics must be upheld within Russia: respect, excellence and friendship. Staging the Games in Russia with these laws in place is like holding the Olympics in Johannesburg at the height of apartheid," All Out's executive director, Andre Banks, said. "President Putin will risk his country's international reputation if these Games go ahead with laws in place that are in fundamental opposition to Olympic values."
Sainz added, "What this makes all the more clear is that LGBT Russians and expats alike are also in peril. The law is so obtuse that circumstances can be contrived to prosecute LGBT individuals who are simply living their lives. These laws are an abomination and pose a human rights imperative for all to speak out."
Update at 8 p.m.: USA Today reported a response from the IOC Thursday evening:
"We rest with comments made directly to us by deputy PM Kozak," IOC spokesman Mark Adams wrote in an email Thursday, referring to Russian deputy prime minster Dmitry Kozak.
[This article has been updated to include comment from the U.S. Olympic Committee.]